Booty Parlor Good Girl Bad Girl Feather Whipper - Whip from Booty Parlor

Product Details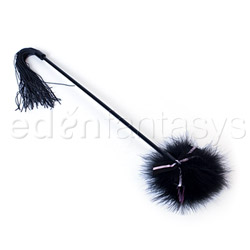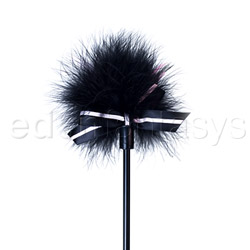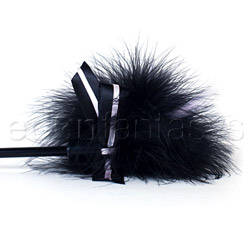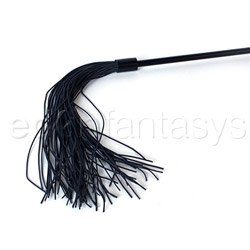 Summary:
This is a gentle, sweet and really pretty whipper/flogger. Though it won't deliver a huge amount of pain and suffering it can be quite stingy if the crop handle is used. The feathered end is soft, sensual and luxurious, as well as feminine! The rubber falls are sensual, lightly stingy and can cause a shivery sensation that is out of this world. Overall this is a great addition to any toybox from the novice to the old hand.
Pros:
User friendly, very cute, well made.
Cons:
Difficult to store, might be too gentle for those into heavy pain.
Best use:
For girly girls who like their instruments of punishment to be pretty as well as painful as hell in the right hands, the Good Girl Bad Girl Feather Whipper from Booty Parlour is a perfect match! This is a very versatile toy that can be soft and gentle or sterner though it is not intended for the serious pain slut. It can serve as perfect humiliation for that servant boy in your life who is acting like a little....well you get the idea!

This is a toy that can appeal to the experienced player as well as the complete novice as it has a sturdy area for full crop contact that can deliver some real sting and it is also soft maribou and rubber falls that are more gentle for those just beginning their experiments. Of course, even the most experienced player likes a bit of the gentle tease now and again if only to highlight the sting!

The feather tickler can tease and tempt everywhere on the body while the rubber falls can be gentle or very moderately stingy. This is a great little addition to just about any toybox!
Design / Craftsmanship / Size / Material / Features:

I love the design of this toy, it just fills that girly need in me. I won't lie and say that I have a desire for B&D products that just look wicked and mean but sometimes I just like a little femininity! For the price this toy is surprisingly well made.

The handle is PVC and very flexible. It measures in at 15 inches from the base of the maribou tip to the top of the rubber falls. This makes it a bit long but gives ample room to crop some naughty buttocks. The two features of the whipper/tickler are attached with hard PVC cups that should hold through even rough handling.

The maribou feather has a black and pink ribbon very firmly attached to the cup holding the feathers secure. On the backside of the feather there are some contrasting pink dyed feathers that blend well with the black maribou. Though the feathers do shed during play they won't fall out with moderate tugging. The feathers are soft, mink like and feel absolutely luxurious stroked over the body. This looks like any decorative powder puff that might be found on the dressing table of any lady.

The rubber falls are as thin as rubber bands and have an average of 68 strands per whipper. They are very firmly attached to the handle and you're more likely to stretch and break the strands than pull them out of the cup. Keep in mind that they are rubber and can stretch and lose their straightness if they are stored kinked up. They pic up static but not more than my other rubber floggers. On the upside there aren't enough falls to build up a static discharge like my larger rubber flogger! ...or that could be a downside for some, I guess.
The rubber falls have a uniquely sensual feel when slowly stroked over the body and/or twirled around and over the nipples or penis/testes. If used as a whip they have a stingy thump that is moderate even in the most skilled of hands.
The crop body of the handle can deliver quite a heavy stinging thump due to its flexibility and thin nature. I would caution the inexperienced user to listen to your partner and stop if it gets too intense.

The entire whipper/tickler smells very pleasant with just a slight hint of rubber. It has a powdery boudoir sort of smell that is only noticeable up close: it won't perfume your bedroom or your skin.

The feathers will cause an allergic reaction if used to tickle the face of a player who is extremely sensitive to feather dander.

The entire flogger is very light weighing in at only 0.1 pounds. This flogger will not cause fatigue but is unlikely to be used as anything but a light game by the serious player.

Material:

Feather

/

Rubber

Material safety

Color:

Black

Length:

26"

Width:

2 1/2"

Weight:

0.1 lb

Performance:

This is a very fun little toy for those times you don't want to get into heavy pain play, though the crop handle can deliver the goods, so to speak. The feather portion is very soft and will leave your victim shivering and giggling. For those sensual sadists that like to torture their victims with ticking this is a perfect tool! The rubber whipper can leave a light sting that is perfect for waking up the nerves and bringing a lovely flush to the skin but won't cause extreme pain even with the hardest strike. 'Course I am a bonefide pain slut so your mileage may vary! The crop handle can be very painful and care should be taken if you are new to the game.

This whipper/tickler does exactly what it's designed to do; it provides a pleasant experience for you and a partner (or partners) that can be very intimate and playful at the same time.

One problem I had was storing the toy. It has a delicate topper on each end and no hanging strap so it can't be stuffed in a vase like my other ticklers! I lay it across my books on the top of my dresser but it would be amazing to be able to store this a little easier. I suppose one could store this in a drawer flat with the rubber falls unkinked or even hung on a pair of nails on the wall. It looks really cute laying across a pretty dresser amongst the bottles and jars but I have a 2 year old so this has to be put up out of reach. It is too long to fit in a standard bed side table drawer. A hanging loop could be made if the user is wiling to sacrifice one of the rubber falls to make a sort of loop for hanging the toy.

Care and Maintenance:

You have to be a bit careful with maribou that it doesn't pick up body oils but if it does simply stroking it with your hands will smooth the feather back to their usual fluffiness. The maribou is fairly prone to breakage but can withstand some rough treatment.

The rubber falls shouldn't need any cleaning as they are highly unlikely to ever break the skin but a simple warm water and mild soap rinse should suffice if you get other body fluids on your whipper. A damp cloth will keep the handle clean and dust free. Speaking of which we have recently found that it is a good idea to give feather and rubber ticklers a good, vigorous shake outside if they are unused for a period of time. They do gather dust and a face full of dust is NOT a pleasant experience!

As I mentioned before this is a little more difficult to store especially if you have curious cats or kids. It is most easily stored on its side with the maribou and falls arrange so that they are not bent or kinked.

Packaging:

This Whipper/Tickler doesn't come in a fancy box or bag: it simply has a tag on handle with the company's logo on it. This is good for landfills so I don't mind!

There were no instructions on the little card about the toy but the toy is extremely user friendly, it's not rocket surgery!

Other

Texture:

Smooth

Special Features: