Best use:
Vaginal balls are a great tool for strengthening the pelvic floor muscles. Strong muscles are better for sex and stronger orgasms, not to mention better bladder control and possibly easier labor and recovery periods for pregnant woman. Male partners will also benefit, because strong vaginal muscles are capable of squeezing the penis tighter. It's a win-win for all. Performing kegel on a regular basis is great, but adding a set of vaginal balls is even more effective and easy.
The Javida Gym Balls Duo is a permanently attached dual ball set. The egg shaped balls each have a weighted ball inside. The weighted ball rolls around, causing the pelvic floor muscles to flex and contract. It's an easy vaginal workout without even thinking about it. It is comfortable to wear, and it stays put. The size and design of the Gym Balls are great for extended wear. They could be worn for short periods of time each day, or for extended periods. When finished, the retrieval cord makes removing them easy.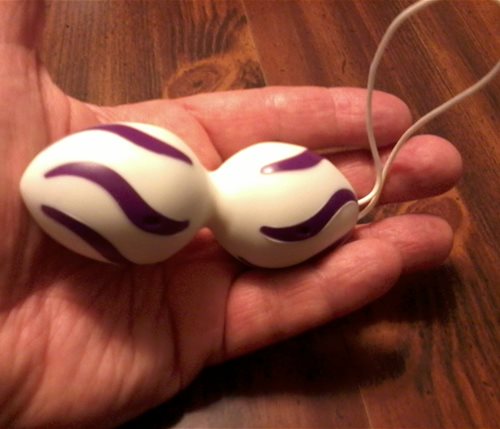 Material / Texture:

The Gym Balls are made of silicone and plastic. The egg shaped balls are silicone, with plastic wavy lines embedded in them. The retrieval cord is also plastic. Silicone is a body-safe material that is nonporous, phthalates free, and hypoallergenic. Plastic is also nonporous and phthalates free. Plastic rates an 8/10 on EdenFantasys' Safety Scale.

The plastic inlays create some texture, and the seams are easily felt with a finger. Some women may be able to feel some subtle texture when these are worn. Although the seams are in multiple places on the ball, the texture is mild. It isn't very noticeable when worn vaginally.

The retrieval cord is a pliable plastic. It's not irritating, or even very noticeable, during use. It's there when you need it, but doesn't distract in any way. The plastic is nice because it is easy to clean.

Material:

Plastic

/

Silicone

Material safety

Texture:

Smooth

Safety features:

Food-grade material / Hypo-allergenic / Latex free / Non-porous / Phthalates free

Design / Shape / Size:

The Gym Balls Duo is a very attractive ball set. The set is white, with contrasting violet wavy lines forming a pretty design. It is bright and cheerful. The balls are am elongated egg shape rather than the typical circular shape. The tapered end makes them very easy to insert and remove.

The entire toy, from end to end, measures 7.5 inches. The plastic cord is 3.5 inches, and the ball portion is 4 inches. The balls are identical in size. They are each about 1.5 inches in diameter (4.25 inch circumference.) Since they are larger than the typical marble size Ben Wa balls, they are easier to hold in the vagina. The weighted ball in each weighs .5 oz, so the entire toy is 1 oz.

The cord is a nice length. It sits on the outside of the vagina during use. It's not extra long so it's not annoying when in use. It is long enough to to find and pull when done with the balls. If it does find its way into the vagina, it is easy to fish out.

Color:

Purple / White

Length:

7 1/2"

Insertable length:

3 1/2"

Circumference:

5 1/2"

Diameter:

1 1/2" / 3/4"

Weight:

1 oz

Performance:

The Gym Balls Duo is very easy to use. Insert it into the vagina much like a tampon, and push it back until it is comfortable. The elongated, tapered end of the ball makes it very easy to insert. A dab of water-based lube can be used if desired. Do not use silicone lube, as the silicone lube could react to the silicone material.

Once in, it is very comfortable to wear. The balls are noticeable, but are not distracting, irritating, or painful. The constant movement of the inner balls may produce a pleasant, or even arousing, sensation. The 1 oz. weight is heavy enough to be effective, but it does not slip out easily. The looped retrieval cord makes removal a snap. Give the cord a pull, and the whole thing comes out easily. To make it even easier, push the pelvic muscles out as you pull the cord.

With regular use, the Gym Balls Duo will strengthen the pelvic floor muscles, resulting in increased pleasure during sex for both partners. It's easy to slip them in and go about the day. That way, those muscles get a nice long workout.

Care and Maintenance:

The Gym Balls Duo is easy to clean. Simply wash with soap and water, a toy cleaner, or a 10% bleach solution. Since the cord is plastic, it can also be completely cleaned. Because the cord can be cleaned, the entire set is very hygienic.

Care and cleaning:

Soap and water

Packaging:

This arrived in a classy box. The box itself is not suitable for long term storage. The Gym Balls Duo could be easily stored in a drawer, box, or bag. It does not take up too much space, and does not require any special care.


Personal comments:

I love this set. I found it very easy to use, and comfortable to boot. I have been wearing the Gym Balls Duo during my regular hour workout. They stay put no matter what kind of exercise I am doing, whether squats, lunges, or walking. The rolling ball produces a pleasant sensation that makes me feel sexy and confident. It's great to get a body workout and vaginal workout all at once.

I have several other sets of vaginal exercisers. Below is a picture of Metal Worx Ben Wa Balls, Gym Balls Duo, and Luna Pleasure Bead System. You can see the Gym Balls are larger than the Ben Wa Balls, and similar in size to the Luna Beads. I did find the tapered end to be preferable than the round Luna balls. Out of the three, I like the Gym Balls Duo best.