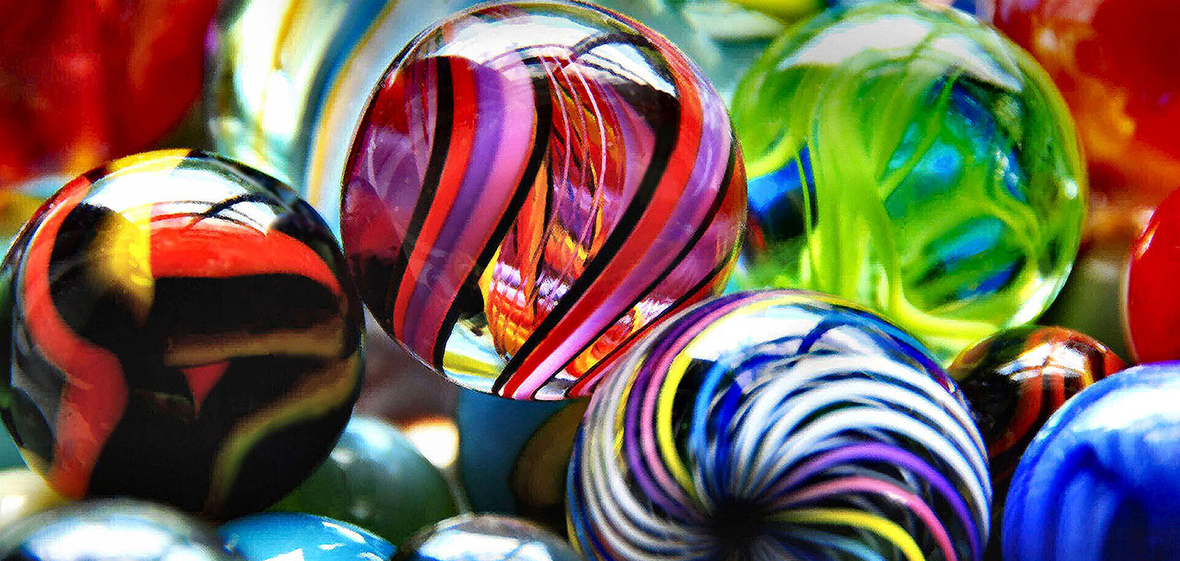 How to Choose Best Glass Sex Toys And Mix Beauty with Pleasure
Turn fabulous glass toys into the O-inducing gems of your sexcapades by learning how to pick and use them. They are your ultimate choice if you want to experience back-arching and leg-shaking orgasm. A source of creative play possibilities, a fab element in your sensory play, or a key to unexplored sensations – glass toys are all of that and so much more. Check out our handy guide to pick a glass toy that will make you lose count of your mind-blowing orgasms.
1

What's So Awesome About Glass Toys?
Stunning glass toys are undoubtedly the stars of any toy stash, but beauty is not their only merit.
They're Super Durable
Made of firm, often Borosilicate glass, these toys are very sturdy and won't break even if you drop them. They are a breeze to take care of, maintenance doesn't require you to do anything. Owning a glass toy is like owning a super low-maintenance work of art. It ceases you a ton, while you don't even have to dust it. Well, maybe a little.
Flower butt plug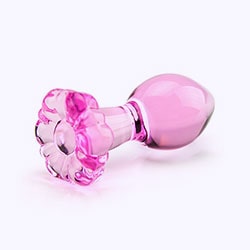 Glass Willies Give Intense Pressure
The rigidness and heftiness of glass allow you to apply intense pressure on your orgasm spots, just don't forget to use lots of lube. With added pressure, you can make your body experience incredible things. Squirting, for one, is very possible with the intensity of glass - go read our guide on best sex toys for squirting.
Gold laced G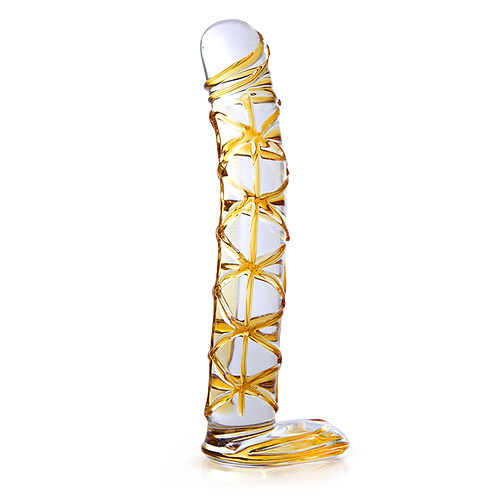 Temperature Play With Glass Is A Must
Last but not least, glass toys perfectly absorb and retain any temperature - heat them up or cool them down for OMG-asmicaly fresh sensations. If you wish to know more about temperature play, go ahead and explore our super hot temperature play guide.
Rainbow heart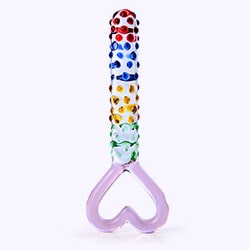 2

Bet On Glass Curve For Some G-spot Spur
Ergonomic curves can do wonders for your G-spot, however, glass ones, sculpted specifically to hunt your G-spot, allow you to apply intense targeted pressure to it, making your reach a mind-blowing orgasm in a blink. Add a hot-n-cold element to your play and enjoy either warm and soothing caress of your G-spot or refreshingly cool pressure to gasp and jolt from overwhelming sensations. Curved glass G-spot-oriented toys often boast chiseled bulged heads and exciting shapes like C-shape, S-shape, loop-shaped with two shafts, and many other that sensually massage your hot wetness with every move of the toy.
French kiss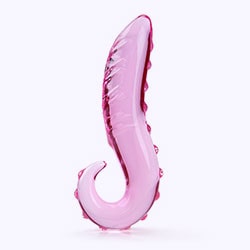 More than just a sculpture, this toy is intensely pleasurable and hits the G-spot like nothing we ever had before.
3

Want Realistic? Glass Can Do That, Too!
If you are going for a real-feel, you can choose from the abundance of the anatomically correct glass toys, boasting realistically veined shafts, sculpted heads, and textured balls. Texture adds intensity to your sensations, making you feel every vein and crease grazing against your sweet spots, while body-temperature retention feature adds to the realistic feel even more.
Lady killer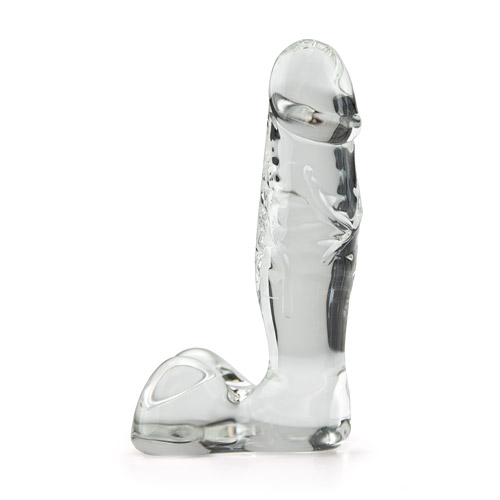 This toy is so realistic that I get excited just to see it. I love everything about it from the size to the hard raised ridges of the veins.
4

Choose Glass Toys To Train For Stronger Orgasms
If you want to tone your PC muscles and enjoy truly powerful, back-arching orgasms, glass Kegels toys are your best friends. Hefty and delightfully smooth, glass Kegel exercisers are perfect for those who know their Kegel workout routines and want something upgraded. Take a look at our basic Kegel workout guide right here.
Just slip them in and feel them rolling inside you with your every move, sensually massaging your vaginal walls, toning them, and filling you with satisfying pressure. Squeeze them with your muscles and hold them inside for as long as you can, enjoying the arousing sensation and jolting in pleasure every time they clash. Remember to do it regularly – you have to really commit to using them for fantastic results.
Better O ben wa balls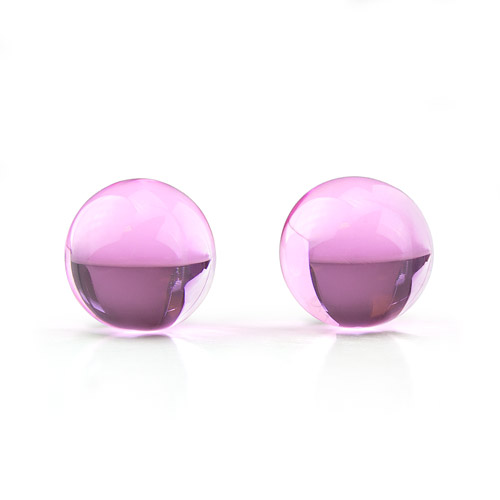 5

Upgrade Booty Play With Glass Plugs And Probes
Shapely and delightfully heavy butt plugs and anal probes offer a plethora of creative booty play possibilities, from stretching or warming up for anal penetration to prostate massage, and even experimenting with double penetration. Just slip the butt plug between your cheeks and feel its fulfilling pressure on your orgasm spots with every move.
With solid glass material, you won't need to reapply lube if you're using them for a long-term play. Anal probes, on the other hand, are perfect for the couple's play. Your lover can enjoy the arousing view of an eye-candy glass probe sliding in and out of your booty, while you gasp from the fulfilling pressure right where you want it. Warm your glass plug or probe up to prepare it for throbbing action or cool it down for breathtakingly refreshing sensations.
Pink heart glass dildo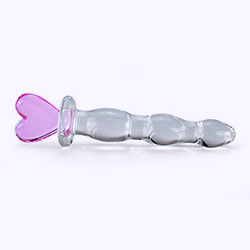 6

Get A New Spin On Beading Off With Glass Anal Beads
Gorgeous anal beads are a perfect way to upgrade from anal plugs to a bit more daring bum play and experience booty pleasure anew. Slowly slide them in, starting with the tiniest bead and prepare yourself to be swept away by leg-shaking anal-gasm when you pull them out one by one in a steamy beading off action. Want a deeper look on anal beads and all they have to offer? Go and see our comprehensive guide on beads.
Smooth and ergonomic glass anal beads sensually roll inside you, massaging you and hitting all your sweet spots. The heaviness of glass exerts additional pressure on your orgasmic zones, making you grab your sheets with the intensity of the bursting climax.
Magic scepter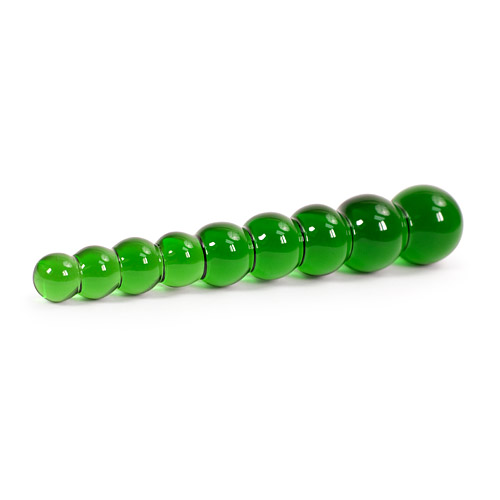 7

Give Your P-spot A Good Rub With A Glass Prostate Massager
The super ergonomic shape of glass prostate massagers allows them to massage your sweet spots with precision. The easy-grip handle helps to guide them to the source of your pleasure, applying the intense pressure exactly where you need it the most. Glass prostate massagers allow you and your bae to enjoy the view when the toy thrusts into your hot pinkness.
Onyx glass prostate massager
Onyx glass prostate massager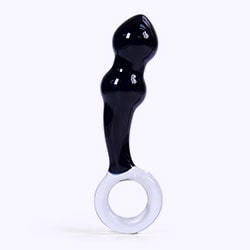 There aren't enough nice things to say about this toy, as long as you know what you like when it comes to anal play.
8

Indulge In Double-Ended Toys And Play With Textures
The double-ended glass toys add exciting versatility to your bedroom fun, be it a long-overdue me-time or a frisky couple play. Try each end at a different angle, keep it in longer, play with the pressure intensity until you find a toe-curling orgasmic combination. Lengthy double-ended toys allow both partners to enjoy penetration simultaneously, discovering a new level of synced stimulation.
A multitude of textures and shapes of glass toys is another way to spice up your bedroom fun. They are perfect for maximizing your pleasure, especially if you love treating your sweet spots to some bumpy massage or enjoy the silky-smooth frictionless dive of the bulbous head into your hot pinkness. With an ah!mazing variety to choose from, you'll definitely find the one that works like magic for you, swirling you into the vortex of orgasmic sensations.
Bumpy spiral double dong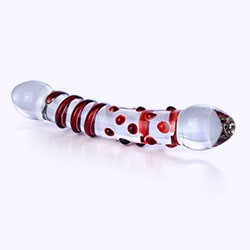 Double ends give you two options of stimulation and work well for prostate stimulation and g-spot.