Aslan Leather Jaguar G - G-string harness from Aslan Leather

Product Details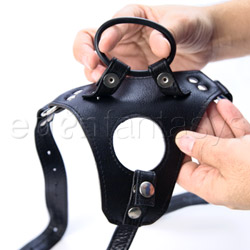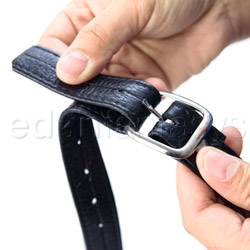 Summary:
For the past two weeks that I've had it, the Jaguar G has become my new go-to harness, and that's saying a lot. There are no extraneous bells and whistles, no issues with securing toys into the harness, no issue changing O-rings, no problem with the buckles, no problem keeping the harness - and toys - in place in a variety of positions. Snug and tight and just about damn perfect.
Pros:
Beautiful leather, quality craftsmanship, versatile harness that you can use with any strap-on cock
Cons:
The G-string style harness is not for everyone, but for those of you who love it, this is for you.
Best use:
The Jaguar G is a soft leather strap-on harness from Aslan Leather, made to be used with dildos (um, cocks) with flared bases (as opposed to the Vac-U-Lock system dildos). It is G-string style, or one-strap, meaning the straps go around your waist and between your legs like a G-string. This is what makes it significantly different from its counterpart, the two-strap (or jock strap style) Jaguar.
Material:

The material itself is exceptional, which is what sets Aslan products apart from many other harness companies. The leather is buttery and soft, extremely pliable, and feels like a second skin. This is the benefit of leather above other materials - it molds to your own body with your body heat in ways that rubber, nylon, and vinyl do not. The buckles are locking, like a typical belt buckle, so the girth around your waist from front to back is extremely customizable (up to 60") to your shape and tightness preference. The single strap that goes between your legs buckles to the waist strap with a D-ring, making it easier to adjust on the fly. The leather is not waterproof, and care should be taken in keeping it clean and preserved, so you may want to consult some leather care guides about using Saddle soap and water, painting the silver with clear nail polish (to keep it from rusting), and wiping it completely 100% dry after every use, to ensure the life of your harness.

Material:

Leather

Material safety

Design / Craftsmanship:

The front of the harness is a triangular panel to help with chafing of the cock against your pubic bone (ouch), and held in place by metal O-rings. O-rings are always an important factor in harnesses - the Jagar G's are interchangeable, so you can upgrade or downgrade the diameter based on the girth of the cock you'd like to strap on. It won't accommodate an O-ring much larger than 2", but there aren't many cocks larger than that, so it won't limit you much.

If you're worried that the single strap will either a) limit access to your genitals or b) be uncomfortable going up your ass, you are partially right. It will take some finagling to be able to slide something inside of the wearer of this harness, so if you're the kind of person who likes to get fingered and blown while strapped on at the same time, this might not work for you. The single strap up your ass, however, I want to disagree with. I do not wear g-string undies, and can't stand that feeling actually, but I find these harnesses are the most comfortable because they fit better, and they rub against my clit better. More importantly: the soft soft material of this harness means that you do not get poked, stuck, or that ride-up feeling as you're wearing it. It's comfortable, all the way.

Size / Fit:

The size of the Jaguar G is quite versatile, and fit snug and fantastically well. I'm not particularly small, but not particularly large either, somewhere in the middle range, probably, and this was completely comfortable, and I had lots of room to spare. In fact, after I broke in the harness a bit, I snipped the ends of the harness straps to be shorter so as to not have as much hanging down during use. Plenty of room, plenty of adjustment ability. It'll fit like a glove.

Maximum hip size:

42"

Maximum waist size:

One size fits the most

Dildo holder diameter:

2"

Weight:

0.4 lb

Performance:

For the past two weeks that I've had it, the Jaguar G has become my new go-to harness. I'm extremely picky about my harnesses and to get bumped up to the very top of the list is hard. I thought it'd be too much material for me, as usually I'm such a minimalist in my harnesses - but no. Snug and tight and just about damn perfect.

Special Features:

Interchangeable ring
Premium

Other

Safety features:

Phthalates free