JoyDivision Joyballs - Vaginal balls from JoyDivision

Product Details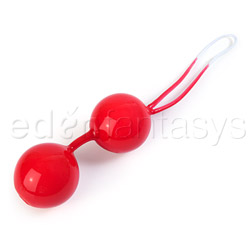 Summary:
I would recommend this product to anyone, as it's very comfortable for daily wear. The vibration intensity was a little disappointing, as you would only feel it with a lot of body movement. It was excellent for training the vaginal muscles, which in the end made for more intense pleasure with my partner. I was able to wear these no matter what I was doing, and no one knew why I had a smile on my face!
Pros:
Great for strengthening PC muscles, comfortable and soft, good for everyday use.
Cons:
Dust & other particles stick to the surface of toy. Vibrations are weak.
Best use:
Joyballs are easy to use and easy to clean. They provide intense vibrations and stimulate your pleasure regions... perfect for satisfying your secret desires. Joyballs will train your vaginal muscles and pelvic floor to intensify pleasure for you and your partner. They are perfect for after pregnancy to regain a fulfilling sex life.

I like to wear them while cleaning and going to the gym. The vibrations tease me, and are a good warm up for some fun. At first you may find they feel a little strange, but it becomes easier once you slowly increase wearing time. After a while, the strength and tightness of the muscles will increase, especially if you flex your pelvic muscles once in a while. For effective training, the recommended amount of time for wearing the Joyballs is around four hours a day.

Make sure to talk to your gynaecologist before using the Joyballs following pregnancy.
Material / Texture:

Joyballs are made from medical grade silicone and are velvety smooth in texture. The balls are firm, but flexible in a way that they mold to your every curve. They are comfortable enough to wear for hours at a time and daily use. These are safe for the body since they are latex free. The texture isn't sticky, but it can attract dust and dirt particles. Make sure to use the satin bag that comes included, to avoid anything sticking to it.

This product is Non-porous, Phthalates free, Hypo-allergenic, Food-grade material, and Latex free.

Material:

Silicone

Material safety

Texture:

Beaded / Bulged

Safety features:

Food-grade material / Hypo-allergenic / Latex free / Non-porous / Phthalates free

Design / Shape / Size:

The Joyballs only come in the color red. They are 7 1/2 inches in length, 3 3/4 inches insertable length, 4 1/2 inches for the circumference and weigh 4.8 oz. They are two balls with a silky smooth string attached for easy removal. They have been made to suite the female anatomy, and are gentle, and kind to the body and skin. In the middle between the two balls, it is very flexible so it can easily mold to your form.

This toy is small enough to travel with. It comes with a little satin bag to store your toy, and keep it clean between each use. The Joyballs is a very discreet toy. No one would know you're wearing them!

Color:

Red

Length:

7 1/2"

Insertable length:

3 3/4"

Circumference:

4 1/2"

Diameter:

1 3/8"

Weight:

4.8 oz

Performance:

Love balls have been around forever, and help train your PC muscles. I have noticed a difference since wearing them, and they have helped with my sex life. I have only been using them for a week, but since using them, my orgasms are more intense and my sex life has kicked up a notch. They are great for wearing around the house. I like to insert them before I vacuum and do laundry. I find that I have to use lubrication in order to insert them easier. These Joyballs are good for the average woman, but if you're smaller you may want to try a different product.

The vibration from these Joyballs are mild in nature. There's a little ball inside each ball that rolls around. The more you move, the more it vibrates. You have to be moving around a lot in order to feel it. I don't orgasm wearing them... they are a good warm up for the main event.
I like that they have a nice little bag to keep them in, that way they are discreet.

Care and Maintenance:

Only use Joyballs with water soluble lubricants, as lubricants that contain silicon can damage the surface. They can be easily cleaned with warm water and mild soap, and are safe to boil for extra cleaning. Make sure to store Joyballs in the satin pouch that is provided, to avoid dust particles sticking to the surface.

Care and cleaning:

Boilable / Dishwasher safe