Best use: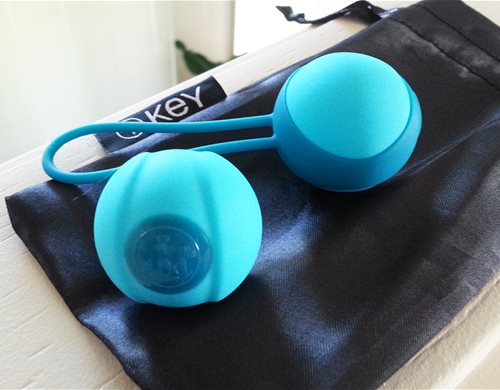 The Key Stella I Kegel set is a single doutone ball, which is perfect for those of us who like smaller Kegel exercisers.
Vaginal balls like the Stella I are designed to aid with Kegel exercises that will develop and strengthen your pelvic muscles. Having strong pelvic muscles provides an overall better sexual experience for most women. Stronger pelvic muscles give you a tighter grip on your partner during intercourse and can help you achieve stronger, or even multiple orgasms. Stronger pelvic muscles are also beneficial for women who suffer from weak bladders or incontinence.
Pelvic muscles can weaken with age or from childbirth, so it's important to remember to work them and keep them strong.
Vaginal balls are designed to help you focus in on the muscles you're trying to work and give you an object to manipulate when you squeeze your muscles while also providing some resistance. These Kegel balls also have little weights inside them that roll around as you move and give extra rewarding stimulation as well as increase blood flow. The set comes with a silicone harness and two interchangeable weights; one 30 gram weight and one 40 gram.
Stella's single ball design is a great alternative to having 2 connected duotone balls, which is the most common. The ball is comfortable size which should be suitable for most women, even if they're beginners, and is good if you prefer smaller vaginal exercisers. If you are very tight vaginally already or are an advanced Kegel user, you'll probably find that these balls won't be much of a challenge to keep in, but they are still great to wear and enjoy the sensation of the rolling weights.
This toy should not be used anally because it's very possibly for this item to get inserted too far and lost.
Material / Texture:

The Stella I features a lovely smooth silicone, available in 3 vibrant colors. Silicone is 100% body safe and non-porous, and it will not harbor any harmful bacteria. This silicone is extremely smooth and has very little drag to it.
The inner shell of the weighted balls is hard and rigid, but they are fully covered with a silicone skin. There are also small emblems on each Kegel ball that identify the weight which are made from shiny ABS plastic. The silicone harness and removal cord are sturdy and don't stretch very much at all, which makes Stella very easy to remove, and doesn't have me worrying about the cord snapping.

Make sure to only use a water-based lube with this product because it's made of silicone. Silicone-based lubes and silicone toys can potentially have a chemical reaction to each other which can ruin your toy.

Material:

Silicone

Material safety

Texture:

Smooth

Safety features:

Food-grade material / Hypo-allergenic / Latex free / Non-porous / Phthalates free

Design / Shape / Size:



The Stella I is 4 1/2" around, with a diameter of 1 3/8". The overall length is 3 7/8" and the retrieval cord is 2 1/2" long.

There are 2 weights, a 30 gram and 40 gram. They are both the same size, and they each have a small, dime sized emblem on them that have their weight printed on them. You can feel that the 30 gram weight has a smaller inner ball than the 40 does, so it has more room to roll around in the ball's center and its movement is easier to feel than that of the 40 gram weight.



Length:

4"

Insertable length:

4"

Circumference:

4 3/4"

Diameter:

1 1/2"

Weight:

7.5 oz

Performance:

Select either the 30 or 40 gram weight and insert it into the harness. The weighted balls slip easily into the harness and have slight indents which act as a guide for centering the balls in the harness. It's also possible to insert the individual balls without the harness and use them like classic Ben Wa balls.

I found that Stella was easiest to insert while lying on my back, and a little bit of water-based lube made it more comfortable. The more often you wear them and do your Kegel exercises the faster you'll strengthen your muscles and start noticing a difference.
I usually wear mine around the house for an extended period of time. They are very comfortable and provide sensation when I move around, it's both stimulating and it reminds me to do my Kegel exercises.
These vaginal balls also do increase blood flow and I notice an increase in arousal while I'm wearing them. They are great to wear during the day to get a bit warmed up and you can then incorporate their removal into foreplay with a partner.
To remove Stella, simply pull on the removal cord and relax your vaginal muscles.

Care and Maintenance:

Since the Stella I is made from silicone, and is very easy to keep clean. Bodily fluids or lube residue can get between the harness and the weights, so make sure to remove the weights so you can fully clean both pieces. I prefer to take mine to the sink, spray it down with toy cleaner and they rinse it. You can also use soap and water, toy wipes, or you can use a 10% bleach solution to sterilize it.

Care and cleaning:

Dishwasher safe / Soap and water / Toy cleaner

Packaging:



The Stella I comes in some classy packaging like the other items in the Key line by Jopen. The box comes shrink wrapped, so you always know that your item is new and has never been opened. The outside is a slip cover that features an image of Stella I along with a lot of info about the product and its benefits. The slip cover comes off to reveal a black box that also has much of the same info on it.



The front of the box is a flap that lifts up to reveal the set and extra weight nestled in black foam. There is a small satin ribbon at one end that you can pull to lift up the foam. Underneath are warranty info and instructions, along with a black satin drawstring storage pouch that measures 6.5" x 4".



Personal comments:

Left to right: Je Joue Ami 3, Ami 2, Stella II, Luna Noir (same size as Luna Mini Beads), Stella I, Ami 1.



The Key Stella line almost seems like what you would get if you combined the Je Joue Ami set with Lelo Luna Beads. You have the fully silicone harness/retrieval cord and weights, and have the option of having a single ball like Je Joue, but still have the weight customizability like the Luna Beads do. Stella I is slightly smaller than the single ball in the Je Joue Ami set.

Stella I and Je Joue level 1:





The Stella's retrieval cord is rounded and very comfortable to wear for an extended period of time. I actually find that the cord nicely stimulates the outer vagina and labia. I haven't felt any pinching like you can sometimes get with the Ami set because of their flatter cords. I also really like that the cord doesn't stretch very much, so they're very easy to remove and you won't end up snapping yourself with it like a rubber band.

I do like the size that Stella comes in, and it should be a comfortable size for most women, though I could even go slightly smaller. The Stella I is right in the middle of Je Joue and Luna in terms of inner weight movement. There is a decent amount of roll to the inner ball and I am able to feel it, just not quite as much as my Juna Noir beads. I usually just use the 30 gram weight because it produces more sensation than the 40 gram, and I would rather have more stimulation than weight.

The rattle these balls can produce is pretty quiet, and no one should be able to hear them while you're wearing them. I would say they're right about the same as the Je Joue Ami set, which is just a tad quieter than the Luna Noir beads.

The colors of the Key like are gorgeous and the quality is superb. The only thing I would like more is if they started making the Stella balls available in more sizes, especially smaller ones. Jopen did an excellent job on these, and I'm absolutely enjoying my Stella Kegel Balls.