Best use:
The Key Stella is a set of three weighted balls that are arranged from smallest to largest inside a silicone form. It is designed as a kegel exerciser and can provide some serious workout potential for the right user.
Working your way up to ten to twenty minutes of active exercise wherein you pull gently on the ring of the ball holder or simply walking around while having either the individual balls or the entire holder will help you condition and strengthen your pelvic floor muscles. This will help you to be able to withstand childbirth, resist urine leakage and increase the power of your orgasm.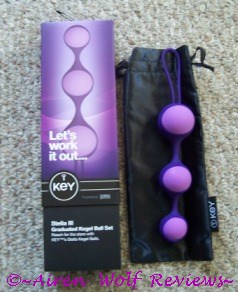 This is a long toy so it might not fit every female bodied user if the balls are in the silicone holder. It could crowd against the back wall of the vagina or the cervix. Removing and using the balls individually will achieve the same results and can be an alternative for shorter vaginas. It is impossible to "lose" an object in the vagina and if you feel as though you cannot remove the ball simply relax. You can squat and push the ball out, sit on the toilet and the natural effect will be to relax the vaginal muscles or ask a partner to gently remove the ball with a finger.
Each ball is weighted and the weight is free moving inside the ball. It is an interesting sensation to have these inserted while walking around. They can also be used without the holder during PIV sex but I find that this hurts rather than being pleasurable. I did find, however, that inserting the balls with the holder into the vagina and then having anal sex is very stimulating for both partners.
It should go without saying that this is not intended to be used as an anal toy, but I'll say it anyway!
Material / Texture:

The Key Stella is entirely composed of silicone from the balls to the holder. The silicone is pliable and silky smooth. It requires very little lube to become slippery, but when dry it doesn't slide easily. There is no small associated with this toy as befits a luxury tool.

There is a loop of silicone at the top of the holder designed for easy retrieval and it is securely fashioned. I have pulled and tugged on it but I can't find any signs of wear and tear. The user can be reasonably sure it will not separate from the holder entirely.


Material:

Silicone

Material safety

Texture:

Smooth

Safety features:

Food-grade material / Hypo-allergenic / Latex free / Non-porous / Phthalates free

Design / Shape / Size:

This toy is designed to be user friendly and safe. As far as it goes this toy scores very high marks in these areas. The shape is aesthetically pleasing and quite beautiful. I love the deep purple color and the silky silicone is lovely to touch and use.

The balls are weighted and the inner weight moves easily and can be felt easily whether the user is wearing the balls in the holder or using them free form. The user can work muscles in several different ways. Using the holder the user can tug gently on the retrieval cord and use resistance to work the pc muscles. The balls can also be removed from the holder and combined in different size/weight combinations to work the same muscles. Finally the balls can be used in combination with a dildo or a penis for interesting stimulation.

The holder measures 6 1/2 inches from the top of the largest ball to the smallest. For shorter vaginae this might just barely fit, or be uncomfortable. For others it could be a great experience. Personally, I prefer taking the balls out and using them individually because I love the stimulation of the weights while I walk.

This is the three ball set (Hence the name Key Stella III) and the balls are rather larger than the usual marble sized balls that are offered normally.

The smallest measures 4 inches around and weighs 20g.

The middle measures 4 1/2 inches around and weighs 30g.

The largest measures 5 1/2 inches around and weighs 45g.


You are going to feels these puppies!


Length:

9"

Insertable length:

9"

Circumference:

4 3/4"

Diameter:

1 1/2" / 1 1/4" / 1 3/4"

Weight:

9.5 oz

Performance:

Jopen recommends that you apply plenty of water based lube to the Stella with the balls in the holder and simply wander around doing whatever you normally do all day long. This will certainly cause fatigue and the user will feel the muscles working as well as the weights moving around.

I found that the silicone holder was simply too long to be comfortable for me for longer periods of time if I am up walking around. The holder is long and I have a shorter vagina so the end of the toy irritated the opening tissues as well as my inner labia. It could be that this is exacerbated by the fact that I have never been able to tolerate tampons. Perhaps I am just extremely sensitive around that area? I can't say.

I find that inserting the holder and gently pulling on the retrieval cord provides a great workout whether I am lying down or sitting in a chair. I prefer to take the balls out of the holder and use them as I walk around.

All in all it does the job it is intended to do and does it with a bit more flair than just simple kegel exerciser balls.


Care and Maintenance:

This is a silicone toy so if your preferred lube is silicone based, be sure to test a small inconspicuous spot before slathering it on. Water based lube is your best bet and it will wash cleanly away.
Since the toy is silicone you won't need a whole ton of lube for it to be effective. The toy will not slurp it up like other materials might.

The toy is 100% non-porous so it's safe to share, though I don't see a reason why it would be shared. At any rate, simply washing them thoroughly with hot water and soap or a commercial toy cleaner is all you need. The silicone looks as though it might slip off the individual balls but it doesn't come off at all so there's no need to worry that fluids will get built up inside the balls.


Care and cleaning:

Dishwasher safe / Soap and water / Toy cleaner

Packaging:


Just as you would expect with a luxury toy this kegel exerciser arrives in a lovely, but rather large, heavy cardboard box. The top slides off to reveal a base where the toy is nestled in a form fitted foam form. Lift this form using the black ribbon located at the top of the base to reveal a lovely black storage pouch and two pamphlets explaining your purchase.

The box is perfect for storing the Stella if space isn't an issue and certainly if discretion IS an issue. The box is discreet and very pretty.

Experience:

I was kind of intimidated by the size of this toy but I found several ways to use it and it's become one of my favorite exercisers. I do feel as though it is doing its job and my orgasm hasn't lost any strength using this toy exclusively. I don't believe I have actually tightened up anything but then again I wasn't really looking to do that. I was looking for a toy that would continue to maintain my tone and be a bit more fun than the plain toys I had been using.

I recommend this for ladies who are expecting or have recently given birth. After my third child I noticed I was leaking urine when I sneezed or laughed. After six months of regular kegel exercise I stopped having to wear a panty shield and from that point on my orgasm increased in strength and longevity.

Ladies: Do your Kegels!