Fun Factory Kissable bodypaint - Body paint from Fun Factory

Kissable bodypaint videos
Product Details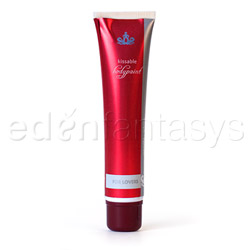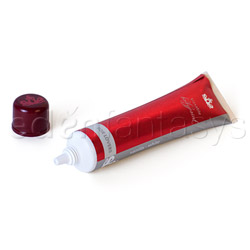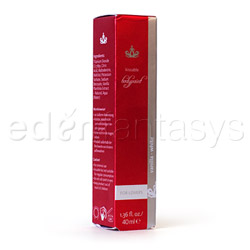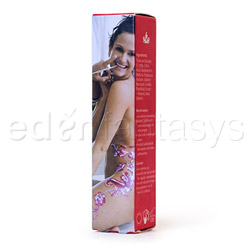 Summary:
Want to make your body into your lover's kissable canvas? With Colore Moi, simply paint a design, let it dry, and then kiss and lick off your work of art. The vibrant color, light scent, and pleasant flavor are sure to be a hit.
Pros:
Bright color, scent and flavor not overwhelming, dries fairly quickly.
Cons:
Can be a bit thick coming out of the tube, cap not totally flat for storage.
Best use:
This body paint can be used to draw designs and images on whatever body part you desire. It can be used on men or women, and is fun to draw pictures, images, or designs for your partner to kiss and lick off. Use your imagination for the complexity of the design and enjoy your partner kissing and licking the paint to clean you up.

The paint is made for external use only and should not be used on inner labia or eyelids. It is kissable and lickable, but should not be eaten directly out of the tube (or used for decorative writing on cakes), nor should it be rubbed into the eyes.

The ingredients are all safe for skin, but the product should not be used if you are allergic to any of them. This product contains Carmine CI 75470 (a natural dye), Calcium Chloride, Acetic Acid, B-Carotene, Potassium Sorbate, Sodium Benzoate, Fragaria Chiloensis (Strawberry), Fruit Juice, Maltodextrin, Maltitol, and Water.
Texture / Consistency / Thickness / Viscosity:

Colore Moi is very thick, and has the consistency of tubed cake frosting. It thins a bit if you knead the tube before dispensing. When applied from the tube, the body paint stays put with no running or dripping.

When first applied, the body paint is sticky to the touch. It doesn't rub in, but it can be streaked and painted with a finger or paintbrush to get the desired effect. Depending on how thick you paint, after about 10 minutes the area painted is no longer sticky. It may be a bit tacky if you applied it thickly, but after about another 10 minutes this tackiness also goes away. When dry, the body paint has a shine to it. The color is bright red, and it stays red even when it dries.

Base:

Water

Ingredients:

Caramel, citric acid, maltitol, maltodextrin, potassium sorbate, sodium benzoate, theobroma cacao, titanium dioxide cl 77891, water

Color:

Red

Taste / Aroma:

When opening the tube, a lovely scent of strawberries and cream hits your nose. The scent is not overwhelming, and it's also not noticeable from a foot or two away. If applied to the skin and immediately licked or kissed while it's still wet, the taste is very light – just a hint of strawberries. When dry, the scent is barely noticeable.

When dry, licking the body paint on the skin mixes the dried paint with saliva, and the strawberry taste really comes out. It's not too strong, but it tastes yummy and makes you want to go for another lick. Saliva also seems to reactivate the smell, and it's pleasant and fairly strong when you've got your nose right there as you're kissing and tasting the paint away.

Performance:

This body paint is a fun product. It doesn't leak out of the tube and is easy to apply. Colore Moi should last on the skin until you take it off or it gets wet. It does need to be washed from the skin, but it comes off easily with just water and a light bit of rubbing. Using a wet washcloth also works well.

While this product came off of cotton fabric without leaving any stain residue when it was applied and allowed to dry before removing, care should be taken not to get it on white fabric (sheets, towels, etc) without doing a patch test first to make sure it won't stain.

Packaging:

The body paint comes in a small box with a woman on the side. She's painted with designs on her side and leg in multiple colors. The box is fairly discreet – the front is red with a grey strip, although "For Lovers" is highlighted towards the bottom. The back has the ingredient list and cautions.

Inside the box is the tube of body paint and a small sheet with information on use for all products in the sensual body love line. The tube is red with a silver strip down the side. It is meant to be stood on its cap, but the cap isn't entirely flat so it isn't the most stable and can easily be knocked over. It will likely not be noticed if in the medicine cabinet or with the lotions and perfumes on the dresser.

Volume:

1.36 fl.oz.

Weight:

0.2 lb

Personal comments:

Fun Factory makes cosmetics? Yay! The new Body Love line includes glamour powder, sensual cooling and warming gels, massage candles, massage oils, and body paints.

Experience:

This was pretty fun to use, although I would have enjoyed having a few more colors to paint with the red. It really reminds me, in both initial texture and presentation, of cake decorator frosting that you use to pipe letters onto cakes. Kneading the tube made it a bit smoother to apply, and both my partner and I had fun painting on each other.

We both liked the way it smelled, and also the way it tasted after it dried on our skin and we licked it off. It stayed on until we took it off, and once it was dry on our skin I didn't notice it getting on any fabric or surfaces that we were playing on. I did get it on a pair of grey shorts when trying it out but when it dried it came out very easily with just water and a bit of rubbing.

I plan on getting a few more colors if they're available and make my body into his kissable canvas.

Other