Zado Leather collar - Collar from Zado

Product Details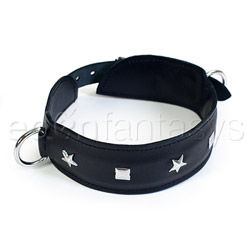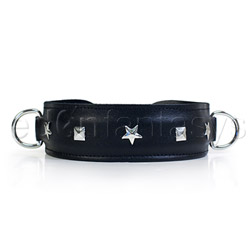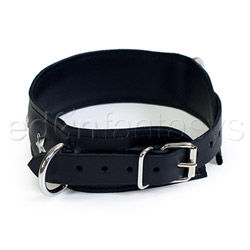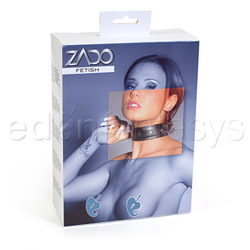 Summary:
Zado's leather collar is excellent quality at a great price. Adjustable to fit just about any slave, this collar looks good on men and women alike. It has five decorative studs that add flare and detail, without making the collar look cheesy. There are D-rings on each side that you can use to lead your slave by leash, or incorporate into bondage/restraint. This collar is not only great for bedroom play and scenes, but can be used to complete any fetish gear outfit.
Pros:
Leather, sturdy, sexy, adjustable, D-rings for a multitude of uses.
Cons:
May not fit petite or extra thick necks.
Best use:
This leather collar by Zado is so simple to use, it's great for beginners as well as those more experienced. It's sturdy but not cumbersome, making it comfortable enough to wear for extended periods of play, even if it's your slave's first collar. The D-rings on each side add options for those who are interested in heavier games, whether it involves bondage or puppy play.

With its adjustable sizing and classic look, it's great for your boy or toy and has a completely unisex feel. This collar is also fantastic as an accessory to anyone's fetish gear. It's large enough to fit most, although if your slave is extra petite, it may be too loose for your preferences.
Design / Craftsmanship / Material / Size / Fit:

Zado's collar is made from a solid piece of leather, folded in half and sewn the whole way around. Another 3/4 inch piece of leather is woven through the collar, only visible at the D-rings and at each end, where the collar is secured with a metal buckle. The adjustable collar has six buckle placements, and can fit a range of neck sizes from 35 to 46 cm (about 13.5 to 18 inches).

The leather is sturdy and strong, and looks like it can take quite a beating. Even with tugging and leash pulling, it should last for some time.

The leather is shiny and not too stiff, which is nice if you plan on keeping your slave in it for an extended period of time. It's smooth to the touch, and the leather smell is not very strong, but noticeable if you hold it to your nose.

Even with its studded design of *star, square, star, square, star*, it is masculine enough for either sex, and makes any sub look and feel sexy and owned.

Material:

Leather

/

Metal

Material safety

Color:

Black

Width:

1 1/2"

Closure:

Buckle

Weight:

1 oz

Performance:

This collar fits well, and is a great accessory to have in a D/s dynamic or any BDSM scene. It's comfortable for play and long periods of wearing. It's thick enough that you won't forget you're wearing it, but small enough that it doesn't get in the way.

The side D-rings are sturdy and withstand the pull of a leash or, my favorite, the strain of attaching cuffs to them. The decorative studs add appeal and do not make the collar look cheap or cliche.

Care and Maintenance:

Store this leather collar in a dry place, but make sure it is has air to "breathe." If it gets dirty, wipe it with a damp cloth. If it gets wet or sweaty, use a soft cloth to wipe off the excess liquid and let it air dry.

Other

Size:

One size fits most

Studs style:

Pyramid

Safety features:

Food-grade material / Latex free / Non-porous / Phthalates free