Spartacus Leather nipple clamp - Nipple clamps from Spartacus

Product Details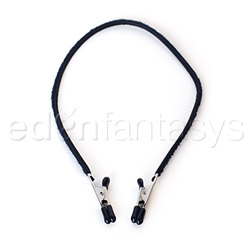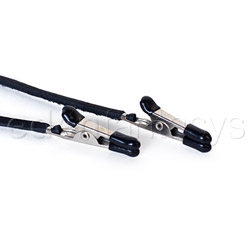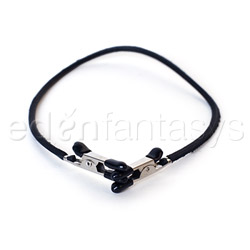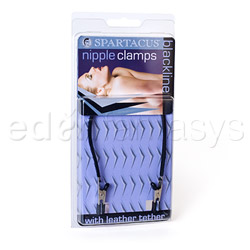 Summary:
These nipple clamps are the perfect in between of "beginner" and "not for the faint of heart" users. The grip is powerful, almost painful, but oh so good.
Pros:
Gender neutral, tight squeeze, clamps connected with a leather cord
Cons:
Rubber grips slip off, best fit only for small and medium size nipples
Best use:
These Leather Nipple Clamps could be used in a variety of ways for either men or women. The clamps are gender neutral and automatically adjustable, though a bit on the stronger side for beginner users and/or for genital stimulation (although still possible).
Material / Texture:

The Leather Clamps are comprised of more than just the black, supple leather string that binds the clamps together. The clamps themselves are made of metal and capped with smooth rubber tips. The rubber tips aren't "squishy", but they keep the metal from pinching. While the materials are compatible with water-based lube, using lube would keep the clamps from staying in place, so it is not recommended.

All materials are odorless and hypo-allergenic.

Material:

Leather

/

Metal

Material safety

Safety features:

Food-grade material / Latex free / Non-porous / Phthalates free

Shape / Design / Size / Fit:

The leather string is 12" long, which should be plenty long enough for most users and keeps the clamps together and from getting lost. The clamps themselves are adjustable; in that, like clothes hangers, you pinch one end, the closed end opens and you slide it over the nipples. Release the clamp and it squeezes down onto the nipple.

The clamp opens to 3/4", and while it may fit nipples up to this size, the larger the nipple (clit, scrotum, etc) that is being inserted, the greater the squeeze.

Color:

Black

Length:

1 1/4" / 14 1/2"

Weight:

0.8 oz

Functions / Performance / Controls:

It doesn't vibrate, suck, or do gymnastics. But it works, provided it is a good fit. The rubber cap grips the nipples so that the clamps stay in place even during sex or while being worn under a loose fitting shirt. The clamps will likely fit smaller nipples more completely than large nipples. These are great for men and women with "mosquito bite" size nipples. While it is pretty universal, the depth that this opens up to is only enough to fit my pinkie finger and than slips off a bit, which can lead to an uncomfortably strong pinch.

The pinch is similar in strength to a new clothes pin; strong enough to limit circulation and should only be worn for no longer than 20 minutes at a time. Once released, and blood flow returns, it creates the most incredible throbbing in the nipples.

It is possible to yank the leather cord and pull the clamps from the nipples if you prefer a bit of s/m. But on that same note, it is also possible to accidentally catch the cord on something and pull the clamps unintentionally. And care should be taken either way because the rubber grips are not glued on and the metal underneath is serrated; intended to hold the grips in place, but I shudder to think what would happen to if they were to clamp down bare on the nipples.

Special Features:

Adjustable
Kinky
Travel
Waterproof

Personal comments:

I really enjoy these clamps; although I must say, if they were any stronger, I probably wouldn't be able to use them. I have also glued the rubber tips, as I have had them slip off before. Fortunately not while they were on, but the grips are so small they are almost impossible to find once they have went flying. Personally, there is no way I would want to use this to pinch my genitals, but I know many others aren't quite as wimpy as I am in those regards. I'm not certain these are the have all, end all of nipple clamps for me, but they've certainly convinced me to keep trying to find the perfect pair.