California Exotic Leopard duotone balls - Vaginal balls from California Exotic

Leopard duotone balls videos
Product Details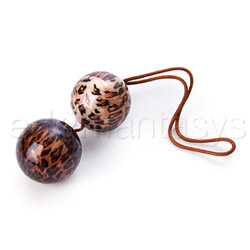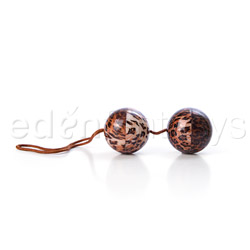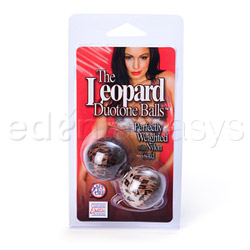 Summary:
The Leopard Duotone balls are weighted vaginal balls that are simple and effective. The smooth texture of the plastic make them quite easy to insert and the movement of the inner metal balls will keep you on the edge. If you have not yet tried vaginal balls, these make an excellent set to start off with. However, these are quite audible so some situations for wearing them are better than others.
Pros:
Smooth, good size, recyclable packaging, leopard print.
Cons:
Vinyl cord collects fluids, audible.
Best use:
Vaginal balls are usually used for exercising/strengthening the kegel muscles which are said to enhance orgasm and overall pleasure during PIV sex. They can also be used for pleasure provided by the constant arousal from the vibration/movement of the inner balls. So ideally, these are to be used vaginally only. They are not safe for anal play as they could easily get lost in the anal canal.

This toy can be used only in places where there will be some noise as it makes quite a bit of noise itself. They can be worn out to the restaurant, if you go shopping or are taking a walk.
Material / Texture:

The duotone balls are made of safe plastic as California Exotics would put it. It is nonporous and phthalates free which is very good. The plastic has a shiny finish. It doesn't have any smell or taste. The balls themselves are quite smooth and have a nice weight to them.

There is a seam around each ball that can be felt when touched with fingers. There are no ragged edges to the seam, it is simply apparent visually that it is there. The seam is not felt when the toy is being inserted or when it is fully inserted either. The balls are quite smooth, therefore these should appeal to those who like smooth feeling toys regardless whether one is a beginner or not.

The cord that holds the balls together is made of vinyl. It is a sort of fabric cord and it can collect secretions/lube.

Material:

Plastic

Material safety

Texture:

Smooth

Safety features:

Food-grade material / Hypo-allergenic / Latex free / Phthalates free

Design / Shape / Size:

The Leopard duotone balls are essentially your standard type of vaginal balls. So they are simple and yet they work. Most of the vaginal balls on the market are similar to these.

The balls are 1.25 inches in diameter and in comparison to the Smartballs, they are slightly smaller in size. They appear big but are actually average in size and don't feel as big as the Smartballs when inserted. Most balls run around this size, therefore, as I have said, they are pretty standard of all vaginal balls, so if you've tried vaginal balls before these will work for you just as well.

This toy is probably suitable for travel if you are not planning on taking the plane. The internal balls are made of metal so they are going to be detected if ever it were the case.

Color:

Leopard

Length:

8"

Insertable length:

4"

Circumference:

4 1/4"

Diameter:

1 1/4"

Weight:

4 oz

Performance:

The Leopard duotone balls are quite comfortable to wear. They are easy to insert; they don't have much drag. So less lube is required, if any. The movement of the internal balls are more easily felt in comparison to the Smartballs because of the hard plastic. This also means that they are more audible.

I found that if I shook my rump we could hear the internal balls moving inside the plastic casing but the environment had to be quiet in order to hear it. If I did it with the TV on my partner couldn't really hear. When I took a walk outside we couldn't really hear either, but I do live on a main road which sees a lot of traffic. So perhaps if you wore these to the library someone might look at you with a puzzled face. I wore mine out a few times but not to class or to places where there was utter silence. They are not discreet for all situations.

Vaginal juices do tend to get lodged/attached/imbibed into the cord which is a little disconcerting.

I have also found that the balls move around more easily inside me because of the very flexible vinyl cord. It makes it that much more fun to wear them. I feel like my muscles are working more because I feel the balls' movement more often.

Care and Maintenance:

To clean these, one could use mild soap or sex toy cleaner.

The cord requires more extensive cleaning by rubbing the cord and rinsing to make sure the fluids are washed out. Since the cord is dark brown, once it has dried off it is more evident whether the cord was appropriately washed or not.

The toy is easy to store, I keep it in my sex toy chest within a satin pouch which was not provided with the toy.

Packaging:

The balls come in a plastic shell casing with a paper inside showing a picture of a model in a shiny silver bathing suit; therefore, it isn't very discreet.

There were no instructions on how to use the product, it is sort of intuitive.

The shell (and paper) can be recycled, which is a plus in my book.

Personal comments:

I really like this toy apart from the fact that it is quite noisy when used in silent environments. The leopard print is a little different for me. It's not really my thing, but I see it becoming a new pattern in my collection.

What I find very cool about these is that so much is available in leopard print, so if you like that, you can create your own little kit of only leopard printed type of toys.

I am really at odds about the vinyl cord. I love that it's so flexible that it allows added movement but I hate that it doesn't clean easily. I am not germaphobic but I am sensitive to UTI's and having anything growing in the cord sort of grosses me out.

Overall, I was pleasantly surprised that I liked these. I use them more when I am home alone or for short periods when I go out. If I want to insert balls for a longer period of time I will go with my smartballs. Although I would recommend this to anyone who is interested in having the experience of what vaginal balls are I think that other options might be safer, material wise but also some are less noisy.

None the less, the duotones will probably not get lost in a box some where as they work very well. They are a good back up, and are pretty safe but I wouldn't make these my only set, having an other pair made of silicone/TPR would be even better. That way depending on what type of sensation you're looking for, you can switch it up.