Evolved Male attractant pheromone bracelet - Perfume from Evolved

Male attractant pheromone bracelet videos
Product Details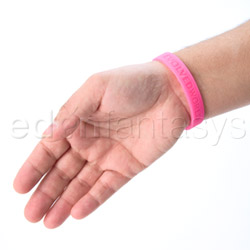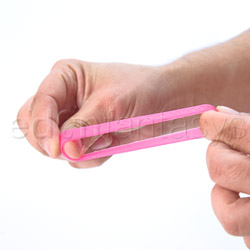 Summary:
This is a cute silicone bracelet intended to make one more attractive to men through the use of pheromones. The pheromones did nothing for either men or women in my vicinity but it's a cute pink silicone bracelet, so all in all, not bad.
Cons:
Doesn't actually do anything in terms of attracting the opposite (or same) sex.
Best use:
This bracelet is designed to cause a reaction with the body to help you release more pheromones and make you more attractive to the opposite sex, however it seems fairly ineffective at it. I conducted several experiments to test its efficacy, and found in all cases that it had no effect on the behavior of the opposite sex towards me, and it had absolutely no effect on my girlfriend (I'm a homosexual woman) I wasn't sure it would effect my girlfriend, but upon receiving this I thought it might have had some effect upon men, it did not, and I later read several peer reviewed studies that show that pheromones have no effect upon human behavior. All in all, this is perhaps best left as a gag gift for a bachelorette party.
Texture / Consistency / Thickness / Viscosity:

It's a simple silicone band. It feels smooth and slightly velvety. When holding it up to my nose I don't notice much of a specific scent with this thing. It stays on well, and is slightly stretchy. It's comfortable and warms easily to body temperature. It's light weight and generally a fairly easy to wear, although the pink color doesn't go with everything.

Ingredients:

Silicone, pheromones

Color:

Pink

Taste / Aroma:

It doesn't have much of a smell, and it's tasteless. Basically, it seems to me just like a regular silicone bracelet. There's nothing really too notable about this particular bracelet's smell or taste.

Flavor:

Undefined

Fragrance:

Unscented

Performance:

Well, it performed admirably as a bracelet, it stays well on the wrist, and looks cool and pink, however in terms of pheremones, nothin' doin. I conducted several experiments with the thing, and generally I got no more attention when wearing the bracelet than when not wearing the bracelet. I tried it both with my girlfriend and out in public, and I got exactly the same amount of flirtatious behavior regardless of whether or not I was wearing it. I suppose what I like best about it is that it's a pretty good bracelet, I like the color, and although the styling is simple it's a cute little object. What's worst is... it doesn't do what it says on the tin, and in the end one could get a cheaper pink silicone wrist band that would be equally effective.

Packaging:

Volume:

0.25 fl.oz.

Weight:

0.25 oz

Other

Safety features:

Food-grade material / Hypo-allergenic / Latex free / Non-porous / Phthalates free

Material:

Silicone

Material safety

Diameter:

3 1/2"

Special Features: