Evolved Black Glory Holes masturbator and dvd combo - Masturbator from Evolved

Product Details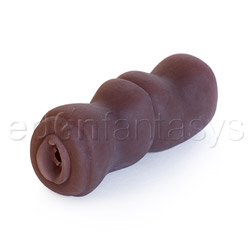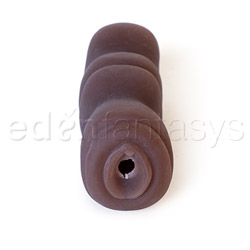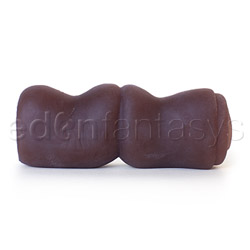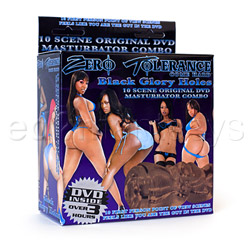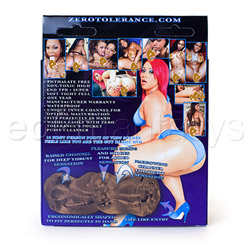 Summary:
This combo pack from Zero Tolerance and Evolved is better than any value meal at McDonald's. It's a good starter kit for new guys nervous to get a stroker who don't want to spend the cash on another product. If you've used other products from Tenga or Fleshlight, you might find yourself going back to those. If you've never used a stroker or have only used a couple, this is a good option.
Pros:
Good starter combo kit.
Cons:
DVD set up and blow job only scenes.
Best use:
This combo pack from Zero Tolerance/Evolved is a good combo pack to pick up if you've never used a stroker.
The general idea is that you get porn and a stroker and you can fill in the rest on your own. The only thing you'll need that isn't included is a bottle of
lube
.
For under $20 you get a stroker and a decent length porn to go with, not a bad deal really. If, when the stroker gives out or you move on to other toys, you'll at least have a porn in your collection.
Sorry ladies, this toy is for the boys.
Material / Texture:

The strokers in the "Glory Holes" series are TPR. They can't be fully cleaned, but are really stretchy and feel pretty good. It is a softer material, so you'll have to be careful with use, storage, and cleaning. One absent minded movement and you could cut or nick the material. I've used mine for a couple of weeks and can see places where it's stretching out. I've also found a place on it where it hit something that damaged the outside of the toy, so be careful.

The inner texture of the toy is ribbed. It wasn't really that noticeable for me because I'm used to interior textures already. If I was new to strokers, I would probably have felt it more.

Material:

TPR

Material safety

Safety features:

Hypo-allergenic / Latex free / Phthalates free

Texture:

Nubbed / Ribbed

Shape / Design / Size / Fit:

The design of the toy is pretty straightforward and simple. The tunnel is pretty narrow, so you'll have to be hard already to use it. You'll want to make sure you keep a lube-free hand when using this, it's hard to grip otherwise.

While the interior texture wasn't too noticeable, I did feel it. The part of the toy that I did like a lot was the "pop" when pushing out the other end. There's some sort of design that gives you a unique "pop" feeling instead of the usual sensation of coming out the other side.

The size is run of the mill.

As you can see, it's about the length of a pop can. If you're alone, feel free to grab a soda and do your own size comparison now, I won't be able to tell. The only downside about this is that it's an end-stroker toy; meaning, most average length guys won't get that "balls deep" feeling from it. It does work if you just keep the end in mind - the end is where all/most of the sensation is anyway.

The stroker is an abstract design, not exactly sex toy looking. You could store it in a baggie or something (it will break down the TPR, but it's not meant to last forever anyway). It could be a pretty easy toy to travel with, so that's a positive.

Color:

Brown

Length:

4 3/4"

Fits up to:

Any size

Circumference:

5 1/2"

Width:

1 3/4"

Vaginal depth:

4 3/4"

Weight:

0.3 lb

Functions / Performance / Controls:

Special Features:

Small size
Super stretchy
Travel kit

Care and Maintenance:

As stated above, this is TPR. I'd suggest sticking with water based lubes. TPR isn't really a material you'd want to use silicone lube with; it'll degrade the material of the toy. I haven't used this with oil based, but I'm guessing that wouldn't be ideal either.

Because the tunnel goes the entire length of the toy, it's pretty easy to clean up. Run water and some anti-bacterial soap through it a few times and let it air-dry.

Packaging:


Here's the whole setup next to a can of soda. I didn't pull the movie out for the shoot though. You can see it in the product pictures anyway.

There is absolutely nothing you could mistake the packaging for. Then again, with this product, it doesn't really matter. The package actually reminded me of a porn DVD label anyway, just a bit bigger because there was a stroker in the box too.

It shows the sleeve to be translucent, probably to show off the interior texture. Good thing there are pictures on the product page to show you what it really looks like!

Personal comments:

Like the other two products in the line, this is a stroker/DVD combo.

The videos are Point of View (POV) and are scenes from other Zero Tolerance flix.

The actresses in this video are: Rane Revere, Candice Nicole, Roxy Reynolds, Skyy Black, Marie Luv, Pinky, Jada Fire, Beauty Dior, Kapri Styles, and Jazmine Cashmere with Mone Divine tag-teaming in the last video.

The scenes are about 50/50 sex scenes and just blow job scenes. Honestly, the BJ scenes did next to nothing for me. It's not my thing. It was kind of disappointing because the most attractive actress on the disk only had a BJ scene, and I would've loved to have seen more of Kapri Styles. Pinky's scene was entertaining because she really has a blast making scenes (you can totally tell!). Candice Nicole has "Rich" tattooed on her left butt cheek with "Booty" on the other side.

I did notice less spitting during the sex scenes and more lube use. The BJ scenes were totally different. I really don't care much for gagging in BJ scenes. All that choking, gagging, coughing almost sets my own stomach off.

The set up for the DVD wasn't that great either. If it was a sex scene, there was one break in the middle you could skip to. If it was a BJ scene, it might have a break. It was hard to skip ahead to more arousing scenes while watching it on my laptop.