Toy's heart Easy's vol 1 sleeve - Masturbator from Toy's heart

Product Details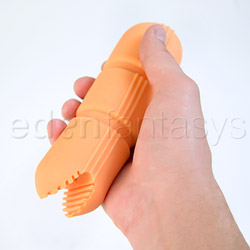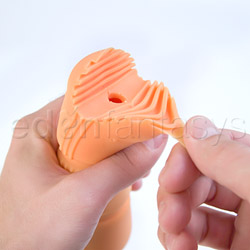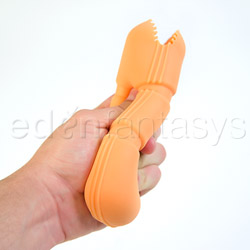 Summary:
The Toy's Heart Easy's Vol. 1 is a soft, non-realistic TPE sleeve with a ridged texture inside. It is elastic enough to accommodate almost anyone, and the moderate level of stimulation allows for time to play before orgasm. Optimized for hand-held use and thrusting, the Easy's Vol. 1 can be easily integrated into a solo masturbation session or partner play.
Pros:
Expandable for full-length coverage on almost anyone. Soft, ribs provide consistent stimulation.
Cons:
Slight smell. Material and design favor hand-held thrusting over other methods of stimulation..
Best use:
The Toy's Heart Easy's Vol. 1 sleeve is a non-realistic male masturbation sleeve made out of TPE material. The material is very soft and stretchy, making the Easy's Vol 1 best suited for hand-held thrusting use, either solo or with a partner.

Easy's Vol 1 is a full-length sleeve, designed to encase the entire penis during use. The whole of the interior is textured with a series of small and large ridges to provide increased sensation along the entire length of the penis.

The thick TPE material dampens out vibrations, making the battery-operated vibrator I used for testing all but un-felt. If you want to use the Easy's sleeve with a vibrator a Hitachi Magic Wand or similar might be needed.
Material / Texture:

The Easy's Vol 1 sleeve is made out of solid TPE material as opposed to the foamed TPE used on the Peach Pai. The material is very soft, but still has a bit of a "rubbery" feel to it during use. The texture inside is ribbed, with many small, rounded ribs coupled with four larger ribs to vary the sensation (three of the larger ribs are located close together in the end).

Unusually for a TPE toy, the Easy's Vol 1 had a slight odor that did not dissipate

Material:

TPE

Material safety

Safety features:

Hypo-allergenic / Latex free / Phthalates free

Texture:

Ribbed / Velvety

Shape / Design / Size / Fit:

Out of the box, the Easy Vol. 1 is a 1-7/8" diameter, 5-inch "working length" cylinder of TPE. The internal channel is about 1/2-inch in diameter. While the Easy's Vol. 1 might seem too short for many men, it is extremely stretchy and will accommodate the full insertion of most penises.

Toy's Heart chose to make the Easy's Vol. 1 a closed-end sleeve. While this makes cleaning a bit more difficult, it also allows the Easy's sleeve to suck down against the user's penis for more stimulation.

During use the outside of the toy can get slippery depending on how much lube you use (although the tight ring at the entrance to the channel does a pretty good job of keeping the lube inside). To help you keep a good grip, Toys Heart has designed in some ridges on the outside. Every time I used the product they were sufficient for me to maintain control during use.

As a covert toy the Easy's Vol. 1 has pluses and minuses. It is non-realistic, so a casual glance might not betray the function - however it is also brightly colored. The soft material could be squirreled away in a hiding spot, but since it is TPE you do need to take precautions so it is not destroyed (such as keeping it from being squished too much or torn and keeping it away from oils and other toys).

Color:

Orange

Length:

6 1/4"

Fits up to:

2 1/2"

Vaginal depth:

5"

Weight:

7.5 oz

Functions / Performance / Controls:

The Easy's Vol 1 is best used as a hand-held masturbator, either for solo or partner use. The soft material makes it difficult to successfully use thus toy hands-free, as it tends to bend and move if not securely held, although that flexibility can be put to use during play by introducing curves in the channel. The Easy's Vol. 1 is perfectly happy as a one-handed toy, allowing for a free hand to stimulate other parts of the body.

The Easy's Vol 1 is definitely optimized for thrusting play. The ridged texturing dosn't provide nearly as much stimulation when rotated, and the wings around the mouth tend to catch on the scrotum and pubic hair

Care and Maintenance:

As the Easy's Vol 1 is made of TPE material you do need to exercise a bit of care to ensure a long life, but it isn't excessive. The main rule is to keep it away from oils and other toys to prevent material degradation. Water-based or silicone lubes are the only ones that should be used with the Easy's Vol 1, and be careful not to mix toyplay with any other oils, such as massage oils. In storage an individual plastic sack helps to keep the sleeve from coming in contact with incompatible toys and melting.

Cleanup is a bit more difficult as the Easy's Vol 1 is a closed-ended sleeve. You can use toy cleaner or soap and water, but you need to be sure to flush out the cavity well with water or carefully turn the sleeve inside-out for cleaning. After cleaning it should be dried to prevent molding and then stored in an individual bag.

Packaging:

The Easy's Vol 1 comes in a plastic bag inside a cardboard box. Unfortunately the cardboard box gives you little in the way of instruction unless you speak Japanese, as the little English that is present is hard to understand.

Experience:

Having had the opportunity to try out the Easy's corporate cousin, Peach Pai, I was very interested in giving this non-realistic sleeve a try. I was surprised to find the Easy's Vol. 1 felt very different. Naturally, the use of ridges instead of bumps would have made for a different feel, but I was surprised at the degree of difference. Actually, I was also surprised by something else- the Easy's Vol. 1 is the first TPE toy I have had that came with a smell, though it wasn't very strong.

During use I could tell the difference between the Peach Pai's foamed TPE material and the Easy's non-foamed version. The most noticeable thing was the fact that the Easy's Vol. 1 didn't have the same "oh WOW" feeling when you squeezed on the sleeve, as the enhanced tightness was balanced by a tendency for reduced stimulation, as the ridges were being held together.