Icon Brands Falcon Roman Heart's two fisted jack masturbator - mouth and ass - Masturbator from Icon Brands

Product Details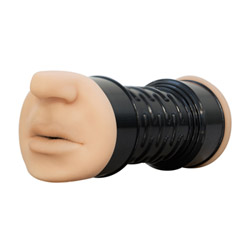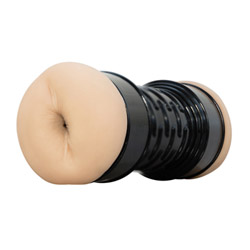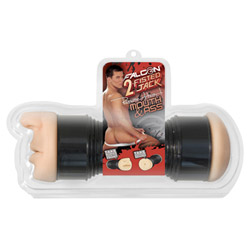 Summary:
The Roman Heart Masturbator is a masturbator unlike any other I have tried. It allows for you to penetrate both ends of the same man, or share him with a special someone. Though the generic nature of the design makes you wonder if it is really Roman you are doing, or his not so attractive brother. Bottom line: The Roman Heart Masturbator is great for couples who are looking to get off together, and it makes it exciting if you have a thing for Roman, but solo it's just average.
Pros:
Double sided, less porous than CyberSkin.
Cons:
Generic design, bulky.
Best use:
The Roman Heart Mouth/Ass masturbator is a double sided toy for men to masturbate with. You lube up, insert your dick, and go to town. If you have small hands like me, this handheld masturbator will require two hands. It is designed to stimulate the penis (obviously), but it specifically has the ability to create a friction-like feeling on the shaft because of the way the mouth insert becomes the butt insert and vice versa. The Roman Heart Masturbator, offers a unique aspect that allows for gay couples to play with this toy at the same time. (You can bet I tried it). It is definitely an at home toy.

When my boyfriend and I used it together, it was fantastic! It felt phenomenal because, with me being about 7 inches and him being about 6, there was just enough of an overlap to not only allow our dicks to be massaged by the masturbator, but allow them to be massaged by each other. It made it a bit of a tight squeeze, but with enough lubricant it didn't seem too tight at all. Also, by adding that extra penis, it created more of a suction feeling on our dicks, helping us get to the point at a much faster rate.
Material / Texture:

Roman's Ass and Mouth are made of a rubber polymer blended compound called TPR. TPR has an inexhaustible life expectancy and can handle large amounts of friction. When I opened up this little gem, there was no smell, and no powder, unlike Fleshjack products. Roman was soft and plushy, making him enjoyable and comfortable, but the textured feel was lacking compared to Fleshjack products. It is for any male user. I do not see a reason why any male would be disadvantaged by this toy, unless they are tremendously small.

The inside of the canal (where you are putting your dick) has a generic, bumpy texture that is pleasurable, but lacking on creativity and surprise.

The outside casing, surrounding the insert modeled after Roman Heart, is a hard plastic that adds a decent amount of bulk, more than likely the reason why this required me to use both of my hands.

Material:

TPR

Material safety

Safety features:

Hypo-allergenic / Latex free / Phthalates free

Texture:

Ribbed / Smooth

Shape / Design / Size / Fit:

The design, unlike any Fleshjack product that I have personally seen (there may be some out there), allows for dual entry. Very intriguing, I know. The mouth and ass are generic, and believe me, when using this, I looked up some Roman Heart porn just to compare the masturbator to the real deal. So the design itself is just okay. BUT, with the prospect of sharing at the same time with my boyfriend (see disclaimer below), I got excited all over again.

Size wise, when it comes to insertion, I think this is perfect for any man who has the ability to get it up. But be warned, this may require both hands to operate. Because of its bulk, it is not easily concealable, especially in travel, so I keep it in my toy drawer with my other masturbators (fleshjacks, sleeves, etc.). I try to keep the ends covered to protect them by slipping a plastic sandwich bag over the ends, if they don't come with a cap.

Color:

Naked pink

Length:

9 1/2"

Fits up to:

Any size

Circumference:

10"

Width:

3 1/2"

Anal depth:

9 1/2"

Weight:

1.3 lb

Functions / Performance / Controls:

Care and Maintenance:

Care for this toy is fairly easy, but time consuming. TPR is not able to be disinfected by boiling. It is less porous than cyberskin, but more porous than silicone, so if you are sharing, and you are not 100% monogomous with no possible history of being with other people, please think very hard about using a condom. To wash the Roman Heart masturbator, use a mild soap and warm water. This is where the time comes in, especially if you decide to ejaculate into the masturbator. You will need to carefully spread apart one of the ends to allow it to take on water and let it flow. Then, gently stick a finger inside to rub the soap around to clean, and then rinse again.

Don't be a brute.