Fleshlight Fleshlight girls Jenna Haze forbidden - Masturbator from Fleshlight

Product Details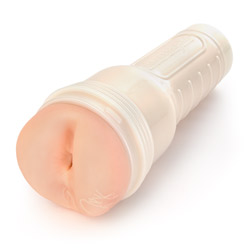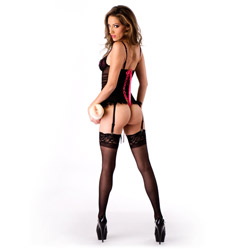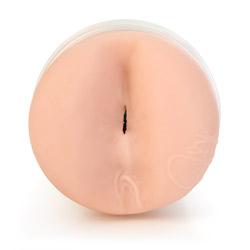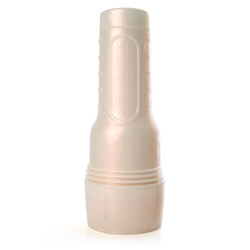 Summary:
The Fleshlight Girls Jenna Haze Forbidden masturbation sleeve is modeled after porn star Jenna Haze's anus, and ended up looking much better than the normal Fleshlight butt orifice. It uses the same characteristic Superskin material sleeve, with a flashlight resembling exterior case. The Forbidden interior is completely unique and at this time can't be found in any other Fleshlight. So grab yourself a piece of Jenna's ass and go after it!
Pros:
Realistic look, soft and inviting material.
Cons:
Care and maintenance can be difficult.
Material / Texture:

The Jenna Haze Forbidden Fleshlight is made from the same material as all other Fleshlights, SuperSkin. The Fleshlight website doesn't say exactly what Superskin is, since it is a secret, but it does say that Superskin is not latex, plastic, or silicone. It also states that it does not contain phthalates, which is nice. The most popular characteristic of Superskin is its realistic feel, and it definitely feels realistic. The texture is amazing. The drawback is that Superskin is so soft that it can't support itself, but the exterior plastic casing holds it all in place and gives you something to wrap your hand(s) around.

At this point, the Forbidden interior texture is completely unique among Fleshlights. It is almost like the first couple of inches are like the Super Ribbed interior texture while the rest of the interior length is like a loose version of the Wonder Wave. This makes for a stimulating interior. It's also very creative as the intent would be to stimulate anal sex which starts out with the tightness of the sphincter and then opens up into the rectum. The Super Ribbed texture simulates the sphincter and the pseudo Wonder Wave stimulates the rectum. This combination results in an extremely stimulating experience.

Material:

Superskin®

Material safety

Safety features:

Latex free / Phthalates free

Texture:

Velvety

Shape / Design / Size / Fit:

None of the Fleshlights vary much on the exterior size and shape, and the Jenna Haze Forbidden is no exception. The exterior is very discreet looking, similar to a very large flashlight sans lens when both caps are in place. Its true function is belied by the characteristic Fleshlight Girls logo on the outside in the same Pearl background color of the case itself.

The sleeve opening is much more realistic in appearance than the traditional butt orifice. It catches just a bit of the bottom of Jenna's vulva which is a nice touch and adds to the realism. The opening itself is more of a slit than the hole of the butt orifice, and is not quite as tight because of it. This may make it a better choice for larger guys if you find the butt orifice to be too tight. Although it isn't as tight, it still can be considered realistic as a warmed up experienced anal player knows how to relax and enjoy anal.

Color:

Beige / Pearl white

Length:

10"

Fits up to:

2"

Anal depth:

7 3/4"

Weight:

1.5 lb

Functions / Performance / Controls:

Special Features:

Free samples
Pornstar mold

Care and Maintenance:

Care and maintenance may be the biggest problem with all Fleshlights. The Superskin material is so porous that even soaps are not supposed to be used on them for cleaning. This is one reason why water based are the only lubes to use with Fleshlights (other lubes require soap for removal). It is important to allow the Fleshlight sleeve to dry adequately prior to storage because otherwise mold can begin to grow on the sleeve. If mold does grow, all is not lost, isopropyl (rubbing) alcohol can be used to remove the mold or any time you want to give the sleeve a deeper cleaning. Since the Superskin material is so porous, sharing is strongly discouraged, so tell your friends that if they want to experience Jenna's ass for themselves, they'll have to get their own.

Packaging:

The Fleshlight Girls Jenna Haze Forbidden packaging is very nice. It come in an attractive tin which, in addition to the Fleshlight, houses a small sample of water based (of course) lubricant and a postcard of Jenna Haze as well as a brochure with care and use instructions. The Fleshlight itself is wrapped in a sealed plastic bag inside and is shipped with a plastic cylinder inside the sleeve, so make sure that is removed before you put anything delicate inside.

Experience:

Every single Fleshlight I get brings new sensations and experiences to my masturbation sessions. The Jenna Haze Forbidden is much more realistic looking than the standard butt orifice and although I don't usually put a lot of stock in the appearance of my masturbation sleeves, but this one does look good on the outside. The color seems more flesh-like than the pink that is normally used which adds to the realistic look. The interior feel is one of the most stimulating I have experienced, so I definitely think it is worthy of consideration if one is looking to get a Fleshlight. In fact, I think it may be my new favorite.