Fleshlight Fleshlight girls Jesse Jane - Penis sleeve from Fleshlight

Fleshlight girls Jesse Jane videos
Product Details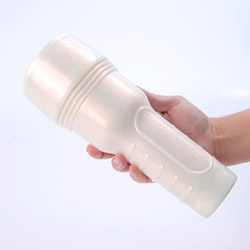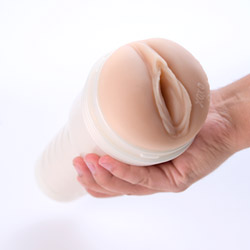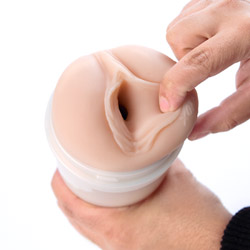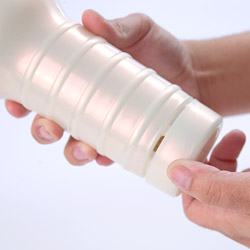 Summary:
I don't know much about Jesse Jane, but I do know that I loved using the Fleshlight Girls Jesse Jane. You get a sleeve with great texture and a very realistic feel plus a hard and large exterior (and who doesn't like hard and large?). I was able to lose myself in the fantasy that I wasn't doing all of the work. That's the highest compliment I can give to any sextoy.
Pros:
Great Design, Feel is very realistic.
Cons:
Too big and heavy to take everywhere you'd want to use it.
Best use:
The Fleshlight Girls Jesse Jane is a penis sleeve with a vaginal opening that is modeled on porn star Jesse Jane. Like most Fleshlights, the sleeve is housed in a hard plastic cover that is styled like a large flashlight. You screw off the top of the cover and you insert the sleeve. This is an imposing toy- the exterior is 10" long and it weighs almost 2 pounds. The interior sleeve is about 8" long. It can accommodate a penis that is up to 2" thick (at which point you will be pressing against the hard plastic shell). So, unless you are beer can thick, you will fit nicely into this toy. Like all sleeves, you put some lube on the sleeve and some on your penis and then you slide in and enjoy. You can use it anywhere, but it won't fit discreetly in your pocket, so unless you are a handyman and can walk around with something that looks like a large flashlight on your belt, make sure you have something to carry it in.
Material / Texture:

The exterior is hard plastic. The interior is made with Superskin, which is soft and plushy, yet maintains its firmness. It is a very realistic feel and the material warms up nicely when placed in warm water. It has a very faint chemical odor, but it wasn't anything that I really noticed when using it. The stylized lips of the vaginal opening add nice texture to make it more stimulating. The interior of the sleeve is ribbed for additional sensation as well. This toy is good for all users. If you like sticking your penis into a welcoming hole, this toy is for you.

Material:

Superskin®

Material safety

Safety features:

Hypo-allergenic / Latex free / Phthalates free

Texture:

Smooth

Shape / Design / Size / Fit:

While the Fleshlight seems simple enough, when you think about it, it is actually a very smartly designed toy. First, there is the visual of using such a big and thick toy. You can't see your penis inside it, but you are holding on to this enormous toy and so you, by extension, become enormous too. Next, the hard plastic exterior lets you grip as tightly as you want, but you never feel any part of the grip on your penis- so it's easier to go with the fantasy that it is not your hand that is guiding the action. You just cannot replicate this feel with a softer exterior. Is it discreet? Yes and no. It really does look like a flashlight, but, of course, most people don't walk around carrying large flashlights. Most people won't know that it is a sextoy, but you might have people asking what it is. I would travel with it, but just be ready to explain if your bag gets flagged for a search.

Color:

Beige / Pearl white

Length:

10"

Fits up to:

2"

Vaginal depth:

7 3/4"

Weight:

1.5 lb

Functions / Performance / Controls:

Special Features:

Free samples
Pornstar mold
Waterproof

Care and Maintenance:

The Fleshlight comes with a nice insert on care and usage. You should clean it with warm water. Do not use soap, which can degrade the material. To give it a more thorough cleaning, you can use some rubbing alcohol. Make sure it dries before storing it. You can turn the sleeve inside out to pat it down and then let it air dry. Storing it while the inside is still wet could allow mold to grow- YUCK! Store it in a dry place. You can simply keep the sleeve locked in the exterior shell and you will have no problems. Just make sure the interior of the shell is also free of moisture when you store it. Use only water based lubes with the Fleshlight.

Packaging:

As if the hard plastic flashlight styled exterior wasn't enough, the Fleshlight arrives in a large cylinder. You could use that cylinder for storage, but you probably won't be able to fit it in your toybox or toy drawer. The cylinder is useful, but it's not particularly discreet. Jesse Jane fans will love it though, since she appears prominently. Like I mentioned above, it does come with a care and usage guide which was pretty helpful. It also talks about some of the other Fleshlight products. Finally, there is a nice little package of lube to get you started.

Personal comments:

I have used quite a few sleeves, but I loved the Fleshlight the most. I loved sliding in and out of such an imposing toy and I loved that I couldn't feel my hand at all. It was also great that I didn't have to worry about getting the exterior all slippery with lube. Since it is hard plastic, you can just wipe it off quickly and keep going. In short, it almost didn't feel like solo activity to me. Don't get me wrong, I wouldn't turn a live body down so I could use a Fleshlight, but the feel was incredible and the orgasm was intense. This is the first sleeve that I would actually use more than one or two times. I'm thinking I might have to take a job as a handyman so I can walk around with my Fleshlight all the time!