Fleshlight Fleshlight girls Lupe Fuentes - Penis sleeve from Fleshlight

Product Details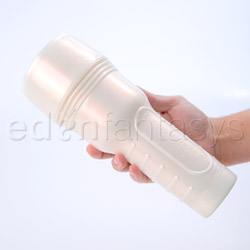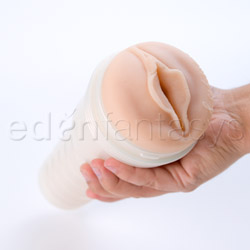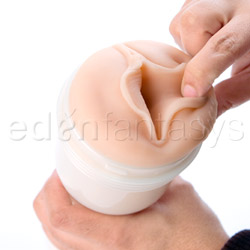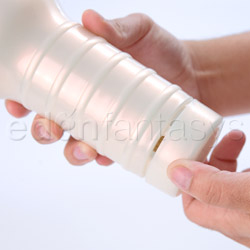 Summary:
The Fleshlight is the #1 selling male sex toy for a reason; it's just THAT good. Coupled with the fact that now you can masturbate with a real molding of some of the hottest adult stars, it really makes masturbation fun and brings it to a whole new level. If you don't like Lupe Fuentes, you can still get the Lotus texture in many different versions of the Fleshlights, and you can even get the anal versions as well!
Pros:
Perfectly molded to look like Lupe's tight vagina. Feels amazing and easy to clean.
Cons:
There really are no cons. This is the best male sex toy I have personally used.
Best use:
There are many ways I have heard of and used this toy. This toy does wonders in any position and even without the hard plastic case. I would venture to say the most common use of the toy (at least personally) is just a normal sitting position while at the desk looking at Lupe herself. It is hand held, but you can slide it into a shoe to mimic a girl lying down, or even purchase one of their fleshlight furniture pieces that will hold your fleshlight for you to give you doggy style experience. The lotus texture stimulates your entire penis, from head to your balls! My penis is about 6" long, and I can entirely fit myself into the toy with a little room to spare. The insert is made to mimic a real vaginal canal, and let me tell you it does. You have different ribbed textures all the way in. Even going balls deep feels good on my balls; the soft sleeve just feels that great. Although not the best for travel, you can take it with you, but only if you feel safe that you won't get caught (if you care about getting caught, I suppose). It is modeled after a flashlight, but it's Pearl Pink and is stamped Fleshlight Girls right on the casing, so you won't be tricking anyone.
Material / Texture:

The exterior is hard plastic and pearl pink in color. The interior is made with Superskin, which mimics a real vagina very well. The feeling is very soft with a memory that will go back into place immediately. I did not have any odor on my Fleshlight, but it did have a cornstarch type of coating on it that vanished after first use (Fleshight doesn't require you to re-cornstarch it). The customized vulva of the vaginal opening is spot on and erection inducing just looking at it. It seems that they have changed the color of the Fleshlight girls sleeves to a more skin color (just like my Jesse Jane; my older Brook Skye version was more pink). Inside, the sleeve was a standard version of the lotus, which comes with many different fleshlight girls.

Material:

Superskin®

Material safety

Safety features:

Hypo-allergenic / Latex free / Phthalates free

Texture:

Ribbed

Shape / Design / Size / Fit:

The design and size of the Fleshlight is perfect. It fit my own penis perfectly and will stretch as much as I want it to with complete ease. You could remove it from the hard plastic case and shove your own fist in the sleeve if you wanted to! This toy will fit most, if not all, men. The not meaning that if you're a very lengthy male (over 8"), you might not get total depth into it (which you don't need to in order to get pleasure). The sleeve looks very much like a vagina, and after looking at pictures of Lupe herself, it really does look like hers. The Fleshlight Girls modeled sleeves feel like they grip your penis more than the original fleshlight, which always felt like it wanted to push your penis out when you're at the very opening of the toy (just entering). Other than the fact that this toy is modeled after Lupe, that's pretty much where the uniqueness stops. The inside of the sleeve is called the Lotus and comes with many models of the Fleshlight girls Fleshlight.

Color:

Beige / Pearl white

Length:

10"

Fits up to:

2"

Vaginal depth:

7 3/4"

Weight:

1.5 lb

Functions / Performance / Controls:

There are no mechanical functions of the toy other than manual masturbation use. I wouldn't recommend using it underwater as it might alter the lube and become hard to use.

Special Features:

Free samples
Pornstar mold
Waterproof

Care and Maintenance:

Cleaning it is easy. I usually ejaculate inside my Fleshlight, so when I'm done I take it to the bath tub. At the tub, I remove the caps and press the opening of the toy into the water head. Turning it on, the water flushes out anything that was left inside the toy. Afterward I like to put the toy upright on top of a fan and let it dry out. I store my Fleshlights in an opened backpack with the small cap removed to allow any leftover water to dissipate. Water based lubes are recommended with all of the fleshlights.

Packaging:

The toy comes with a personalized cylindrical metal tube case with Lupe Fuentes on it. Inside, there's the toy, sleeve, and case with a personalized postcard sized photo of Lupe. Also, Lupe is written on the outside of the soft sleeve of the fleshlight, right next to the vaginal opening. Last but not least, there are care and use instructions included.

Personal comments:

To add some fun, fill up your sink or a large pot with hot water 5 minutes prior to use. This will get the Fleshlight nice and warm for even better use. Masturbating with a cold fleshlight may work, but it doesn't get any better than a nice warm vagina (you can warm up your lube too). Also, you can masturbate with just the sleeve itself; leaving the hard case behind adds a completely different feel which you can grip harder or just work the areas you want to.