Fleshlight Fleshlight girls Lupe Fuentes forbidden - Penis sleeve from Fleshlight

Product Details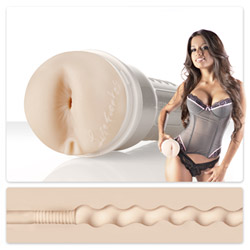 Summary:
Molded off of porn star Lupe Fuentes' anus and featuring the Forbidden inner texture, this is one of the most versatile sleeves that Fleshlight makes. It's not too intense for a beginner, yet not too mild to please the Fleshlight connoisseur. And the realistic feeling that you get when you plunge into this simulated ass is sure to keep you coming back for more!
Pros:
Can be used hands-free. Sleeve feels pretty realistic and *very* good.
Cons:
Can only use water to clean it. Fleshlight cases get slippery if you get lube on them.
Best use:
Fleshlight is one of the most well-known handheld masturbation toys made, and the Lupe Fuentes Forbidden version is designed specifically for men who like anal sex. The orifice is a realistic rendition of the porn star's anus and the inner texture really does feel a lot like butt boffing does.

There's really no "wrong" way to use a Fleshlight; just apply some water-based lubricant, insert cock, and enjoy. Some guys prefer to use it in the case for more stability, while others remove the sleeve and use it by itself. This lets you squeeze the sides and increase the tightness, but it may take both hands to control it that way. You can even wedge the case between mattresses or couch cushions for a hands-free ride.

Material / Texture:

As with all Fleshlights, the Lupe Fuentes' outer case is made of hard ABS plastic that is tough enough that it can survive being dropped and doesn't compress if you squeeze it. It has ridges and indentions that help you maintain a good grip, but the smooth surface does get slick if you get a lot of lube on it.

The sleeve is made of Fleshlight's own patented Superskin material, which is mostly a blend of medical grade synthetic polymers and mineral oil. It doesn't have any latex or phthalates in it. To the touch, Superskin is extremely squishy and does a good job at mimicking real skin though it does have a fair amount of surface "drag" to it without lube. If you care to sniff it, the sleeve has a pleasantly faint powder-like scent that fades with use.

The "Forbidden" inner texture of the Lupe Fuentes starts with 2" or so of a tight ribbed canal and then opens up into a smooth ripple pattern, simulating the real-life experience of penetrating an anus and entering the looser rectal area. It's not as tight as the average human ass is, but it's extremely pleasant without being overwhelming.


Material:

Superskin®

Material safety

Safety features:

Hypo-allergenic / Latex free / Phthalates free

Texture:

Ribbed / Velvety

Shape / Design / Size / Fit:

This Fleshlight's general design is exactly the same size and shape as any other Fleshlight, having a 10" tall case with screw-on caps at either end to protect the sleeve for storage. The removable Superskin sleeve is secured with a single ridge-and-groove design at the top, and does stay in place during use. Because of the consistent design, you can use any other Fleshlight sleeve in this case too, which will save you money if you ever want to try a different texture since sleeves alone cost less than the whole units do.

At first glance the Lupe Fuentes anal orifice seems impossibly small to penetrate, but that's where the soft material comes into play. It stretches enough width-wise that even larger men can fit comfortably, and has nearly 9" in depth to sink yourself into. If you need more length, just remove the end cap because the end of the sleeve is open so you can stroke on through.

Because of its large size and the Fleshlight Girls logo embedded on the side of the case, it isn't the most discreet masturbation sleeve around, but it doesn't exactly scream "I'm a sex toy!" either.


Color:

Beige / Pearl white

Length:

10"

Fits up to:

2"

Anal depth:

7 3/4"

Weight:

1.5 lb

Functions / Performance / Controls:

Fleshlights are simple devices, but they all hold one unique feature over other sleeves on the market; true suction control. You control it by loosening or tightening the smaller end cap; the tighter the cap, the more the toy sucks... but in a good way! The cap turns easily enough that you can adjust it mid-session, and holds its position well once you get it where you like it.


Special Features:

Free samples
Pornstar mold

Care and Maintenance:

Use only water-based lubricants with Fleshlights to avoid damaging the Superskin sleeve. Soaps and other cleaners can damage it too, but simply running warm water through it from each end for a few minutes does clean the toy well. The plastic case parts can be washed with soap as long as you remove the sleeve first and rinse them well. Allow the sleeve to dry thoroughly before storing it or mold can form. If that happens, you can use isopropyl alcohol to remove it, but it's rarely an issue if you just make sure it's dry before storing it.

To store a Fleshlight, just screw both of the end caps on and put it somewhere away from excessive heat.


Packaging:

One of the many cool things about Fleshlights is the metal canisters that they come in. They're great because since the toy basically *is* its own storage unit, you can use the tins for other things. This one's canister is dark fuschia at the bottom, fading up to black at the top. The "Fleshlight Girls" logo is printed up one side, with sexy girl silhouettes all around.

Inside there's a free sample packet of Fleshlight lubricant, a detailed care and usage guide, and a photo post card of Lupe Fuentes along with the Fleshlight. It would make a very nice gift set for someone.

Fair warning; the Fleshlight sleeve has a long plastic tube inserted in it for shipping, which you *do* want to remove before you try using it!


Experience:

Alan says:

I've tried a lot of Fleshlights and my perception has changed from the initial knee-jerk reaction of "Yes it's perfect, it's a Fleshlight!" that I had when I got my first ones. The only 2 Fleshlight sleeves I've been consistent about using this past year are the Twista and the Speed Bump, but this one might have them beat. Though we've only used it 4 or 5 times so far, I like the Forbidden enough that I've had to tone down my end of the review a bit so I don't sound too idiotically enthused over it.

The texture isn't as intense as the other two I mentioned, but that tight opening is outstanding and the ripples deep inside feel great but don't push me over the edge too fast. It's actually a more satisfying experience overall. And one thing I really like is that this texture lets us keep pumping straight through orgasm without it ever feeling like it's too much. It feels best when we use a little thicker lube than normal and employ very little of the suction feature, but I've not had any complaints about it no matter what combo we use.

Michele says:

From my angle using this Fleshlight on him was pretty much the same as the others; no problems and no mess. I did notice that it was quieter though. Depending on how you have the suction cap adjusted, Fleshlights tend to make a soft whoosh sound when you push your guy into it, yet this one rarely makes any sound at all. I haven't the slightest idea why that's true, but it may be something that guys who want to be extra quiet would be interested in knowing.