Fleshlight Fleshlight Girls Pirates Edition Riley Steele - Masturbator from Fleshlight

Product Details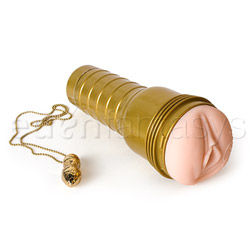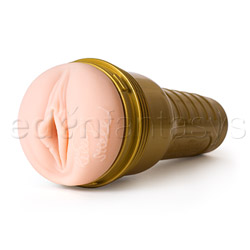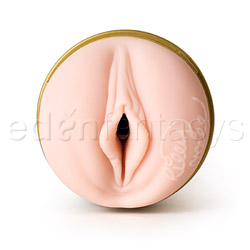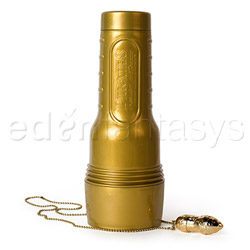 Summary:
Avast! What a treat this toy is! Everything you love about the Fleshlight brand and product, given a breath of fresh excitement with a cute merchandising theme. The free gift - a vibrating pirate pendant - is another nice touch. If you haven't got a Fleshlight yet and you're considering your first, you won't steer wrong by choosing this one.
Pros:
Arrr! Combine Fleshlight engineering with a sexy pirate theme and you're onto a winner!
Cons:
As with all Fleshlights, it's a little difficult to clean and maintain.
Best use:
Ahoy shipmates! Set sail to filthy fun with what must be the most inspired adult product of the year - a pirate themed Fleshlight!

The Fleshlight is basically the greatest sex toy made for men. This edition manages to up the ante by throwing in perhaps the one thing this ubiquitous sex toy had previously been missing - PIRATES!

Molded off the treasure chest of sexy pornstar Riley Steele, this special edition masturbation sleeve is themed after Riley's raunchy role in the big budget DVD "Pirates" - which saw her cross swords (and other body parts) with her sexy shipmates.

Like all Fleshlights, the Pirates Edition consists of a super-soft Cyberskin interior and a rigid plastic tube on the outside; making it a breathtakingly practical masturbation sleeve to use. A plump faux vagina - molded after Riley Steele's - pokes from the top ready for plunderin'.


Material / Texture:

Cyberskin makes all Fleshlights feel as soft and inviting as human flesh - and the Pirates Edition is no exception. Perfectly recreating the fleshy feel and embrace of a vagina is one of the reasons the brand has become so popular; although this time around a unique texture inside the masturbation sleeve offers a different experience. "Nipple alley" is an inner lining that features rows of soft, supple bumps each topped with a 'nipple' for added sensation. The effect is like receiving a cock massage from a battery of mammaries (at least, I imagine it is. As soon as I experience the real thing, I'll post a comparison!)



Material:

Superskin®

Material safety

Safety features:

Hypo-allergenic / Latex free / Phthalates free

Texture:

Noduled

Shape / Design / Size / Fit:

One of the reasons Fleshlights are superior is because they can suit all sizes. Well hung men have the girth and depth to enjoy themselves. Smaller men can tighten the knob at the end for a tighter grip. In short; they're the best thing going (and this Pirates Edition is no exception.)

Another advantage is the rigid plastic shell. Breaking out into three pieces, this rigid tube allows for easy control of the Fleshlight; and the ability to squeeze it between pillows or cushions if you want to attack it doggy style. It also makes cleaning and storage a breeze; and it's ideal for traveling.

Ostensibly, the Fleshlight is supposed to resemble a flashlight for "discretion." When your Fleshlight is bright gold, as the Pirates Edition is, discretion is not part of the equation. The big letters spelling FLESHLIGHT along the side also kind of give the game away.

In any respect, the true advantage of the rigid sleeve is the fact that if you blow your load in the Fleshlight, but don't have time to clean it up that instant, you can close it up and throw it in your suitcase - or under your bed - and worry about the mess later. So many other masturbation products, which involve lots of sloppy lube getting everywhere even before you add your own warm contribution, don't offer that.



Color:

Beige / Gold

Length:

9 3/4"

Fits up to:

2"

Circumference:

12"

Width:

3 1/4"

Vaginal depth:

8"

Weight:

2 lb

Functions / Performance / Controls:

As I mentioned above, the Pirates Edition Fleshlight has the same control mechanism as every other Fleshlight - one that is elegant in its simplicity. Turn the base cap to tighten it and create a vacuum - delivering a soft, sucking sensation akin to a blowjob. Loosen the base cap for a looser sensation, more like vaginal sex. You have the scope to customize your experience; not just to suit your mood, but also your fantasy (fancy imagining that Riley Steele is slurping lovingly on your shaft? Tighten the base cap and the sensation probably isn't far off.*)

* As with the mammary massage, when I experience the real thing I'll post a comparison. Riley - call me!

Special Features:

Free samples
Pornstar mold
Waterproof

Care and Maintenance:

Fleshlights use Cyberskin, which sacrifices ease-of-maintenance for the wonderful, flesh-like feel. To clean it, you have to dissemble the fleshlight - remove the base cap, top cap and wrestle the inner lining from the rigid sleeve - then rinse water through the orifice. Then pat dry and restore the fleshy feel with corn starch.

It's not an easy process, which is why the ability to seal up the Fleshlight when it's sloppy with sperm and lube is a major advantage.

More words of warning - use only water based lube to protect the material, and be careful of using soap to clean it. The instructions recommend just water.

Once you follow the list of requirements though (owning a Fleshlight is kind of like owning a Mogwai) you are in for many happy months of use.

Packaging:

The Pirates Edition Fleshlight is a real treat. In addition to a classy tubular tin, emblazoned with pictures of Riley Steele and the Pirates movie, there's a free gift inside. A Pirates Pendant Vibe is a tiny vibrator that makes for a cute (and handy) gift for a female shipmate looking to shiver her own timbers.