Fleshlight Fleshlight Girls Pirates Edition Stoya - Masturbator from Fleshlight

Product Details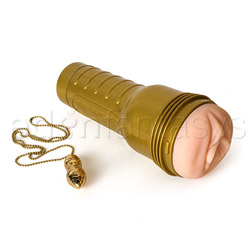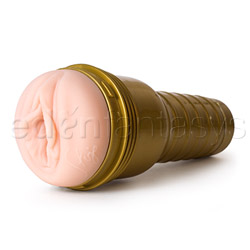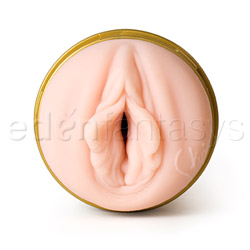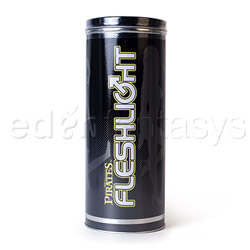 Summary:
Ok, I didn't really have sex with Stoya, but I can say I did with this Fleshlight! I'm a big fan of Fleshlight to begin with, this one just cemented that. You also get a free pendant vibe with this too!

If this is your first Fleshlight, you'll be surprised about how great it feels. If you've used a few different Fleshlights, you'll appreciate the different textures and be able to compare and contrast them.
Pros:
Amazing texture, closest I'll get to having Porn Star sex, and quality.
Cons:
Hard to clean and possible "pizza dick".
Material / Texture:

Stoya's Destroya is made from patented SuperSkin material. This means Stoya's naughty bits are soft, flexible, and durable (according to the package).

I love the smell of fresh SuperSkin! It's that plasticy smell that just gets me worked up. But that could be because this is my second Fleshlight and I know how great they feel. SuperSkin definitely feels 90% realistic, with the missing 10% attributed to the temperature and missing flavor.

In all honesty, I could see novice toy users enjoying this product more than regular users.

Material:

Superskin®

Material safety

Safety features:

Hypo-allergenic / Latex free / Phthalates free

Texture:

Noduled / Ribbed

Shape / Design / Size / Fit:

Here is the picture from the Fleshlight website for the Stoya Pirates Fleshlight:


As much as I love the interior design, the outside could really use a some work. Don't get me wrong, it works fine; but, it could use a bit more texture. It's a smooth plastic case that has ridges to catch fingers, but sometimes it's not quite enough.

As you can see:


It's a pretty big product, not really easy to hide in the tin.

Color:

Beige / Gold

Length:

9 3/4"

Fits up to:

2"

Circumference:

12"

Width:

3 1/4"

Vaginal depth:

8"

Weight:

2 lb

Functions / Performance / Controls:

This toy, like other sleeves, can get pretty loud. It's a good thing you can control the suction with a twist of the cap at the small end.

Because you can't use silicone based lube with SuperSkin, I wouldn't suggest using this underwater. Oil based lubes are frowned upon too.

Special Features:

Free samples
Pornstar mold
Waterproof

Care and Maintenance:

The Care and Maintenance of a Fleshlight is a tricky thing.

To wash: NO SOAP! Warm water washes your goof juice out. Note: you do have to take the sleeve out of the plastic container to wash it. It goes back in well enough though.

I came up with a way to dry a Fleshlight using some sort of hollow tube with holes that the sleeve can slide over. I didn't actually build it, but the idea is something like a paper towel holder. Air drying it is the only way to really dry it. Do NOT turn it inside out. You'll just rip it a new one.

You can use cornstarch to keep it lush and non-sticky. I've never used cornstarch and have no issues with stickiness yet.

When it's dry, just put it back in the tube and you're ready for next time.

As stated above: Water based lube only.

Packaging:

All Fleshlights of this "flashlight" design come in a large tin (see above). Inside is the tube with the sleeve inside.

You also get a couple inserts about other Fleshlight products, a packet of lube, AND a free pendant vibe.

You can use the tin for storage of the product or for anything else and keep the tube out on its own.

Experience:

For extra fun, you can put the pendant vibe in the end of the sleeve. Seriously, it goes right in without much help needed from lube!

I tried it and couldn't really feel it. Feel free to try it for yourself though. If anything, it'll give your viewer something to do while you're busy... or maybe that's just me!