Fleshlight Fleshlight girls Tori Black - Masturbator from Fleshlight

Product Details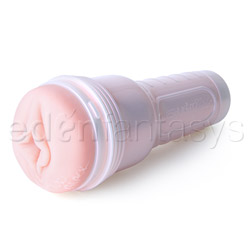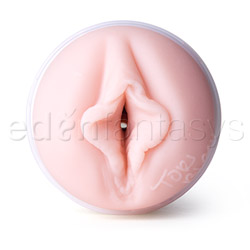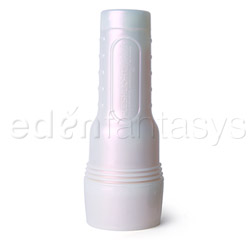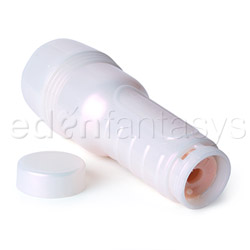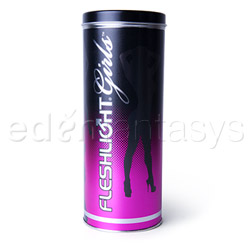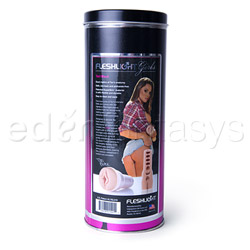 Summary:
Tori Black is hot, and the same can be said about her Fleshlight. It seems that Fleshlights just keeps getting better. Tori is one of the most popular stars around and for good reason. If you are a fan of hers, then this is a must have. The interior texture to this sleeve, also known as the Lotus texture, does a very good job at simulating vaginal intercourse. This will certainly keep you coming back for more.
Pros:
Unbelievable and realistic feel!
Best use:
Even after a few years, Fleshlight is still considered the tops in male sex toys. Many have challenged it for its title, but Fleshlight still remains premium and the most popular around the world. Not only are there several different textures inside the sleeve, but also the Fleshlight Girls line is ever growing. One of the latest in the Fleshlight Girls line is Tori Black, an excellent mold of Tori's most intimate parts.

There are tons of ways to use a Fleshlight: you can insert your penis and while holding the Fleshlight stroke at your delight, you can also hold this down and thrust your penis into the Fleshlight, and finally you can use this with a partner by having said partner use the Fleshlight to stroke you. There is even furniture that was created and is available that has a slot that a Fleshlight will fit into and hold the Fleshlight still while you penetrate it. These are but a few of the many techniques available, making this simple toy a versatile one.
Material / Texture:

The magnificent Tori Black Fleshlight is made up of two very different materials, the outer shell being a solid pearl (white) ABS plastic, and the super soft and realistic feeling sleeve being made out of a super top secret formulated material called SuperSkin. The only information that the website will indulge is that this is not latex, plastic, or silicone. The website also mentions that SuperSkin is phthalate-free. The material is extremely life like and feels very nice when warmed up.

The color of the sleeve is incredibly realistic, even without the use of any paints or other added on colorings. You will not have to worry about those artificial colorings coming off and onto you or staining your clothing.

If you plan on sharing this toy with anyone, then a condom must be used at all times, since this material can not be fully sterilized.

Material:

Superskin®

Material safety

Safety features:

Latex free / Phthalates free

Texture:

Ribbed

Shape / Design / Size / Fit:

The Fleshlight's white case is designed to look just like a very large handheld flashlight, making this toy easier to conceal. Both of its ends being screw-on lids makes this much easier to clean by allowing the sleeve to be taken out and replaced with ease. The bottom lid can be screwed on tightly to create a slight suction or left loose for less or no suction. The handle of the Fleshlight is ribbed which makes this much easier to hold onto with hands that have lube or any other kind of slippery substance on them.

The design also allows the user to buy sleeves separately and place in the outer Fleshlight shell.

The sleeve head is a direct mold of Tori Black: every detail was captured to make this look and feel very life like. The interior of the sleeve has been dubbed the "Lotus Texture" and is designed specifically to reproduce sensations of vaginal intercourse, the opening being tighter and the interior having chambers each varying in size and tightness.

The sleeve is not hard to get into which is unlike so many other masturbation sleeves. That does not mean it is too loose to get your kicks. If you or your partner are on the larger side then you need not worry, nor should you worry if you are any size down there, for this sleeve will accommodate any size of manhood, and do so quite well in the process.

The case and the sleeve together add up to about a pound, which can really exercise your arms when using this toy for longer sessions.

Color:

Beige / Pearl white

Length:

10"

Fits up to:

2"

Vaginal depth:

7 3/4"

Weight:

1.5 lb

Functions / Performance / Controls:

Care and Maintenance:

Due to the nature of the unknown materials that make up SuperSkin, soap should not be used to clean a Fleshlight sleeve and only waterbased lubricants can safely be used. The included pamphlet describes that the best way to clean this Fleshlight is to first remove the SuperSkin sleeve from the plastic case and run warm water through it to remove any fluid deposits. It also warns against using any soaps and detergents as it will cause the sleeve to deteriorate. You can towel or air dry the sleeve, but you must make sure it is completely dry before placing it back in its case for storage, the reason being that if put back wet mold can form. While being optional, I highly suggest you powder this toy with a light coating of cornstarch (Not Talcum, or Baby powder). This will restore the life-like feel to your toy and prevent it from becoming sticky.

It is safe to wash the hard ABS Fleshlight shell with soap, but you must make sure all soap is rinsed from the shell before replacing the sleeve.

While it is recommended that you use warm water to clean the sleeve, you should not use hot water or a high pressure of water for this can damage the sleeve.

Compared to other sleeves, the cleaning and maintenance of this toy is not hard or time consuming, when it is basically running warm water through, it is hard to complain. Adding powder is not very hard and it will extend the life of the toy.

Packaging:

The Tori Black Fleshlight comes in a large decorative cylindrical tin. The background starting from the bottom is purple, and it fades to the black top of the can. Going vertically from the bottom to the top are the words "Fleshlight girls" in large and silver print. There are several silhouettes of a woman (clearly not Tori Black) in multiple different poses, placed strategically on the tin. There is also a picture of Tori bending over in a short jean skirt and flannel shirt while looking back very sexily, along with a description of a Fleshlight and its materials. The tin is very decorative and a lot of time had been put into its design. The case is very nice, so nice in fact that it would make a really decent display. The same can is used for all other Fleshlights in the Fleshlight Girls collection, with the exception of the picture of the model, in this case Tori Black.

Included along with the Fleshlight is a sample of Fleshlight's waterbased lube, a pamphlet on maintaining your Fleshlight, and a postcard with Tori Black posing inside a horse stable, while wearing no bottom clothing. The postcard is also signed with Tori's signature.

Personal comments:

It seems to me that with each new Fleshlight that I come across, everything seems better than the previous. This Fleshlight is no exception; it seemed like all the sensations were multiplied, as was the detail. I enjoyed this even more so than the previous Fleshlight I received (Misty Stone). If you have read my review of the Misty Stone Fleshlight, then you will already know that I really loved it, and had very positive comments and feelings on it.

I really love the presentation of the Fleshlight. The decorative cylindrical tin that the Fleshlight comes in is beautiful, the design is eye catching, and would look great on a nightstand. When it comes to the presentation of the actual Fleshlight, I again am in love. When both lids are screwed on, this looks and feels like a heavy flashlight, which can lead to some embarrassing moments when the electric has gone out.

For those who are interested the ingredients in the included waterbased lube sample are:

Purified Water
Propylene Glycol
Glycerin
Hydroxyethylecellulose
Honeysuckle Extract