Fleshlight Fleshlight replacement sleeve Speed bump - Masturbator from Fleshlight

Product Details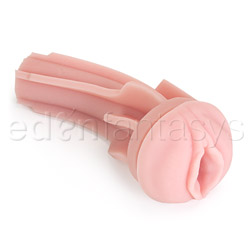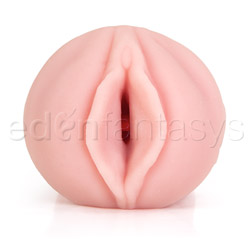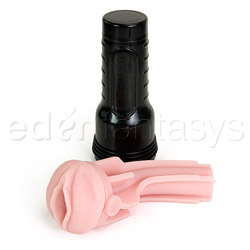 Summary:
The Speed Bump replacement sleeve fits in any Fleshlight case, so you can experience something new without having to buy a whole new Fleshlight. The Speed Bump provides a combination of intense massaging and licking sensations that may just make you slow down to enjoy the pleasurable ride.
Pros:
Combo of massaging and licking sensation. Realistic material.
Cons:
Can only use water for cleanup.
Best use:
After you've had your Fleshlight male masturbation device for awhile you might find yourself craving a new sensation, and buying a replacement sleeve is less expensive than buying a whole new unit. The Speed Bump sleeve will fit into any Fleshlight case that you already have, and you can store your old Fleshlight sleeve in the Speed Bump's canister when you switch them out.

While there's no reason you can't use this handheld masturbation sleeve without a Fleshlight case, the added stability and suction control of having the case does make for a more satisfying ride. Either way though, using a Fleshlight is easy enough that any man can do it; just apply some lube to your dick, drizzle a little more into the sleeve's entrance, and enjoy.
Material / Texture:

Made of the same non-allergenic latex-free and phthalates-free Superskin material as the other Fleshlight sleeves, the Speed Bump has that realistic cushiony softness that we've come to expect from all the Fleshlight products. The difference is the inner texture, which consists of hundreds of evenly-spaced short bumps that start about 1" in from the entrance and continue down the entire length of the tube.

These firm nodules flatten slightly to create a massaging effect over every inch of your cock, and when you pull out and they spring back into shape there is a noticeable licking/plucking sensation on the head. It's a very intense feeling that can be heightened or lessened according to how much lube you use - more lube means less of the licking/plucking, and vice versa.

Material:

Superskin®

Material safety

Safety features:

Latex free / Phthalates free

Texture:

Nubbed / Velvety

Shape / Design / Size / Fit:

This Speed Bump sleeve has a realistic vaginal entrance complete with a clit, and plenty of plumpness around it to cushion your groin when thrusting. The inside of this sleeve is 1/2" wide, not considering the protruding nubs, and it flexes and expands to over 2" wide so men of varying girths will be able to enjoy it. The sleeve is perfectly straight, so along with the massaging nubs it also gives a constant firm pressure along the entire length of your cock when in use.

With nearly a 10" overall length, the Speed Bump replacement sleeve wouldn't be exactly easy to hide, but you could secure some rubber bands around the clear plastic case it comes in and wrap it in a shirt or something to pack it away amongst other items.

Color:

Pink

Length:

8 1/2"

Fits up to:

2"

Weight:

1 lb

Functions / Performance / Controls:

Special Features:

Lubricant included
Realistic design

Care and Maintenance:

As with all the Fleshlight sleeves, only water-based lubes can be used, and you cannot use any kind of cleaners or soaps to wash them. Just run warm water through each end of the sleeve for a few minutes each, and it'll be sufficiently clean. You can also use isopropyl alcohol if you notice it becoming too grungy or if mold forms, which is usually the result of not allowing your Fleshlight sleeves to dry well enough before storing.

You can lay the sleeve in a well-ventilated area to dry, or hang it up. We've found that the Single Locking Suction Handle works great for this.

Once it's dry, you can dust the sleeve with a bit of corn starch to help keep that velvety surface texture, but it's not a mandatory maintenance step. All Fleshlight sleeves are best stored in their original containers, or in a Fleshlight case.

Packaging:

This Speed Bump sleeve comes housed in clear plastic contoured holder that opens clam shell style, packed inside of a 10-1/2" tall metal can that for some reason reminds me of a giant tennis ball canister. I think it's the color scheme, which is white at the top and then hazes down into a sporty kiwi green, but then there's gray silhouettes of a girls all around it that I'm sure have nothing to do with tennis! The Fleshlight logo is printed vertically on the front, and on the back there is a large removable foil sticker that shows pictures of the Speed Bump sleeve and gives product information about it. You also get a free sample packet of ID Glide lubricant, and a comprehensive care and usage guide.

Experience:

Alan says:
If you've ever had a blowjob where the girl sucks like hell and uses her tongue to aggressively torment your cock while you're thrusting, you've got the beginnings of an idea of what the Speed Bump feels like. It's seriously pleasurable, and I believe it's called the Speed Bump for a reason because if I slow down my thrusts this sleeve feels even better to me. It has officially replaced the Tera Patrick Twista Fleshlight as my favorite now.

I've only got 4 Fleshlight sleeves, but I was thinking that a comparison of sorts might help somebody somehow so here are my personal observations:
* Sleeve tightness from tightest to loosest are: Touch, Speed Bump, Wonder Wave, Twista.
* How much sensation the sleeve gives, from most intense to least are: Touch, Speed Bump, Twista, Wonder Wave