Fleshlight Fleshlight replacement sleeve Wonder wave - Masturbator from Fleshlight

Product Details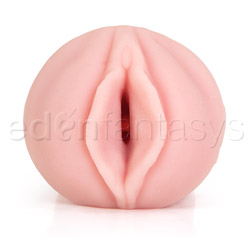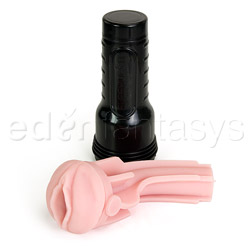 Summary:
The Pink Lady Wonder Wave replacement sleeve by Fleshlight is a male masturbator with a realistic looking vaginal entrance. It's realistic skin feel make this a great masturbator. The only real drawback is that it's very, very difficult to clean.
Pros:
Soft, tight, and an awesome tin.
Cons:
Is hard to clean and requires some work to maintain.
Best use:
This Fleshlight replacement sleeve inserts into any Fleshlight case that you already have. Yes, you do have to already have one. To use this pull out the existing sleeve from your Fleshlight case, put that one into the case your new one just came in for safe storage, and push the Pink Lady Wonder Wave into the case then you are ready to go. If you have a bed or something at a good level you can put this between two things and have hands free use but other then that you will build up your arm muscle with this one.
Material / Texture:

The Pink Lady Wonder Wave replacement sleeve is lined with about 8" of ribs about 1/4" apart making for a really good experience. One thing about the material is that it easily sticks to its self, you can pull it back apart but sometimes it can be a little difficult this doesn't happen as much if you repowder it. It is recommended if you do repowder to use corn starch. This dose smell when you first get it but goes away after a couple of washes. The material of this toy is only compatible with water-based lubricants.

Material:

Superskin®

Material safety

Safety features:

Latex free / Phthalates free

Texture:

Ribbed / Velvety

Shape / Design / Size / Fit:

The Pink Lady Wonder Wave is in the middle as far as how tight it is out of all the Fleshlight openings it starts at about an 1/2" diameter and expands to well over 2". This sleeve's design enables men that might be too long for most sleeves to use this sleeve because it has an open ended design, so if you take the suction cap off you can go right though the whole sleeve.

Color:

Pink

Length:

8 1/2"

Fits up to:

2"

Weight:

1 lb

Functions / Performance / Controls:

This toy is easy to control thanks to the case even if using this in the shower or a pool the case is easy to hold on to and manipulate the toy with. You can also control how much suction the toy provides by adjusting the small cap on the end of the case.

Special Features:

Lubricant included
Realistic design

Care and Maintenance:

To clean your sleeve remove it from the case and run warm water though it. For tough cleaning, you can use a small amount of isopropyl alcohol. Remember do not use soap or detergents - it will deteriorate the surface of the material. This is also noted in the care guide you get with this. After you towel or air dry this, I recommend leaving off the smaller cap so just in case you missed something, it will dry and will be less likely to mold. It is hard to towel dry this because you cant really get to the inside. You should re-powder your Fleshlight with corn starch to prolong the life of your sleeve but you don't have to.

Packaging:

The Pink Lady Wonder Wave replacement sleeve comes in a large tin. It has Fleshlight written right on the side as well as a picture of the inside of the sleeve and it tells you the sensation level of your sleeve. There are also some girls that are all white like the girls on mud flaps. Inside the tin there is a thick plastic insert this is to keep the sleeve form moving around to much and sticking to itself during shipping. this is also perfect for storing the sleeve you took out of the case you are now using if you didn't have to throw it away and if you did, you can put it in the plastic then throw them both away.