Vixen Creations Get a grip masturbator - Penis sleeve from Vixen Creations

Product Details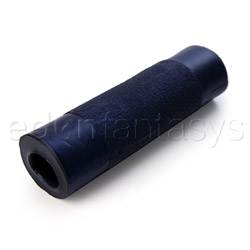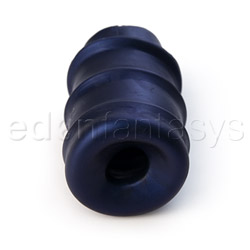 Summary:
Finally a silicone sleeve for men, enter the Get A Grip masturbator from Vixen Creations. The Get A Grip is made from 100% pure hand-crafted silicone. It is stretchy to accommodate most guys and has interior ridges for stimulation. It is fully reversible and easy to hold and use. Definitely a high quality toy for your cock.
Pros:
Pure silicone material, stretchy, reversible, easy care and maintenance.
Cons:
No choice for internal texture.
Best use:
Vixen Creations' Get A Grip masturbator represents an interesting blend of simple design and high tech materials. Most masturbation sleeves out there essentially accomplish the same purpose, but few do it with the quality and grace found here. The concept seems pretty simple, take a soft material, make a hollow cylinder out of it, add an interior texture and you've got a masturbation sleeve. The tricky thing is to make it out of pure silicone. If you are very familiar with silicone you know that the silicone used for most toys is pretty stiff. On the other hand, a stiff masturbation sleeve just wouldn't work. It wouldn't be comfortable and it wouldn't allow for the variety of penis sizes that exist in the world. Vixen Creations has developed a silicone that takes care of those issues while still maintaining the excellent features inherent to silicone.
Material / Texture:

Pure silicone, that's right pure silicone. Does it get any better than this? As far as quality in a masturbation sleeve is concerned, probably not. Silicone is undoubtedly the safest soft material available. The Get A Grip masturbation sleeve is made from a dark blue, relatively unique, soft silicone that stretches to allow the sleeve to be turned completely inside out. It is textured both inside and out. The inside has a ridge every inch for a total of 6 with one opening having an immediate ridge and the other end without. The sleeve can be used either direction, so for a slightly tighter opening, use the end with the ridge. Another way to increase the tightness without as much manual effort, just fold the sleeve back on itself. This makes the sleeve shorter, but it can be slid up and down the shaft pretty easily. What would normally be considered the outside of the sleeve is also textured. This is primarily to keep the sleeve from getting too slick after lubricant has been applied, but if the sleeve is turned inside out, this exterior texture provides a different masturbatory experience.

Material:

Silicone

Material safety

Safety features:

Food-grade material / Hypo-allergenic / Latex free / Non-porous / Phthalates free

Texture:

Ribbed

Shape / Design / Size / Fit:

Pure silicone doesn't stretch, right? WRONG. A couple of the premium silicone toy manufacturers have figured out silicone formulations that can stretch and still return to their original shape. Vixen Creations has taken their soft silicone formula and applied it to the Get A Grip sleeve to a great end. This sleeve is very stretchy so it should be able to accommodate any penis you want to throw at it. The silicone provides decent resistance, so the experience is relatively tight as well. You have to rely on your hand to provide additional resistance if desired, but this isn't meant to be a masturbation tutorial, so I'll stop right there. The overall length is about seven inches, which seems to be pretty decent. Not too long so it looks like an elephant trunk but long enough to keep the shaft of most guys covered. Since there are holes at both ends there is no concern about bottoming out.

Color:

Blue

Length:

7"

Fits up to:

3"

Width:

2 1/4"

Vaginal depth:

5"

Weight:

7 oz

Care and Maintenance:

Since the Get A Grip masturbation sleeve is 100% silicone, care and maintenance are easy. Any lube except silicone based is good to go. This means oil based is okay which is nice for masturbation sessions in wet environments (shower, tub, etc.). Normal cleaning of the sleeve can be accomplished with soap and water, but for deeper cleaning, it can be wiped with 10% bleach solution and then rinsed or boiled or even run it through the dishwasher (top rack, no soap). Since the material is non-porous and can be sterilized, it could be shared, but it seems like the situations where people would want to do that would be pretty rare, but it is available for those that might be interested. After cleaning, either towel or air dry it and put it away until the next time you want to use it. So far, it has held up to everything I've thrown at it without damage, so it should be able to last a long time.

Packaging:

Vixen Creations' packaging is very nice. Their toys generally come in a clear plastic hollow cylinder with rubber caps on both ends. The Get A Grip masturbation sleeve is no exception. This is great for display purposes because you can really see what you are getting. The packaging is very discrete with no photos at all. What you see is what you get, and what you get is very nice. The packaging can be used for storage as well if you don't mind the additional bulk.

Experience:

Alright, as anyone that reads my reviews knows, I have had a lot of experience with masturbation sleeves. My first was Sue Johanson's Head Honcho which in some ways is similar to the Get A Grip. I also have several Fleshlights as well as an assortment of other sleeves. Comparing to a Fleshlight is very difficult as the masturbatory experiences are on different ends of the spectrum. It's like comparing apples and oranges. A Fleshlight without the hard case might be closer, but those are a lot longer and floppier. Plus there are so many different interior textures with Fleshlights. The Wonder Wave interior would probably be closest, but there are still about twice as many ridges in the Wonder Wave Fleshlight and it is much softer. The sleeve I have that is probably most directly comparable to the Get A Grip is the Fella Crystal from Toy's Heart, but the difference is still pretty striking. I think I prefer the additional stiffness of the silicone found in the Get A Grip. I will say that the additional expense required to get a pure silicone sleeve keeps me from suggesting it should be any guy's first sleeve. Try out a cheaper one first and make sure you like masturbating that way before you invest in a more expensive alternative like Get A Grip. All that said, I don't know if you could find a toy with higher quality materials to wrap around your junk.