Evolved Latin Glory Holes masturbator and dvd combo - Masturbator from Evolved

Product Details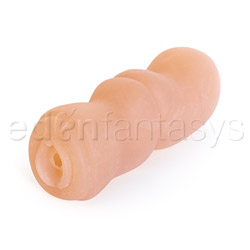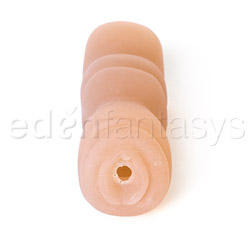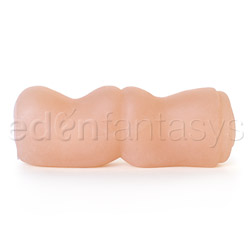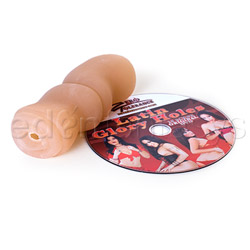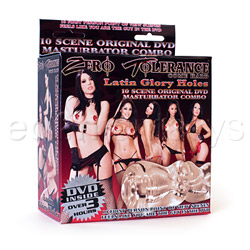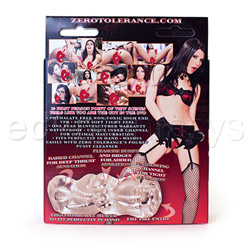 Summary:
Zero Tolerance takes its knack for making quality films and applies the same quality and ingenuity to a stroker. If you were to sell these two products separately you'd get two separate products, but when sold together you get something great. Both work well together and compliment each other - you really can imagine yourself within the scene!
Pros:
Great DVD with hot POV scenes, and a unique stroker that provides great sensations.
Cons:
The entrance to the stroker can be a bit tough to enter at times.
Best use:
Zero Tolerance is one of the best Adult Film producers out there, and their male sex toys are not bad either! Included with the stroker is a 10 scene DVD that contains over three hours of hot Latina sex.

The DVD features the hottest Latina talent in adult films: stars like Rebecca Linares and Monica Mottos in some of the hottest POV (Point of View) style scenes out there. The scenes are all unique, and are not all oral only scenes as one may expect, but feature vaginal sex also.

Material / Texture:

The included stroker is made from Thermoplastic Rubber (Also known as TPR and TPE). Thermoplastic Rubber is a blend or compound that exhibits a thermoplastic character. Thermoplastic Rubber is hypoallergenic, nontoxic, and phthalate free. While Thermoplastic Rubber (TPR) is less porous than Cyberskin it is more so than Silicone. Thermoplastic Rubber can be used to produce a wide variety of items, which include bicycle handles, toothbrushes and some children's toys

Since the stroker is made from Thermoplastic Rubber you can only use water based or silicone lubricants. Petroleum based oils will damage the material.

This toy can not be sterilized, so if you plan to share this with someone you should wear a condom with this masturbator.


Material:

TPR

Material safety

Safety features:

Hypo-allergenic / Latex free / Phthalates free

Texture:

Nubbed / Ribbed

Shape / Design / Size / Fit:

The TPR stroker has an interesting and very unique design, that features a interior chamber that is lined with tons of tiny ribs for a large amount of stimulation. Adding to the sensations is the unique shape: the beginning of the interior chamber is wide, but quickly gets smaller (and tighter) before once again getting wider (looser). The changes in looseness and tightness create a wonderful feeling.

If there is a drawback that is to be found, it would have to be the entrance of the stroker. With a lubed up member (penis) it can be hard to enter the stroker due to slipperiness. The material around the entrance is not thick, therefore it's not stable and it moves around. Once you do enter the stroker, you will have no problems staying inside.

One great thing about this stroker is the hand grip design. TPR can get really slippery when lube is involved and this toy is no exception, but due to the exterior design that makes this fit perfectly in your hand, the chances of this slipping and being launched across the room are minimized.


Color:

Tan

Length:

4 3/4"

Fits up to:

Any size

Circumference:

5 1/2"

Width:

1 3/4"

Vaginal depth:

4 3/4"

Weight:

0.3 lb

Functions / Performance / Controls:

Special Features:

Small size
Super stretchy
Travel kit

Care and Maintenance:

TPR is very easy to clean and maintain. You can use anti-bacterial soap and warm (but not hot) water or you can use a sex toy cleaner. As mentioned earlier, TPR can not be fully sterilized.

You may notice that this toy may get sticky after washing; you can restore the flesh like feeling by applying a light coating of cornstarch.


Packaging:

The packaging serves as both a DVD case and a stroker case, and is not good for storing either. The package has several beautiful Latina porn stars posing, while in the foreground is an image of the stroker (although more translucent in order to show off the texture). The back of the package is similar to the back of an adult DVD case, and has several bang shot (images of sex that are contained in the film). There is also a good description of the stroker on the back.

Personal comments:

This is a great one two combo, you get a good stroker and a great compilation DVD. The DVD includes ten awesome POV style scene that really go well with a toy or masturbation - you can easily put yourself into the scene.

Here is a list of the scenes and the performers:
1. Blow Me Sandwich 7 : Jenaveve Jolie & Dillan Lauren
2. POV Centerfolds 6: Maya Gates
3. Whack Jobs: Olivia O'Lovely
4. Face Invaders: Lorena Sanchez
5. About Face 4: Monica Mottos
6. POV Centerfolds 6: Alexis Love
7. POV Centerfolds 8: Daisy Marie
8. Headcase 4: Ann Marie Rios
9. Headcase 3: Renae Cruz
10. About Face 4: Rebecca Linares

The DVD was exceptional and all the performers did quite well. I especially enjoyed the Jenaveve Jolie and Dillan Lauren scene, which featured one of the hottest duel blow jobs I've ever seen, and especially the hottest POV duel blow job scenes I've ever seen. Loren Sanchez's scene was also very good, she looked adorable (she could have used some windshield wipers on her glasses at the end of the scene), and did a great job. Rebecca Linares used her feet in a way I have never seen on film or ever during an oral scene, which was absolutely brilliant. Every scene was good, there were some that were better than others, but none were bad.

There are some minor gripes to be had with the packaging, for example the DVD just comes in an envelope sleeve, and not a cardboard or plastic case, which makes storing this hard. You can not add this to the shelf with your other DVDs, because it could get lost - your only option here is to buy a generic DVD case in a store.

All and all this was a great set, the DVD especially. The stroker was good, but was truly enhanced by the DVD, and vice versa. I am giving this a four star rating.