Doc Johnson Mood pleaser thick ribs - Masturbator from Doc Johnson

Product Details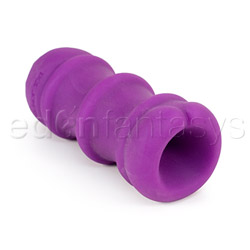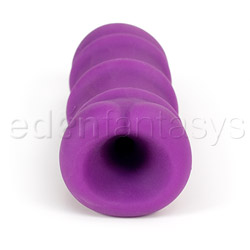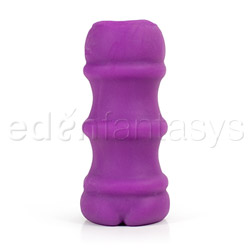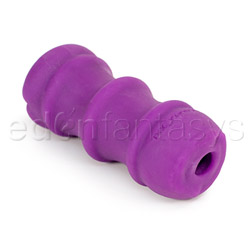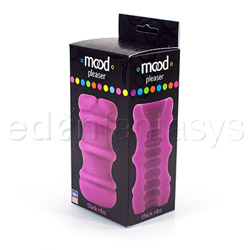 Summary:
The Mood Pleaser Thick Ribs is a great toy for any guy. The material is stretchy enough for a variety of sizes, but still has a tight feeling. The outside is easy to keep a grip on, even with lube covered hands, and the size makes it travel-friendly.
Pros:
Tight, realistic feel, comfortable grip.
Best use:
Masturbators are a great thing to use if you want something other than your hand to get you off. They can be used solo, or by a partner. Whether you are new to using masturbators, or already have a whole pile of them, the Mood Pleaser Thick Ribs from Doc Johnson is a great addition to your collection. It can be used on a decent variety of sizes, and the thick ribbed texture feels great.
Material / Texture:

The Mood Pleaser Thick Ribs is made from UR3, which is a mix of PVC and silicone. It is also made with Sil-a Gel, which is antibacterial. UR3 is porous, so you can't sanitize it like you can with pure silicone toys. You'll also want to use a condom if you plan on sharing.

The material has a soft, squishy feel to it, which helps make it feel more realistic. It does have a somewhat fruity smell, like most toys with Sil-a Gel have, but it's not quite as strong as a lot of those other toys can be. Like the name suggests, the inside is lined all the way down with thick ribs. This is a great texture for guys new to using masturbators because of its simplicity; though more advanced users will still get some great stimulation because the ribs are thicker than a lot of other masturbators. This material is a lint magnet, so you'll want to wash it off before each use.

Material:

Ultra realistic 3.0 (UR3)

Material safety

Safety features:

Anti-bacterial property / Latex free / Phthalates free

Texture:

Ribbed

Shape / Design / Size / Fit:

The Mood Pleaser measures 4 1/2 inches in length. The material is pretty stretchy, so it can fit a variety of sizes, though bigger guys may wear it out faster. Even though the material is stretchy, it still fits snugly, which gives it a tighter feeling than other masturbators. I really like the outside design of this toy. It's not just a straight, smooth cylinder like a lot of other toys can be. The opening has a kind of rounded notch at the top, which makes me think they were aiming for it to look like a butt. The shaft has three large bands around it that make it very easy to keep a grip on it--even when your hands are slick with lube. While this toy isn't discreet, it's a perfect size to travel with.

Color:

Purple

Length:

4 1/2"

Fits up to:

Any size

Circumference:

6"

Width:

2"

Weight:

0.3 lb

Functions / Performance / Controls:

Care and Maintenance:

This toy is really easy to care for. To wash, simply use soap and water. It's recommended for UR3 toys to dust them with corn starch after they've dried to help them last longer. You can either store this in the bag and box it came with, or in a Ziploc bag to save space. Only water-based lube should be used with this toy, as silicone and oil-based lubes can damage the material.

Packaging:

The packaging for the Thick Ribs is probably the most interesting and informative packaging I have seen for a toy. The front has a picture of the toy. One side of the box has a picture of the toy cut in half, to show what the inside texture looks like. Each rib on the picture also has a piece of plastic over it to give it a three dimensional feel. The back of the box has information on the toy in the form of four categories: Feature, Material, Cleaning, and Lubricant. Each category has a list of things with a colored circle under them, and any circle that matches the toy, has a black dot in it. It also comes with a clean and care guide for any of Doc Johnson's The Realistics and UR3 toys. You can store the toy is the package, but it's not very discreet, so I wouldn't leave it sitting out.