Toy's heart Ona pit wave - Penis sleeve from Toy's heart

Product Details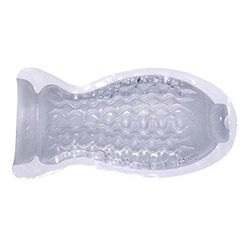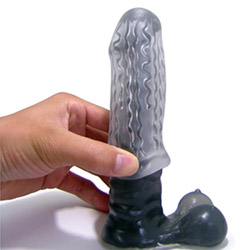 Summary:
All in all this was a great toy for anyone from beginners to advanced users. I only had one issue with it and that was, on the top, there is a space the size of a quarter. It has material there but it looks kind of like a boiled egg does when you peel some layers off. It's a little thinner right there then it is on the rest of the toy and I'm just waiting for it to break open. Other than that, it's great.
Pros:
Flexible
Easy to store and clean
Fun to use
Cons:
On the top there is a small spot that worries me, like it's missing material.
Best use:
The Ona Pit Wave is best used for masturbation. I guess you could use it during intercourse but I didn't try it. It's kind of like a sock except that this feels a hell of a lot better and it won't leak like a sock would. You do need to hold it, of course, or it will just sit there but believe me, it feels great. It usually just hit the head and a little bit lower, especially if you are bigger than average, but it still felt good. Like I just said, I think it would be best for anyone, whether a beginner or advanced user, as long as you are average size or smaller. This toy can be used anywhere. Due to it being SO flexible, you can store it in your pocket and whip it out in a bathroom or wherever you feel the need to use it.
Material / Texture:

The material is called TPE which is also known as TPR. It's safety number is only 6 out of 10 but it is better than 5 right? The basic explanation of this material is... A rubber polymer blend or compound that exhibits a thermoplastic character. TPR has an excellent flexural fatigue resistance and high impact strength. It starts out soft and has products added to make them harder. This type of material is ideal for manufacturing a variety of textures. It does have a wavy texture to it due to the ripples it has on the inside. It feels wonderful though.

Material:

TPE

Material safety

Safety features:

Hypo-allergenic / Latex free / Phthalates free

Texture:

Wavy

Shape / Design / Size / Fit:

The best way to describe the shape of it is to compare it to a baby's sock. I know that doesn't sound right but that's basically what it looks like. I wouldn't suggest thinking about that when you try it though. You might not be able to use it afterwards. It's nice and smooth on the outside and it has little, soft waves on the inside which stimulate a lot and feels really good. Especially if you have a cock ring on and what to have a longer experience with it. The size is also not super huge but it is very strechy and will fit almost anyone. The only reason why I say it won't be good for the above average is because the thicker you are, the less it covers. Since it is small and flexible, it is easy to store and travel with. It doesn't look like much when you first look at it until you really stare for a while. So even if you pull it out, you might not have a problem. As long as you are not using it in the open public ha ha.

Color:

Clear

Length:

3 1/2"

Fits up to:

Any size

Weight:

0.1 lb

Functions / Performance / Controls:

Special Features:

Super stretchy
Travel
Waterproof

Care and Maintenance:

Though it cannot be boiled, it can be washed in mild soap, warm water, or toy cleaner that you can purchase right here on the website. I usually use warm water but when it gets to the point that it really needs to be cleaned, I usually go for the mild soap. But on occasion I have purchased the toy cleaners and they have worked pretty well.

Experience:

My experience with this product was amazing. I use it when ever and where ever I feel that urge. I would recommend this product to anyone looking to get a quick pleasure in here and there. I love it.