Toy's heart Peach club sleeve - Masturbator from Toy's heart

Product Details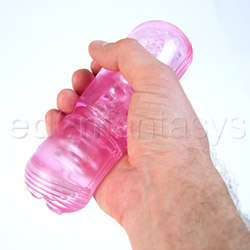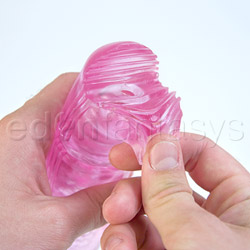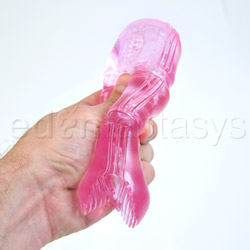 Summary:
The Peach Club sleeve is a pink translucent TPR sleeve from Toy's Heart. The exterior is distinctive in its futuristic, non-realistic appearance. The interior has a series of chambers with ridges, then nodules, then large bumps, then nodules again to provide different stimuli as one's penis slides through the inner canal. The TPR is very stretchy and should allow for use by just about any size penis. The material is very slick when lube is used, so a clean hand is necessary for good control.
Pros:
Stretchy, safe TPR, stimulating interior.
Cons:
Exterior difficult to control with slick hands.
Best use:
The Peach Club sleeve is really pink, not peach, but who wants to become part of the Pink Club? Actually, maybe most straight guys want to be part of the "Pink" club, am I right? The name may have been lost in translation, because in some Asian cultures the peach is associated with longevity, and that's what we all want, right? However, debating about the color is not important, it's really about how the sleeve performs, and it does a good job in that category.

The Peach Club sleeve is a stretchy, close-ended masturbation sleeve from Toy's Heart. There are not of bells and whistles with it. The opening has a series of ridges that appear sharp, but the soft material keeps it from being uncomfortable. Those ridges and the lines on the sleeve exterior give it a futuristic look instead of the realistic look that is common among sleeves of this type.
Material / Texture:

As with the majority of items from the Toy's Heart collection, the Peach Club sleeve is made from translucent TPR. In this case, the TPR is a shade of pink. It had a slight odor upon first opening, but it mostly dissipates after being washed and allowed to air dry. The sleeve is textured both inside and out. Presumably, the exterior texture is to make it easier to hold on to, but unfortunately, it doesn't really do much. If you've got lube on your hands, the Peach Club sleeve is pretty hard to control.

The interior texture is where the action really happens. The interior texture starts off with a series of ridges, followed by a section of nodules, then two bumps on each side that look almost like large raspberries, and ends with another section of nodules. The interior texture provides good stimulation and that's what this kind of thing is all about.

Material:

TPE

Material safety

Safety features:

Hypo-allergenic / Latex free / Phthalates free

Texture:

Nubbed / Ribbed

Shape / Design / Size / Fit:

The shape of the Peach Club sleeve is primarily cylindrical with a non-realistic opening and ridges that run the length and some periodically around the circumference of the toy. The design appears almost high tech, but that is just in appearances. The size is in what would be considered the medium range as it isn't nearly as large as a Fleshlight, but is larger than some of the other offerings that are available. The fit is snug, but is very stretchy so that it should be able to accommodate most men. It is stretchy enough that most should be able to use it prior to achieving a full erection.

Color:

Pink

Length:

6"

Fits up to:

2 1/2"

Vaginal depth:

5"

Weight:

7.5 oz

Functions / Performance / Controls:

Special Features:

Internal nubs and ribs
Lubricant included
Super stretchy

Care and Maintenance:

Since the Peach Club sleeve is TPR, any non-petroleum based lube is okay to use. This makes it good for use in wet environments as water-resistant silicone lube can be used with the sleeve. TPR is easy to clean just use soap and hot water or toy cleaner. It is porous and cannot be truly sterilized, so don't even think about sharing it, but that's just silly with a masturbation sleeve any way. The Peach Club sleeve is stretchy enough to be turned inside-out which makes the cleaning process much easier.

Packaging:

The Peach Club sleeve comes in a cardboard box wrapped in plastic. The box has a hentai girl on two sides and a photo of the sleeve on the other two sides. Most of the text is in an Asian language, so the meaning is not clear unless you can read that language. It doesn't have the softness scale that is on some of the other Toy's Heart products, so a direct comparison is difficult to make, but too much stock should probably not be placed in those scales any way. The package does include a sample of water based lube that is useful but somewhat stringy.

Experience:

My experience with the Peach Club sleeve was not all that different from some of the other sleeves I have had opportunity to use recently. The look is distinctive, but the interior feel was not all that different. To maintain control of it, I definitely had to rinse the lube off my hands because otherwise it was too slick to hold on to. In that regard it is not as good as some other sleeves, but it definitely gets the job done.