Toy's heart Shakers Vol.3 - Masturbator from Toy's heart

Product Details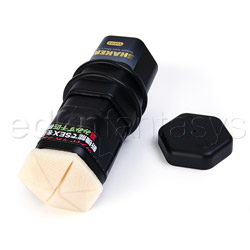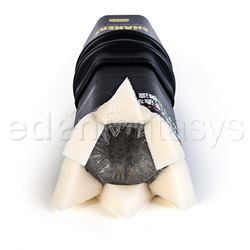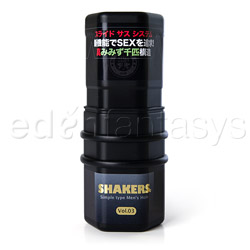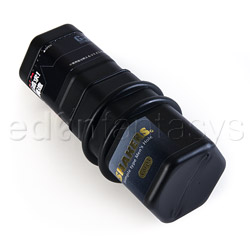 Summary:
Like many innovative ideas, this one needs work. The Shakers Vol. 3 simply isn't big enough, and the cheap construction means it's unlikely to deliver the pleasure it has the potential to. I like the 'pump' idea though - and would like to see it transferred to a more sophisticated product.
Pros:
Innovative design, small and discreet.
Cons:
Far too small - many men might not be able to fit inside it.
Best use:
Those Japanese - a wacky bunch (check out tentacle porn for proof of that) they're also incredibly innovative and inventive. This is demonstrated by a sex toy category they've dominated for decades now - the masturbation sleeve.
From disposable 'pots' filled with pre-lubed rubber, to discreet little pocket pussies like the
Adzumi Acorn
, they were leading the way long before the
Fleshlight
was invented.
The Shakers Vol. 3 is the next generation of disposable masturbation sleeves - a cheap and light pocket pussy that incorporates a brand new feature that I've never seen before. A telescopic sleeve, you can literally pump the end, theoretically creating a whole new style of sleeve.
Material / Texture:

Shakers Vol. 3 isn't exactly built to last. A hexagonal plastic shell - about as rigid as a Coke bottle - it contains several lengths of nubbed TPE to provide sensation. Thin foam packing provides the 'give' and acts as a sponge for lube.

It's a very simple construct, and for the price seems solid enough. The rigid shell splits into three pieces - a cap, the body sleeve and the end piece, which pistons up and down.





Material:

Plastic

/

TPE

Material safety

Safety features:

Food-grade material / Hypo-allergenic / Latex free / Phthalates free

Texture:

Smooth / Studded

Shape / Design / Size / Fit:

Looking at the pictures online, and researching the concept of the Shakers Vol. 3, I was hugely excited at the prospect of testing it. However, it's actually a lot smaller than it looks - only slightly taller than a soda can. In addition, it's slim.

So slim, in fact, that it might not fit particularly girthy cocks.

Size permitting, though, the design is small and discreet and the resealable cap means it's perfect for traveling, as it keeps the gooey contents safe and secure after you've used it, so you can dispose of them quietly.

Color:

Black / Clear

Length:

6"

Fits up to:

1 3/4"

Circumference:

7"

Vaginal depth:

5"

Weight:

4.8 oz

Functions / Performance / Controls:

Shakers Vol. 3 is definitely a case of form over function. The size issue - it's simply too small for anything other than a strictly average sized cock - is the major problem with it. Other hassles include the flimsy design, which doesn't stand up to punishment well (although as a one-shot toy, perhaps it doesn't need to.)

The foamy inserts mean that there's no possibility of reusing this toy, as any attempt to wash it will ruin them faster than a silk shirt.



Special Features:

Lubricant included
Travel

Care and Maintenance:

Care and maintenance isn't really an issue. This toy is designed to pump, and pump, and pump, and pump and then dump; one time use only.

Lube is included with the packaging. If you want to use your own, remember that TPE requires water based lube only; although since this is a disposable toy, that's less of an issue.

Packaging:

Shakers Vol. 3 comes in a clear plastic sleeve and is emblazoned with Japanese instructions. Fortunately, it's pretty easy to figure out how to use it; so there's no need to find a translator.

Marketed as a disposable toy, the packaging is ultimately just as disposable as the sleeve is.

Personal comments:

I've never understood the appeal of one-use-only toys, as they seem like a waste of time and money to me. In all honesty, I'd recommend saving up for a top toy like a Fleshlight.

Experience:

Like my early sexual encounters, my experience with the Shakers Vol. 3 was ultimately brief and unsatisfying.

You see, I didn't fit.

I don't claim to be John Holmes or anything like that, but my dick was apparently too wide for the sleeve. It wouldn't go it - a case of trying to jam a large, pink peg into a small, hexagonal hole.

Since I don't have any delusions about my size, I'm guessing a significant number of men will find the same problem; making me classify this toy as a real dud.