Toy's heart Shakers Vol.4 - Masturbator from Toy's heart

Product Details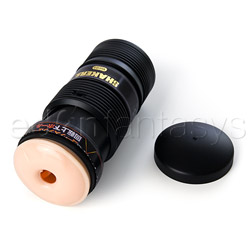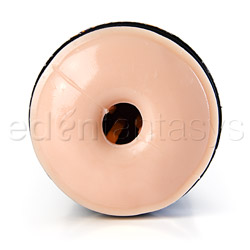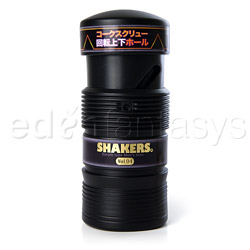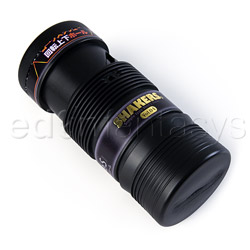 Summary:
The Shakers Vol. 4 is a cheaply made TPE sleeve. He is a beginners sleeve for men who live in a dorm, have roommates, or may still live at home. He comes with a tube of water-based lube from Vanessa & Co. He is a little sticky at first and has a burnt smell to him. If you know how to read Japanese, you will be able to follow the written instructions, but there are pictures, if you don't. He may begin to squeak and rip at the seem after a few uses, but he will still be usable.
Pros:
discreet, own case, comes with lube, packaging is great for a gift box
Cons:
sticky, light smell, looks cheaply made, can't read instructions, may begin to squeak
Best use:
The Shakers Vol. 4 is a simply crafted masturbation sleeve. He is great for in bed, and because there is no motor, you can even use him in the shower. You just lube up, put on and twist, literally. He is a handheld sleeve, because you have to twist him with your hands to be able to receive the full effect. He stimulates the whole shaft and head with the studs in the inside and with the twisting motion. This product is a great asset for guys who live in a dorm, have roommates, or are still living at home. With any of these scenarios, you can just take him in the shower with you.
Material / Texture:

The Shakers vol. 4 is made with TPE, which is hypo-allergenic and latex free. The outside of the sleeve is made of plastic, which is non-porous, and helps protect the sleeve, and has channels for the twisting motion. The Shakers has a slight burnt plastic smell. After washing for the first time, the smell disappears. The TPE is very tacky when you first open the tube and attracts lint and dust very easily. There really isn't anything to really do about it, but to keep the lid on when not in use, and to clean before and after use.

On the inside of the sleeve, there are four rows of studs made of TPE, and they add stimulation with the twisting motion to the shaft and head. I gave this toy to a friend to use for this review; he stated to me, the first time he used The Shakers, he had blown his load quicker than usual. But because he used this toy so roughly, it is now broken. The Shakers is firm where he needs to be and soft in other places. I believe this toy is made for a beginner, because of his simple design and manipulation.

Material:

Plastic

/

TPE

Material safety

Safety features:

Food-grade material / Hypo-allergenic / Latex free / Phthalates free

Texture:

Smooth / Studded / Swirled

Shape / Design / Size / Fit:

The design of the Shakers Vol. 4 is very simple which is kind of nice. The outside is easy to hold on to, and the inside was nice. He also said, "It began to make a small squeaking noise the more I use it". But other than those two things, he still liked it until it broke on him. He decided to be a little too rough.

The shape was perfect for my friend. He says "It is very easy to use; it feels like the real thing, and you just lube up, slip him on, and go". He said "It worked great the first few times, but now it is beginning to make noises, and it is beginning to rip at the seam at the top". The size is great; not too small, not too big. He has a length of 6" and a vaginal depth of 5 1/4". My friend just wished the entrance was a little bigger. He is good for an average user. At first it is a little strange, because you may think you won't fit, but most men will.

He is easy to hide, because he is in his own case, so you could have him sitting out and no one would look twice, maybe. If you are afraid, like my friend, you can put him in your sock drawer, or even in your desk drawer. Where ever you feel comfortable and you think no one will look. He is very discreet and great for travel. You could just put in your bag and not have to worry about anything. If you fly, you may have a problem, with all the new rules about baggage. But my friend will never know what will happen at an airport, because of the fact that he broke it already.

Color:

Beige / Black

Length:

6"

Fits up to:

2 1/4"

Circumference:

8"

Vaginal depth:

5 1/4"

Weight:

8 oz

Functions / Performance / Controls:

Care and Maintenance:

TPE is less porous than cyberskin but more porous than silicone. You should wash him with warm water and toy cleaner or mild soap. The outside you can easily clean with antibacterial soap and hot water or by wiping down with Isopropyl alcohol.

With TPE, you can use silicone and water based lubes. One cool thing about this toys is it comes with a 15ml tube of water-soluble lube called Vanessa & Co by Toy's heart. The lube is transparent in color, odorless, and is sticky to the touch. It says that it can be endured for a long time, but this was not the case with my friend. It seem to dry up after the first few minutes after applying it.

Packaging:

The Shakers Vol. 4 is in a plastic clear package, so you can see the toy and lube. On the package is only one sticker on it and ITS IN JAPANESE!!!!! The instructions are no help unless you can read Japanese. But there are pictures, so you can get the basic use of the toy. The packaging can be used as a gift box; put a bow on top and there you go. The Shaker itself is its own storage, but you can also use the box, too. You also get a little package of lube with this toy, which is water-based. I had to find the lube on three different websites before I found one that told me what it was made of.