Toy's heart Smart easy's vol.2 - Masturbator from Toy's heart

Product Details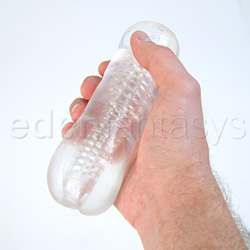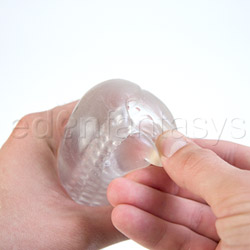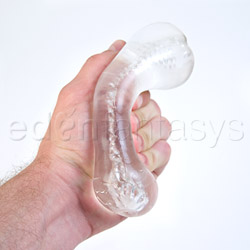 Summary:
While penis sleeves all have the same function, they are not all created equal. The Smart Easy's Vol 2 is a sleeve that enhances the feel of the interior with beautiful nubs arranged in a tower pattern. It also enhances the look with the clear material that allows you to watch the fun. It will be easy to imagine you are not just jerking off, the true test for any penis sleeve.
Pros:
The interior nubs create tremendous sensation, Travel-friendly, Interesting appearance.
Cons:
The sticky material may be a turn-off to some users.
Best use:
The Smart Easy's vol. 2 (there's a translation issue there, so let's call it the Smart), is a 6" long clear penis sleeve. Like all penis sleeves, you place the opening over the head of the penis and slide it up and down the shaft. Be sure to put a bit of lube on tip of the penis and in the opening of the sleeve. The sleeve is flexible, so it expands to fit all penis lengths and girths.

What makes the Smart unique is the pattern of nubs on the inside which are shaped like an upside down tower (it makes me think of the Empire State Building). The pattern also reminds you of corn on the cob. The pattern is distinct, even though it is on the inside, because the sleeve is clear. The nubs provide excellent stimulation and it is a turn on watching your erect penis slide up and down in the clear sleeve. This is good for anyone who likes the feel of jerking off (is there any man who doesn't?). It is nice and compact, so you can really use it anywhere you would feel comfortable jerking off.
Material / Texture:

The Smart is made with TPE, which is a synthetic blend somewhere between jelly and silicone. It is semi-porous and phthalate and latex free. It is very soft and flexible. The exterior has a somewhat sticky feel to it, which is actually not so bad because it allows you to keep a nice grip on it (as long as you don't get lube on your hand). The nubs on the inside give a nice sensation that is distinct from how your hand feels in a basic jerk-off. There is a bit of that synthetic smell some toys have, but it is not overwhelming or distracting.

Material:

TPE

Material safety

Safety features:

Hypo-allergenic / Latex free / Phthalates free

Texture:

Nubbed

Shape / Design / Size / Fit:

The Smart is not as thick as many other penis sleeves, but its lack of girth does not detract from the feel. Because it only opens at one end, it creates a vacuum around the penis which produces a sucking sound that makes it easy to imagine you are receiving a blowjob. It is very compact, so it will easily fit in any bag. Because of the tower of nubs, it also has an interesting appearance that does not scream out sex toy. However, it is an object of curiosity, so if anyone sees it, they will want to figure out what it does. If you want discretion, don't leave this one out in plain sight because you will get some questions.

Color:

Clear

Length:

6"

Fits up to:

1 1/2"

Vaginal depth:

5 1/2"

Weight:

7 oz

Functions / Performance / Controls:

Special Features:

Lubricant included
Super stretchy
Travel

Care and Maintenance:

The Smart is best cleaned with soap and water. It flips inside out easily, so you can give it a thorough cleaning. Do not try to sterilize it. With this material, you can use water-based or silicone lubes. Store it away from light and dust and where it is not pressing up directly against other toys. It will fit nicely in any drawer or toy chest.

Packaging:

The box is simple, but its biggest advantage is that it is not much bigger than the toy itself, so you could actually store the Smart in the box. It has a diagram of the toy and some text, but almost everything is in Japanese. There a is a bit of English, but you have some translation issues, like where the Smart is described as a "function pursuit hole" Since most people will have no idea what that means, the box, like the toy itself, will prompt more questions than knowing looks. Just don't give people too much time to figure it out. The box does talk about feeling "Olgazm", so that might blow your cover.

Personal comments:

The nubs are what really make the Smart stand out. And, don't limit yourself to just moving it up and down the shaft. Try twisting/rotating it around the shaft as well. That tightens the material around the penis and really emphasizes the nub effect.