Tenga Tenga flip air black - Masturbator from Tenga

Tenga flip air black videos
Product Details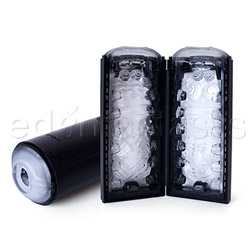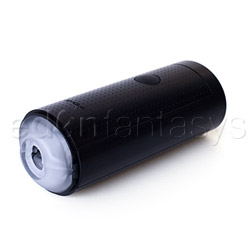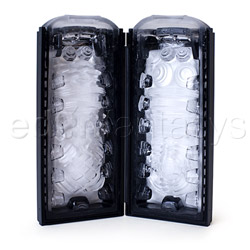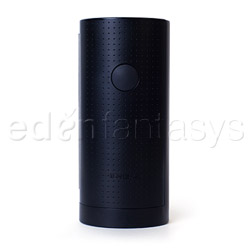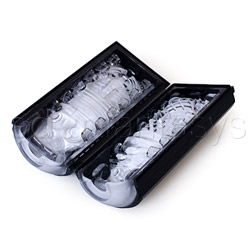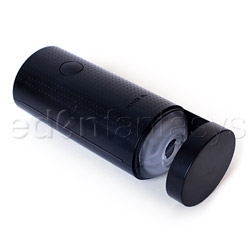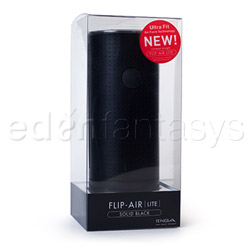 Summary:
This is the next generation of Tenga male masturbation products; and it shows. There are definite improvements over what went before and they result in a nicely made, very satisfying product that will provide hours of use. Whether it's better than the Fleshlight or not is arguable; but it's a serious contender.
Pros:
A great new addition to the Tenga lineup, the next generation of Tenga Flip products.
Cons:
Still a little bit too firm for some users, expensive.
Best use:
There are two names in male masturbation products: Fleshlight and Flip Hole. Now Tenga have decided to raise their ante with the next generation of their well-recieved Tenga Flip Hole, the Flip Air. This is very different from a Mac Book air, so please make that distinction before ordering.

Just like the Tenga Flip Hole, the Flip Air is a masturbation sleeve that uses an innovative clamshell design to make lubricating and cleaning the interior sleeve lining easier. While many criticize the Tenga for not being as sensationally sensual as the Fleshlight, this has always been an area in which the Flip Hole has eclipsed the more popular product and remains the signature feature of the updated Flip Air.

The difference this time is that the top/base that holds the clamshell closed only has one spar - making it infinitely easier to assemble and disassemble.

Use is pretty straightforward. You "flip" the base to the top to reveal a sensual hole, which you then proceed to fuck. It's essentially like many masturbation sleeves, except like with the Fleshlight it comes with a rigid sleeve that makes it infinitely more practical and pleasurable to use.
Material / Texture:

The Flip Air consists of a rigid plastic shell and a TPR silicone interior; which is a fairly reasonable approximation of human flesh but not as soft and sucking as the more famous Fleshlight. It's a little firmer than I personally like; although those looking for some rigid friction might find this product more satisfying. The firmness is a subjective matter; but the interior still delivers great performance.

Material:

TPR Silicone

Material safety

Safety features:

Food-grade material / Hypo-allergenic / Latex free / Non-porous / Phthalates free

Texture:

Nubbed / Ribbed

Shape / Design / Size / Fit:

Size-wise, the Flip Hole and the Flip Air are about the same; which is an advantage because Tenga's "lite" model was so small it would leave many more well endowed men (such as myself) unable to use it. The hole and length of the Flip Air are both neatly satisfying; another important aspect of the Fleshlight that Tenga matched and arguably exceeded.

It's also a breeze to travel with, as the top seals the entire unit discreetly and makes it ideal for throwing into a suitcase and also not obviously a "wanking sleeve" if you accidentally leave it on the bathroom shelf.

Color:

Black

Length:

7"

Fits up to:

Any size

Width:

3"

Vaginal depth:

6 1/2"

Weight:

1 lb

Functions / Performance / Controls:

The Tenga Flip products use an innovative button that you can "pump" to create a vacuum and increase or decrease friction. This works in much the same way as the screw-base of a Fleshlight; only a little more elegantly and allows you to control the pressure along your entire shaft, rather than just at the end.

If I have one criticism, it's that the Flip Air does make one hell of a squelchy racket when you use it; it's certainly not that discreet a toy.

Special Features:

Disposable
Internal nubs and ribs
Lubricant included
Travel

Care and Maintenance:

The Flip Air is a breeze to clean. You unlock the base and can open it up like a clamshell; arguably the major selling point over the more popular Fleshlight. The TPR silicone interior is also easier to clean; you can use soap and don't need to put corn starch on it afterward. In that respect, the Tenga is the best toy on the market for ease-of-maintenance and perhaps the only thing you need to be aware of is to keep it away from oil based and silicone lubes; which can destroy the material.

Packaging:

Beautifully packaged in a clear plastic case; but also a beautiful package on its own. It's ideal for safe and discreet storage and transportation.