Hustler The perfect girlfriend - Penis sleeve from Hustler

Product Details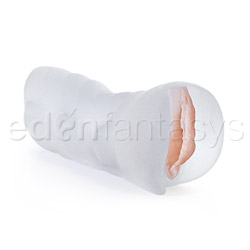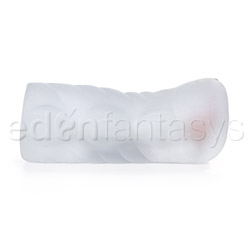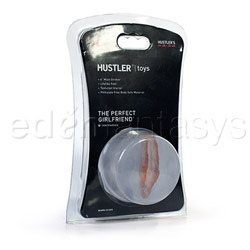 Summary:
While a toy certainly will never take the place of a warm body, the Perfect Girlfriend may be just the thing for a night alone. Six inches of body safe TPR await you, greeting you with a textured exterior for a sure grip, and a ribbed texture inside a realistic entrance for penis nirvana. Great feel, easy to use and clean, plus it's cheaper than a dinner for two at the local burger joint.
Pros:
Interior and exterior texture, realistic looking entrance, most guys should fit, clear!
Cons:
No material info on package.
Best use:
You know how sometimes you're watching your favorite cable TV show and that babe in the G-string bikini has the flag pole in your pants rising to full mast, or your partner is sleeping and the need for release has strokers jumping over fences in your head? Why use just your hand to do the deed, when for less than dinner for two at a taco place you too can have a Perfect Girlfriend.

And she is eager to please you too, all you have to do is bring any water or silicone based lube and maybe a small towel for clean up. Apply some lube to her realistic looking entrance, and let your fingers explore the ribbed interior before treating your lubed up penis to fairly intense textured bliss. A finger over the hole on the end will create good suction that just adds more stimulation. When you're done, clean up is a snap and you can toss her in a bag and put her in a drawer for storage. Best part about it all, she is ready anytime/anywhere to take care of you. You can even invite someone else into the mix for threesome type fun.

See? Ya, The Perfect Girlfriend.
Material / Texture:

TPR is used for your new girlfriend: she may have a slight chemical smell and taste at first, but that will go away after a few washings. Small price to pay when you consider that TPR is totally Phthalates/Latex free and made with food grade material. With a little care, the material should last through quite a few uses.

While TPR is not as "Life like" as SuperSkin or other "real feel" materials TPR is a stronger material and should last longer. Plus, TPR is not as big of a dust magnet as the realistic materials: sure, hair and dust bunnies will attract to it, but not nearly as bad. You will also feel the texture better due to the firmer material; this will make some users happy but some may look elsewhere.

Material:

TPR

Material safety

Safety features:

Food-grade material / Hypo-allergenic / Latex free / Non-porous / Phthalates free

Texture:

Nubbed / spiral

Shape / Design / Size / Fit:

Your new Girlfriend has an interesting exterior texture that works to make holding the toy much easier, especially when lube covered hands are trying to hold it. For starters, you get six domes, three on each side of the stroker. These stick out about half and inch and provide a great hold for fingers. The rest of the stroker has small lines molded into the surface to add even more traction for your fingers. The area around the entrance is bigger around that the rest of the toy and, due to the bend of the packaging, forms a kind of "dip" in the top of the toy; a perfect spot for your thumb.



The main attraction of this toy has got to be the ultra realistic entrance: some time was spent making this mold, and it shows in all the details. To bad the coloring of this pussy washes away. You can almost see the freshly shaven hair under the skin; the lips just beg to be touched and caressed. I have not seen this much detail in half the strokers twice the price! Just look at this pussy.


Just think how good that will feel on your cock.

One last detail that most will notice first: the material is clear. For me, something about a clear stroker just gets me going - the wife likes them too. Something about seeing the action, my cock thrusting through the toy, just adds to the stimulation. It does have a frosted look to it - if you get it wet like, say, in the shower, it becomes clear, but you can see through pretty good.

The entrance starts out at about 1/2", but easily stretches to fit my 1 3/4" diameter. This should make it suitable for most guys out there as far as girth. When talking about length, if your head popping out of the stroker is not your thing and you are longer than 5 1/2", you may want to look elsewhere. If it helps, the exit hole is a bit bigger than the entrance and feels quite good during use.

Color:

Clear

Length:

5 1/2"

Fits up to:

Any size

Circumference:

6 1/2"

Width:

2 1/2"

Vaginal depth:

5 1/2"

Weight:

0.6 lb

Functions / Performance / Controls:

Special Features:

Realistic design
Super stretchy
Texturized
Travel

Care and Maintenance:

One thing your new Girlfriend will not do is take care of herself. Well, nobody's perfect, eh? Fear not though, cleaning is a snap. Just use some warm water and antibacterial soap or a toy cleaner. Make sure to clean the interior good, as the texture will take a bit of extra effort. Dry it off completely and store in a zip top bag. If wanted/needed you can use a bit of cornstarch to prevent it from becoming hair encrusted, although this will need to be washed off before use.

Sharing is not recommended without condom use. TPR is somewhat porous so just don't share: buy two or three instead. Much cheaper than taking a chance.

Silicone or water based lubes can be used with this stroker, but not oil. This makes it a great all around choice for a material. You can use it in the shower or tub with silicone lube or water based when clean up ease is needed. Did I mention "The Perfect Girlfriend?" Yes indeed!

Packaging:

The package is your standard clam shell type that hangs on a hook at the store. The information is minimal and while not discreet it is kind of classy in a way. Inside you will find a small instruction/warranty sheet folded up in a plastic bag.



One thing that is different is how the stroker is placed inside the package. The entrance is facing so you can see it, but the rest of the toy is bent upward. I imagine this is to take up less space but it does affect the look of the toy. I am not 100% sure if the dip behind the entrance is from the package or molded in. This does not effect use but is interesting nonetheless.

Experience:

I love texture! Maybe it is the extra stimulation that I can find in only a handful of toys, or maybe I just "beat my meat" too much, but I love texture. Add to that this great looking pussy, and this toy gets top ratings from me. The saying is true: "Great things come in small packages." The versatility of lube choice makes it perfect for spur of the moment use, the size is small enough to be hid easily when the boy and girl child might be around, and frankly...I love texture.

My only complaint about this toy has to do with the packaging: maybe it is just me. No where can I find the material listed. It does state "Phthalates free body safe material" but that does not really tell us much. Thankfully we have EdenFantasys and the wonderful Material Rating, but this still bugs me a bit. I can't really knock a star for this but I am tempted.