Doc Johnson All star porn stars Kimberly Kane UR3 pocket pussy - Masturbator from Doc Johnson

Product Details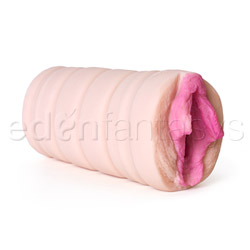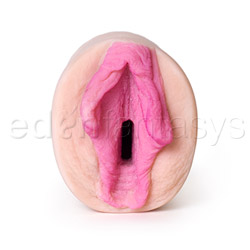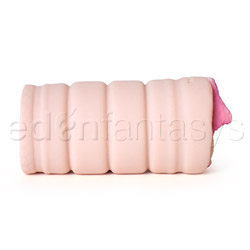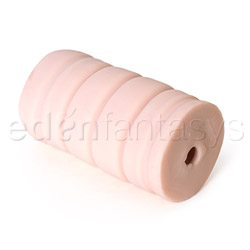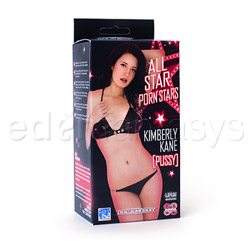 Summary:
This is a good stroker. It's a little shorter than other strokers I've used, but it was also a bit wider too. If you're looking for a straight up stroker and want to stay in the mid-priced range, this could be what you're looking for.
Pros:
Designed for thicker guys in mind.
Best use:
This sleeve is simple and straight forward to use:
1. Wash toy (instructions below)
2. Lube toy (inside only)
3. Lube penis (water or silicone based)
4. Insert penis into toy (repeat as needed)
5. Clean up (see below for cleaning instructions)

You can use this either as a hand-held unit or lay on your stomach and thrust into it. I preferred the latter.

As for stimulation, this toy is really only a one trick pony...and not really in a bad way. I prefer straight forward, easy to work with toys; this is exactly that.
Material / Texture:

Inside Kimberly Kane's pussy (the toy, not the real one...that I know of), is a series of ridges not too different from the bendy part of a bendy straw. Each ridge is about the width of a finger tip, just a little bit smaller.

I can't quite place the smell of this product. The Sil-a-Gel/UR3 that this product is made of smells sort of like that sweet smelling perfume some dancers wear. It's like a strawberry cotton candy type smell...but that's just my impression. The smell sticks around for quite a while, but will fade after a few washings.

You can find more info on Sil-a-gel/UR3 here. It is very soft and plush.

Material:

Ultra realistic 3.0 (UR3)

Material safety

Safety features:

Anti-bacterial property / Hypo-allergenic / Latex free / Phthalates free

Texture:

Smooth

Shape / Design / Size / Fit:

I like the general design of this toy...it's a vagina at the end of a hollow tube of UR3. Unlike Meggan Mallone's pocket pal that I reviewed last summer, this is a bit shorter and the hole is a bit bigger. For those reasons, I prefer the design of KK's toy to MM's. I thought MM's toy was just a little too narrow. KK's toy fit me better in that regard. However, MM's toy is noticeable longer, at least 2 inches.

I popped out the back of KK, but had enough room in MM. While MM's toy is for longer and narrower penises, KK's is for the thicker and shorter penises.

Unlike the higher priced Fleshlights, this toy is NOT easy to hide. It looks like a spread pussy on the end of a fleshy tube that you're storing in a plastic bag. However, if you can put this in a plastic bag AND hide it in a large tube sock, you might be able to hide it.

Color:

Beige

Length:

7"

Fits up to:

Any size

Circumference:

8"

Width:

2 1/2"

Vaginal depth:

7"

Weight:

0.8 oz

Functions / Performance / Controls:

Because of the ridges/ribs in this toy, you'll want to take sound precautions if you're trying to stay quiet. If you're using this toy as a stroker, you will make xylophone penis sounds, which I rate at about a 3 on the Bee scale. If you roll over onto your stomach, you can completely eliminate these sounds.

Special Features:

Pornstar mold
Realistic design
Skin like material

Care and Maintenance:

You can find care instructions for the product here. Doc Johnson lists this product with their patented Sil-a-gel material. It's basically UR3 (also shown on the box), but with a slightly different make-up.

I know that EF lists UR3 and Sil-a-gel as different materials, both are listed on the box. Since Sil-a-gel is Doc Johnson's own patented material, I'm going with that for now.

Basically, to clean this toy, I rinsed it out with plain warm water. I didn't want to mess with soaps or anything that could damage the product.

Packaging:

You'll receive KK's toy wrapped in a plastic bag and entirely filling the box it comes in.

Some more info from the package:
Anti-bacterial
Latex-Free
Cadmium Free
Phthalate free

Also:
"Do not attempt to warm this product in a microwave or conventional oven."
After reading that, I briefly entertained the thought of this realistic vagina tube spinning around helplessly in the microwave, next to remnants of pasta sauce splatters and stuck on cheese.

For the patriotic and proud, Doc Johnson boasts this toy is "Made in the USA".

Experience:

When I first took this toy out of the packaging, it seemed really familiar. That's when I pulled out Meggan Mallone's pocket pal and made the above comparisons. Since I already figured out the first toy, I thought I'd approach this the same way...and it worked. Instead of trying to go the whole time on my back, making loud xylophone penis sounds, I rolled over and thrust into it while on the bed. This is also where the plush/squishy nature of this toy helps. It didn't dig into my stomach and held on to some body heat as well. The only problem was that, when I finished, I had a mess on the sheets because of the hole at the back of the toy.