Toy's heart Hotmilk - Masturbator from Toy's heart

Product Details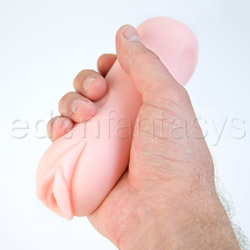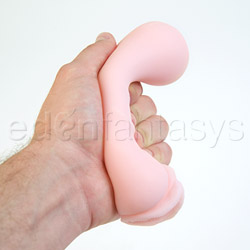 Summary:
Buying anything other than a Fleshlight or a Tenga Flip Hole to masturbate with is a bit of gamble - or, at least, it used to be. For the price, the Hotmilk is quite simply the BEST masturbation sleeve available. The soft, supple texture, easy maintenance, sealed design and sublime texture all make this an incredibly satisfying product that you'd probably be able to charge twice as much for. Excellent all around.
Pros:
An amazing product, especially for the price. The best under $20 masturbation sleeve EVER.
Cons:
It can't match more expensive sleeves - but at a third of the price, doesn't need to.
Best use:
For a long time, male masturbation sleeves have existed in two separate worlds.

There are the expensive ones - the Fleshlights and the Tenga Flipholes - that are sublime in form and function and can seriously save a man's solo sex life.

Then there are the cheap ones - anything less than $40 normally - that tend to be ineffective, inefficient or only worth the effort for the novelty value of fucking them (as a man, I'm willing to admit anything fuckable has a novelty value.) After trying countless sleeves that cost under $20, I've been able to find a few that get the job done, but none that come anywhere close to the satisfaction delivered by a Fleshlight.

But the Hotmilk is different. It's BOLD, in fact. It's a cheap masturbation sleeve from Japan and it might just be the blend of affordability and awesome us horny men have been looking for all this time.

A simple sleeve, ostensibly molded from TPE to resemble a vagina, the Hotmilk is designed to work as a simple fuckable sleeve. It's small and discreet - coming in a box the size of a toothpaste carton - and perfect for the horny guy who wants a masturbation aid, but doesn't want a ginormous fucking plastic flashlight on the shelf that says 'Fleshlight' along the side of it and reveals a huge, plump vagina when your mother in law comes round to visit and tries to use it.
Material / Texture:

This sleeve is made from soft and plushy TPE. TPE can vary in firmness, but this is as soft and supple as human skin. It stretches, too, and perfectly mimics the tautness and tightness of human flesh.

Material:

TPE

Material safety

Safety features:

Hypo-allergenic / Latex free / Phthalates free

Texture:

Ribbed / Velvety

Shape / Design / Size / Fit:

If most masturbation sleeves have a flaw, it's in size. The majority are literally 'sleeves' and have a hole at both ends - meaning a well-endowed guy like me 'pops' out of the opposite end. The wonderful thing about the Hotmilk is that it's got a closed end, which stretches out to accommodate any length and means your whole shaft is stimulated whether you're on the in-stroke or out.

It's also seriously small and discreet - perfect for traveling.

Color:

Beige

Length:

6"

Fits up to:

2"

Circumference:

5 1/2"

Vaginal depth:

5"

Weight:

6.5 oz

Functions / Performance / Controls:

Simplicity is the secret here. The sleeve is nothing but a tight hole to fuck. There's a lot of complexity to making something so simple work, however, and the Hotmilk achieves that balance. The give, softness, ease of insertion and ease of grip make this, quite simple, one of the most easy-to-use and easy-to-enjoy sleeves available - and one that's quite unprecedented for the price.

Special Features:

Lubricant included
Realistic design
Super stretchy
Travel

Care and Maintenance:

You can clean the Hotmilk with hot water. It's easy to turn inside out and pat dry with a towel, which makes it an absolute doddle to clean and keep. In this respect, it beats the 'superior' products like Fleshlight and Tenga Flip Hole hands down.

Once it's dry, you can return it to it's box ready for next time.

Packaging:

Hotmilk comes wrapped in a plastic bag, in a box the size of a carton of toothpaste (emblazoned with a sexy looking manga chick.) There are no instructions, but if you can't figure out how to use it you obviously went to the same Sex Education classes as Bristol Palin.

Personal comments:

I have used literally dozens of cheap sleeves in my time and never TRULY found satisfaction with any of them - until I found Hotmilk. For sheer sensation, I'll still pick a Fleshlight - but four times out of five I'll masturbate with the Hotmilk now because it feels great and is so quick, convenient and easy to enjoy.