California Exotic Red hot lover wet pussy - Masturbator from California Exotic

Product Details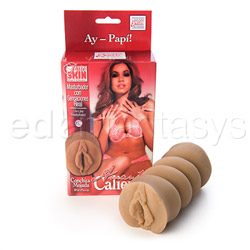 Summary:
This is a pretty standard pocket pussy. The material feels nice, but there are no bells and whistles. I have had worse, but I have had better too. I will say that this one is easier to handle than my others and when I am looking for a quick solo session, this is what I grab. It feels great and is easy to use and clean.
Pros:
Feels nice and soft, almost like the real thing.
Best use:
Cheesy title, I know, but I swear to you, this is what is written on the box. It gives me a little chuckle every time I see it. The Red Hot Lover Wet Pussy is a realistic looking masturbation sleeve that is meant to look like a Latina. I mean, I have no experience with ladies of Hispanic origin, but the box is covered in Spanish as well as English and there is a picture of what appears to be a sexy Chica on it. I am sure I'm right in assuming the company is trying to market this toy to the Hispanic community. I do not mean to offend any persons of Hispanic origin with these terms, so please forgive me for poking fun. It's just that the box is so cheesy. The flesh color of the pussy is a bit darker, but if not for the box, I would have no idea that this was supposed to be a Hispanic pussy. Pussy is pussy to me, and pussy by any other name would smell just as sweet, no? That is if it was real pussy, which this is not, so it doesn't smell as good. Anyway, on to the review.

This pocket pussy is hand held and is simple to use. There is a vaginal opening designed to stick your cock into. The material is soft and feels pretty good. Much better than your hand, though nothing compares to the real thing in my opinion. There is a small hole in the back for easier cleaning. I found that if you put your finger over this hole during use, you can get some good suction. It could be a bit longer so my head wouldn't pop out the top, but overall this pussy feels really good.
Material / Texture:

The Red Hot Lover is made out of a type of TPR called Pure Skin. I would compare it to Cyberskin. It feels the same to me. There is a smell to it, though not extreme. It is velvety and soft and has nice ribbing inside for added texture and stimulation. Beginners will find this isn't too extreme, but adds a nice feeling while thrusting.

Material:

TPR

Material safety

Safety features:

Hypo-allergenic / Latex free / Phthalates free

Texture:

Swirled / Velvety

Shape / Design / Size / Fit:

The design is simple. It's a short sleeve with a vaginal opening on it. Small enough to fit in the palm of your hand easily and allows for you to grip it as tight as you want it. The outside has some nice big bulges that help you hold onto it when you are lubed up. This stroker is tight enough to feel good, but has enough stretch to accommodate thicker cocks. The length is a bit short, with a vaginal depth of 5 inches. I have seen ones that are shorter though, so this is about average. Still, the head of your cock will most likely pop out of the top unless you stick with shallow thrusts. This can make it messy when you finish as well, unless you can cup your other hand over the opening, things will get messy. As for discretion, this looks like what it is, a pocket pussy. It is small enough to hide for travel if you put it in something that you can't see through.

Color:

Brown

Length:

5 1/4"

Fits up to:

2 1/2"

Circumference:

7 1/2"

Width:

2 1/2"

Vaginal depth:

5"

Weight:

10 oz

Functions / Performance / Controls:

Special Features:

Internal nubs and ribs
Pornstar mold
Realistic design
Super stretchy

Care and Maintenance:

This material is a bit delicate, like Cyberskin. It is very porous so you can't share it. I would say who would want to, but far be it for me to assume that a bi male wouldn't want to share this with a male partner, or that a gay male couple wouldn't want a little pussy every now and then. So, if that is the case, use a condom and you will be fine. I would recommend storing it in it's own plastic ziptop bag and be careful what you store it next to as the material is very soft and could get nicked easily. Also, I have noticed a little wear already around the entrance. Not a tear or anything, but you can see that the ribs are a bit delicate, so if you are really rough with this, it may lose some of its tightness or get damaged. As far as lubes go, only water based are recommended.