California Exotic Senso vagina - Masturbator from California Exotic

Product Details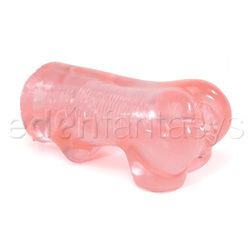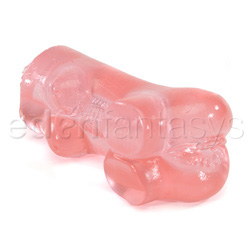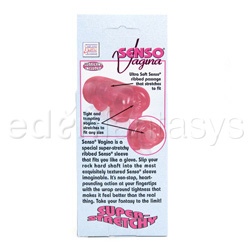 Summary:
This is a VERY tight toy, I even thought I wasn't going to fit. Great for someone looking for exactly that, a very tight toy. The material isn't the best but it works fine and has great stimulation. It's ribbed and very stretchy. There's better toys out there for a better price but if you're looking for tightness in a toy, this is second to none (in my book).
Pros:
Good stimulation, easily hidden (small).
Cons:
May be too tight for some.
Best use:
The
Senso Vagina
is a very short, jelly male masturbator. The material is very flexible and moldable, so if you like to use masturbators "docked" or "hands-free", this one just won't work for that. It is used like any other masturbator, handheld stroking. It's only 4 inches long and the insertion hole is very tiny, so much so that when I saw it, I thought to myself: "There's NO way I'm getting in there...". After applying lubricant and getting hard (don't even think you're going to get inside if you're not completely hard) I tried to get in. This was the first time I actually struggled to get into a masturbator so much, there was a point where I thought I wasn't going to fit at all, but I finally got in!
I'd recommend this toy for anyone looking for a very very tight toy. As for any sex toy, it's good alone but it's great with a partner!
Material / Texture:

The Senso Vagina's material is Jelly. Sadly, jelly is very porous, it cannot be sterilized (do not share) and it's not the most durable. Although with proper maintenance you can extend the life of any toy, with this kind of material you can't expect too much. Even though it's jelly I enjoyed the sensation that the material gave me, it's very soft and pliable, add ribs to that and your set!

It has a nice ribbed texture inside that is accentuated by the very tight squeeze of the toy. Also, the short length of the toy makes the penis pop out from the other end, I kind of like that though, it stimulates the head of the penis every time it pops in and out.

The material has some chemical smell to it but it's only when you put your face against the toy that you can actually smell it, it's nothing that would hold me back on using this toy.

Material:

Jelly

Material safety

Texture:

Ribbed

Shape / Design / Size / Fit:

The shape of the toy is kind of strange, it's shaped like a headless, legless woman with a vagina the size of a butt... Needless to say it's strange. I don't mind it though, I'll live! The toy is 4 inches long and the size of the hole is about the size of a fingernail, it's very tight. It's a struggle to get into and I'm almost certain it will tear, I'll keep you informed on that through a follow up review if it tears. I don't mind the toy being 4 inches long, but keep in mind the penis will pop out from the other side (on average sizes+). If you don't mind that (I don't, I actually think it feels nice when it pops out the other hole), and you don't mind the extreme tightness this toy is for you.

The toy is small enough for travel but it's not very discreet if you actually have it at plain site or if someone goes into your backpack at takes it out: it's shaped like a headless legless woman with breasts and a vagina on the back, it screams sex toy. If you are going to travel and you want to take it with you though, I recommend storing it in a zip-lock or sandwich bag, because it's jelly it will stick to anything and everything, so the bag will keep it dust-free. Just put it on a Ziploc or sandwich bag and then store it in another type of bag or where ever you want to store it :).

Color:

Pink

Length:

4"

Fits up to:

1 3/4"

Circumference:

4 3/4"

Width:

2"

Diameter:

1 1/2"

Weight:

0.4 lb

Functions / Performance / Controls:

Special Features:

Internal nubs and ribs
Super stretchy

Care and Maintenance:

To care and maintain your jelly Senso Vagina:

1. After each use, wash with very mild soap and water and let dry (do not turn inside-out).
2. Use only water-based lubricant, although you COULD use silicone I don't recommend it.
3. Store in a dark, cool place.
4. Store in a Ziploc or sandwich bag, to protect your toy from dust.

Packaging:

It comes packaged with a free sample of lubricant.

Personal comments:

For the $23.00 price, I would recommend other toys before recommending this one. There's simply better toys out there with better materials for a better price. For example the Super Head Honcho. But if you are aiming for a very tight toy, I'm pretty sure that you can't go tighter than this.