California Exotic Shane's World sorority hottie - Masturbator from California Exotic

Product Details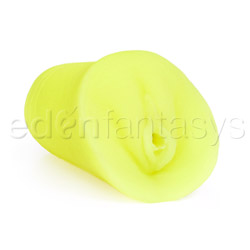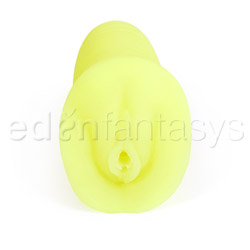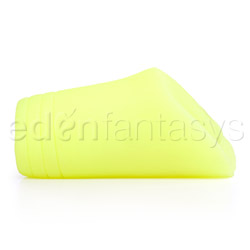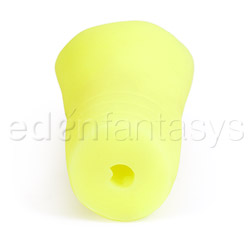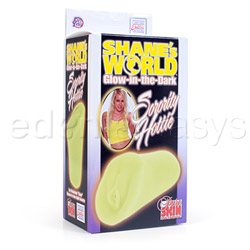 Summary:
The Sorority Hottie is a cheap starter masturbator. It does get the job done. However, it is way too soft and not meant for those with small cocks.
Pros:
Easy to use, gets job done, glows in dark.
Cons:
Too soft, textured inside does not work.
Best use:
This is the first time I used a male masturbator and I must say it has its good and bad sides to it. However, it does what it is intended to do.

Sorority Hottie is a little difficult to use if you are a transgender male because of the design. Being the first time I have ever used anything like this, I found it easier to use if you get your cock hard, lube up and stretch the opening of the pussy and slide my cock inside it, then once my cock was in I would squeeze the toy putting my finger over the back end and release. With this method it causes a bit of a sucking action which is good. You need to do it quite a few times because the suction is not very strong. It is a bit harder for those of us with micro penis, however, it is possible. It is handheld, so you need make sure you do not get lube on the outside of the masturbator, it will get slippery and you may have a hard time holding on. It is a male masturbator, so it stimulates the cock. For those with micro cocks it may only stimulate the head. I think the toy would work best for someone with an average cock, but anyone can use this, women with a bigger clit can also use it or they can rub it on their pussy, which I also tried on myself and it also felt nice.
Material / Texture:

The glow in the dark Sorority Hottie is made of a material called pure skin, which is made to seem like real skin. As said on Eden, it is a mixture of PVC and silicone. The toy is very flexible, which is good to fullfill its purpose. Like some silicone, this product does have a faint smell, nothing too strong that you notice, but it is there. The texture of this product is quite interesting. It is very squishy and soft. The inside however, does have small bumps but I must admit I did not feel a thing, since the material itself is very soft. The material can be made for beginners or advanced users.

Material:

Pure skin

/

TPR

Material safety

Safety features:

Hypo-allergenic / Latex free / Phthalates free

Texture:

Ribbed

Shape / Design / Size / Fit:

For those with micro cocks the size is pretty good. I did not have an issue with that. The only issue I have was the way it was designed. The pussy itself was a bit large outside, so it did kind of got in the way. The toy would be easy to take on the go. It comes in a small box, which you would be able to take with you.

Length:

5 1/4"

Fits up to:

Any size

Width:

3"

Vaginal depth:

5"

Weight:

0.5 lb

Functions / Performance / Controls:

Special Features:

Glow in the dark
Super stretchy
Texturized

Care and Maintenance:

Sorority Hottie is made of the pure skin which makes maintenance a bit of a pain. She came dusted in cornstarch to keep her from becoming sticky and protecting her. You should wash her before use. When you are ready to use her and you want to use lube which is suggested for easy entry, it is only advised to use water based lubes. Oil or silicone based lubes will break down the material and cause it damage. After use, you need to wash it with warm water and dust it with cornstarch. The best way to store it is to store it in a bag in a cool dark place. She does collect dust and lint, so she should be kept in a separate bag.