Doc Johnson Virgin pussy palm pal - Masturbator from Doc Johnson

Product Details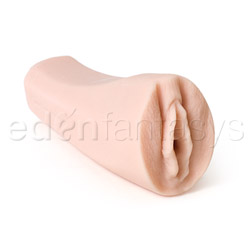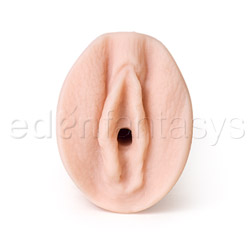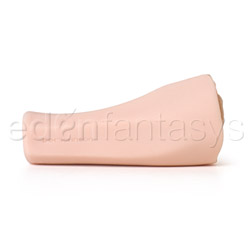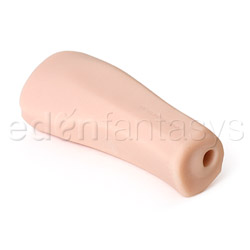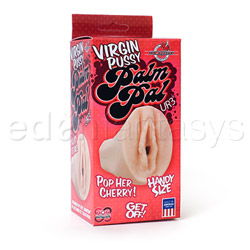 Summary:
This item is a go. It's better than a hand and worse than the real thing, but a VERY good substitute. If you're looking for some sort of hymen feature, maybe you should shop around and read more reviews (on this and other products), but overall it definitely works.
Pros:
- realistic front
- tight entry
Cons:
- thin hymen membrane
Best use:
Inserting any phallic device, organic or otherwise, is the goal of this hole. The skin-toned, rather small-orificed "palm pal" offers a hole on each end for multiple uses, perhaps even with a partner. It's designed for male masturbation through steps of offering one's member into the vaginally-shaped end, rather than the dull, non-textured butt end (not designed to represent the anus anyway).For the most part, it's stimulation is focused on the head of the penis, but there are oval-shaped, raised bumps inside the arguably tight tunnel you may find yourself turning into. Good for any down time or a quick off, I recommend it as a trusted travel partner when a real woman can't be had.
Material / Texture:

The first thing I noticed about this product is the smell. It's AMAZING. Now I'm not one that gets riled up over the smell of sex, nor did this non-phtalate UR3 (ultra-realistic ver. 3.0) get me going, but it could easily make a good car-freshener. The UR3 is an anti-bacterial, non-toxic, latex-free, and cadmium-free TPE (thermoplastic elastomer). The product seems pretty basic and, as the title suggests, is meant as an introductory palm pussy.

Material:

Ultra realistic 3.0 (UR3)

Material safety

Safety features:

Latex free / Phthalates free

Texture:

Smooth

Shape / Design / Size / Fit:

Designed with a tiny bit of membranous TPE inside the tunnel, the Virgin Pussy is meant to simulate an unbroken hymen. I'd say it's quite the novelty, but was rather disappointed by how easy and almost unnoticeable it was to break the skin. The design overall is nice though. It has a tight vaginal end with relatively accurate shape (outer labia, clitoral hood, and even skin cells are all visible), but doesn't go so far as to be anatomically correct. Inside one finds smooth, raised bumps to represent a rough idea of what lies inside an actual vaginal cavity and a larger cavity to fill. In comparison with only one other palm pussy I've used, this is the lesser of the two, whereas the other held striations within that go along with the minuscule fissures that are found in reality. The end of mine ended so that one would have to maneuver the penis a bit to get it to pass through the other end, so it could feel like hitting the back (not exactly like a cervix, but a wall anyway) without too much extra effort if any. It fits in any men's pocket and is very travel-friendly.

Color:

Nude

Length:

5"

Fits up to:

Any size

Circumference:

6 1/4"

Vaginal depth:

5"

Weight:

0.3 lb

Functions / Performance / Controls:

Overall, the toy is great and provides an easy off. As always, use lube.

Care and Maintenance:

- Wash with mild soap and water, avoiding harsh detergents, alcohol, or ammonia-based cleaners
- To dry, blot gently with a soft cloth (no paper products) or use a toy cleaner
- Be sure inside cavity is completely clean and dry

- Must be clean and dry from prior use (not including applicable lube in present use) to be ready
- Talcum powder is advised but optional to dry (apply using soft brush or cloth)
- Avoid contact with other toys, sharp objects, abrasives, and other rubber products
- Keep out of direct sunlight (material and/or color may fade with prolonged exposure)

Packaging:

Toy comes in a vibrant red box with an accurate picture and inspirationals like, "Pop her cherry!," "Handy size," "Get off!," and "Slip it in!"
It could be a gift box, but not a discreet one in the least.

My favorite line: "This one's the breakthrough Pal you've been looking for..."

There were no instructions, but as long as you have some form of lubrication handy (aha. aha.), you'll figure it out.

Personal comments:

Again, the hymen was not thick enough. I've never had intercourse with a virgin, so I can't justly compare, but it seemed too easy.

Experience:

I've used it twice now and it does feel great!