Topco April Flores' voluptuous Cyberskin pussy - Realistic vagina from Topco

Product Details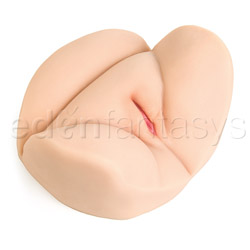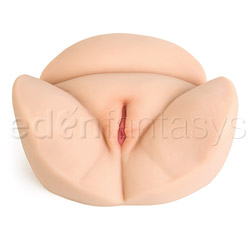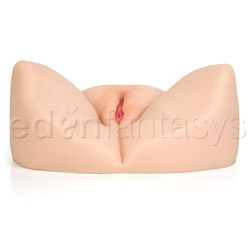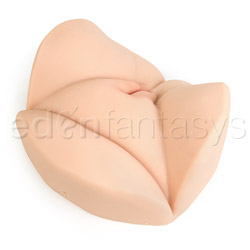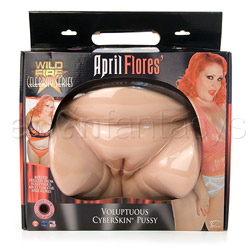 Summary:
The April Flores Voluptuous Cyberskin Pussy by Topco, is a well made and unique looking realistic vagina. The Cyberskin material has an incredibly realistic feel to it, and its larger size and shape helps to make this toy appear and feel more lifelike than its smaller counterparts, the pocket pussies.
Pros:
Unique look and design, it is very tight with a realistic feel, easy to clean.
Cons:
A little pricey, requires a large storage space.
Best use:
The April Flores Voluptuous Cyberskin Pussy is an impressively designed adult toy!

This toy is a pretty large, 9 pound, 'chunk' of Cyberskin. I am not saying that it would be physically impossible to lay back and use this toy by moving it back and forth alone, but that is not what it is designed for. This toy is definitely meant to sit flat for stationary play, and be used for thrusting into. The gripping of the Cyberskin, and the weight of this toy, helps it to stay put really well. For the most part you will not need to hold this toy in place, or to keep it from moving.

I enjoyed using this toy, and it felt quite realistic and good. However, you do have to get used to it a little bit. The size, shape, and weight of this toy, particularly the beginning 'stumps' of where the legs would be if this was a real person, and the entrance angle, make it a little awkward at first while getting into certain positions. This was not really a problem when using the toy on a flat waist level table top, but it was a factor when using this toy on the edge of the bed, or when trying to lay over and on top of it.
Material / Texture:

This toy is made out of Cyberskin. It did have a very slight rubbery odor to it when I removed it from the packaging... but it's 9 pounds of Cyberskin! The smell was minimal and faded pretty quickly. I didn't notice any smell at all after I washed it before using it for the first time.

Cyberskin is very squishing and stretchy. It is a little awkward to pick it up with one hand, as the other side of this toy then begins doing an ok impression of a Slinky. But the Cyberskin is just awesome, where it really counts, if you know what I mean!

Material:

Cyberskin

Material safety

Safety features:

Latex free / Phthalates free

Texture:

Ribbed / Smooth

Shape / Design / Size / Fit:

The shape of this particular toy is a bit different than similarly styled 'realistic vaginas' in that it is molded from a 'voluptuous' lady. There is also more of the belly and leg areas included, to enhance the overall 'voluptuous' size of this toy. I like the way it looks, and I like the idea of having more variety in what body types are available for these sort of sex toys.

This is a large and heavy toy, that could be a problem to store for some people that have limited space, or require a great deal of discretion. This might take up almost half of a medium size dresser drawer. So obviously this toy would not be good for travel, or at least discreet travel.

Color:

Beige

Length:

9"

Fits up to:

1 1/2"

Width:

11"

Height:

4 1/2"

Vaginal depth:

6 1/2"

Weight:

9 lb

Functions / Performance / Controls:

Special Features:

Pornstar mold
Realistic design
Waterproof

Care and Maintenance:

This toy is very easy to clean and care for. To clean, I gave it a bath in the sink with some warm water and anti-bacterial soap. It cleans off very easily, but Cyberskin is very porous and cannot be sterilized. You will be fine for solo use, but if you plan on sharing this toy then condom use is recommended.

This toy comes with a little bottle of corn starch that you should use to lightly dust it with before storing, to keep it from getting tacky or sticky. A while back, I remember reading a review where the reviewer talked about making a little 'dusting station' out of a small box to help minimize of the mess and waste of dusting these kinds of toys. Basically they set the toy in a box, dusted it in the box, and then shook it off before removing it from the box to store. I thought this was a great idea!

I didn't try to fit this in a freezer bag, I am assuming it won't fit. The packaging is pretty sturdy, so I just put it back in the plastic tray, put the plastic try cover back on, and placed it back inside the cardboard box it came in. I don't know if this storage method will last for years, but it will certainly last long enough until you can figure out something more permanent. Ideally it should be stored somewhere cool and dark, for optimum life expectancy.

You should only use water-based lubricants with this toy!

Packaging:

The packaging for this toy has 'sexy' pictures of April all over the box. It also included one of those tiny little cubes of Cyberskin, that's shaped like a tiny pussy that you can touch through an opening to see how Cyberskin feels. The packaging is pretty heavy duty, but considering the weight and size of this toy, it is necessary.

The packaging is sturdy enough to provide semi-log term storage. I would suggest trying to find a smaller 'Tupperware' style (but make sure the material construction is compatible!) container with a lid for long term storage. At least that is what I am looking for. In this type of a container you would be able to slide it under the bed, set on a closet shelf, or place it somewhere out of the way for proper long term storage.

Personal comments:

I had a very enjoyable experience using this Cyberskin toy. And though what it looks like is kind of irrelevant when you are getting down to business... I do enjoy the appearance of this toy very much. Maybe I have just become used to associating this toy's image with art, because of working on various things for the upcoming 'April Flores love toy art show', but it does have a very artistic look to it.

Experience:

For some additional personal comments, and to see the funny comic strip that I made for this toy and review, please take a look at my bloggy! :)