Doc Johnson Spread eagle Sally - Realistic vagina from Doc Johnson

Product Details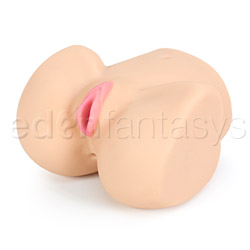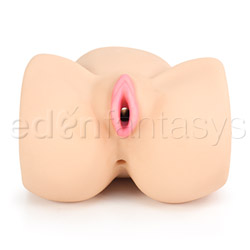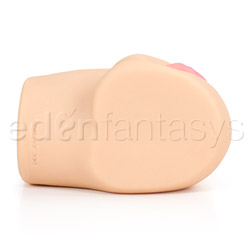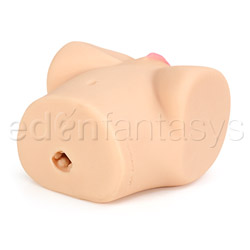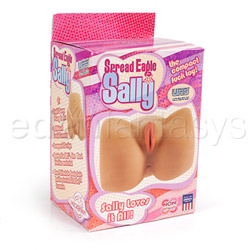 Summary:
Spread Eagle Sally is a massive stroker. Its nubbed love tunnel provides wonderful sensations while being very durable. This toy will last the test of time. Unfortunately, there is a small downside or two. The anal passage is about a half an inch long before it merges into the vaginal love tunnel, and the overpowering smell that this toy comes fresh out of the box with rubs off and takes a while to fully go away, even with several cleanings.
Pros:
Great nubbed vaginal love tunnel that provides great sensations.
Cons:
Strong odor that lingers, very heavy.
Best use:
Spread Eagle Sally is a hefty two pound stroker and a very mini realistic vagina. It is hard to judge the size by looking at the pictures alone. This little girl is a very heavy stroker, yet it still fits into the hand. You can use this not only as a stroker but also as a realistic vagina, where you sit the Spread Eagle Sally down and penetrate it instead of using stroking motions.

Spread Eagle Sally is also a good toy to use with a partner and can make for a very special encounter with your partner.

Material / Texture:

Spread Eagle Sally is made from UR3 (Ultra realistic 3.0), a mixture of soft Thermoplastic Elastomer (Also known as TPE), polyvinyl chloride, and silicone. Thermoplastic Elastomer can be manufactured into a wide range of textures. Since this is made from UR3, make sure you only use water based lubricants. Lubricants with bases such as silicone or petroleum based oils will damage the material.

Due to the porosity of the material this toy can not be sterilized completely, so it is strongly advised that a condom is used each and every time this toy is used; it is also advised that the toy should be washed before and after each use. This toy should not be shared unless a condom was used by both parties.

Most products made with UR3 unfortunately have a strong odor, and this toy is no exception. Other toys I've reviewed have had the same strong sweet smell: the (Ashton Moore ass & pussy and the All star porn star Kristina Rose). The smell is not a bad scent - it smells like cherries, but the scent is very overpowering and lingers long after using the toy. The scent will also rub off onto the hands or any other body part this comes in contact with.

UR3 does a good job at simulating the feel of skin and is very soft. Right out of the box or storage, the toy might be a little cool; to fix this, you can soak it in warm water for a few minutes (not hot water), but be warned the pink coloring on the vaginal lips will wash off (this is inevitable as it will wash off during cleaning). You can do this after you wash and rinse the toy before each use.


Material:

Ultra realistic 3.0 (UR3)

Material safety

Safety features:

Latex free / Phthalates free

Texture:

Ribbed

Shape / Design / Size / Fit:

The Spread Eagle Sally is a super sized stroker. In way of size, the Spread Eagle Sally is a rung bellow the average realistic vaginas on the market, yet bigger than your average stroker.

One of the best features of the Spread Eagle Sally is the nice opening, which is very easy to enter. A lot of toys, strokers especially, have very small openings that are very hard to enter even with lube; thankfully, Spread Eagle Sally has a much better opening. Another great design feature is the love tunnel, which is nubbed. The love tunnel feels great. The tunnel is neither too tight nor too loose, is durable, and will avoid those stress tears that other strokers and realistic vaginas suffer from.

There is a second opening, an anal passage; unfortunately it is only about an inch and a half before it merges into the vaginal love tunnel. The sensations from the anal passage are less intense, despite the smaller opening that can be a pain in the arse to get into (pun certainly intended).


Color:

Beige

Length:

6"

Fits up to:

Any size

Width:

5"

Weight:

2 lb

Functions / Performance / Controls:

Care and Maintenance:

The cleaning and maintaining of this toy is very simple. Just use anti-bacterial soap and water and leave out to dry. Air drying is more ideal, but you can also towel dry; just make sure that the toy is completely dry before storing it away.

A light powdering with cornstarch or renewal powder will greatly prolong the life of this or any toy made from the same material.


Packaging:

The packaging of this toy is very simple. The Spread Eagle Sally comes in a clear plastic bag, set inside a cardboard box that is just big enough for it to fit. The exterior of the box uses warm colors such as pink, red and yellow. The front has a picture of the toy and little bubbles with attractive, stylistic lettering describing the toy's function. The back is very similar, but it has a much smaller picture of the toy and a larger description of what you can do with it.

Personal comments:

The Spread Eagle Sally is a very good toy; one of the better strokers I have had the pleasure of trying.

The powerful smell was a little offputting and very annoying, even though it did bring back a nostalgic feeling from my first few toys and the time I first joined EdenFantasys. The smell rubs off onto your hands and other parts of the body that the toy has contact with. The easy solution is to wash yourself, right? Well, not exactly. Even after washing with the best of soaps and the purest of waters, you can still smell the toy, just faintly.

I wish the anal passage would have had its own unique tunnel. As it is, there is really no point in it even being there. The Anal tunnel is harder to get in to and does not provide as good of sensations. Even though the tunnel is essentially the same as the vaginal tunnel, the anal tunnel is not as tight. This could appeal to some, but it is not realistic, and besides being super tight it does not provide very good stimulation, perhaps due to the angle of penetration.

Due to the lackluster anal passage and that annoying smell that seems to permeate from Spread Eagle Sally, I am giving this a four star rating. The Spread Eagle Sally does provide some very good sensations and is a good addition to you or your partner's love chest, despite its downfalls.