Pipedream Metal Worx ben wa balls - Vaginal balls from Pipedream

Metal Worx ben wa balls videos
Product Details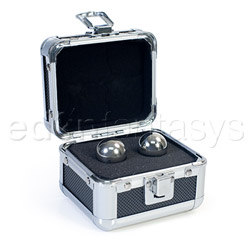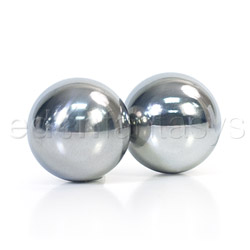 Summary:
Exercise your way to better orgasms and bladder control. With regular use, these weighted steel Ben Wa balls will strengthen the vaginal muscles. They are elegant and classy and will last a lifetime.
Pros:
Effective, nice storage, stainless steel.
Cons:
May be too heavy for some, no retrieval string.
Best use:
Ben Wa Balls are weighted balls designed to exercise the pelvic floor muscles. Strong muscles increase sexual satisfaction for both the female and male in a variety of ways. Some women may feel heightened arousal while wearing them, and they can increase sensation. Stronger muscles can make orgasms easier and more intense. It may be easier to contract and grip the penis during sex, giving greater pleasure to the man. Pregnant women who use them may have easier births and recovery times. If that wasn't enough, they also have the added benefit of better bladder control. That's right- no more leaking during a sneeze.

This particular set, the medium Metal Worx Ben Wa Balls, is best for those who have moderately strong vaginal muscles already. That's not to say beginners couldn't use them, it would just take time to build enough strength to wear even one of them for long periods of time.

To use, lubricate the balls and insert them one at a time in the vagina. It's easiest to do this standing with one leg up, or lying down. The vaginal muscles will have to flex and contract to hold them inside. Beginners may have a difficult time holding even one of the balls in at first. If this is the case for you, it is possible to exercise the muscle by inserting them and rocking back and forth in a rocking chair. The motion will get the balls rolling, and the vaginal muscles will flex and contract around them. Also, try doing a few sets of kegels during this time. It may take a few weeks for absolute beginners to gather enough strength to do more than sit or lie with them. Standing up forces the muscles to work hard against gravity. That's OK- regular use will strengthen the muscles.

For those that are stronger, insert one or both of them and go about your day. Wearing them for fifteen to twenty minutes a day should substantially improve the muscle tone. If one falls out, you can just wash it and reinsert it. When you're feeling up to it, keep them in for a few hours at a time. Eventually they even may be able to be worn all day, if desired.

To remove them, squat and use your vaginal muscles to bear down. Push like having a bowel movement, but with your vaginal muscles. You can also reach in with two fingers to grasp the balls. Continue using the muscle until they pop right out. Don't worry about them getting stuck. There is no way for them to get "lost" in your vagina. They will come out.

Since this set does not have a retrieval cord, they should NEVER be used anally. That's just asking for trouble, because they could easily get stuck there.
Material / Texture:

The Metal Worx Ben Wa Balls are made of stainless steel. Stainless steel is a safe material, rating a 9/10 on Eden's safety scale. They are nonporous, phthalate free, and can be completely sterilized. The small spheres are hard and completely smooth and shiny. They are polished enough to capture a clear reflection.

It is possible to include temperature play with the balls. This adds an additional sensory dimension to the workout. An easy way to warm them is to place them in a warm mug of water. They can also be warmed in a heating pad or electric blanket, although this takes more time. Being metal, they should never be microwaved. To cool, place in a mug of ice water or leave in the refrigerator for a short time.

Material:

Metal

Material safety

Texture:

Smooth

Safety features:

Food-grade material / Hypo-allergenic / Latex free / Non-porous / Phthalates free

Design / Shape / Size:

The medium balls are 1 inch in diameter, and each ball weighs 1.1 oz. They are about the size of a shooter marble, but heavier than a standard marble. Metal Worx does sell a smaller set at .75 inch. Those are an advanced set, as the smaller balls would be even more difficult to hold in than the larger 1 inch set. Some systems of kegel exercisers have balls that are connected and also have a retrieval cord. This set is two individual balls without any connecting cords or retrieval cords. Because they are not connected, either one ball or both can be used.

The balls are small and smooth enough to be inserted easily with lube. Any type of lube, whether water, silicone, or oil, may be used.

Ben Wa balls are small and travel easily. Keep in mind that, being metal, they will set off metal detectors. You don't want to be wearing them at the airport.

Color:

Silver

Length:

1"

Insertable length:

1"

Circumference:

3 1/2"

Weight:

1.1 oz

Performance:

With regular use, the Ben Wa Balls will strengthen the pelvic floor muscles, increasing sexual satisfaction and bladder control. The key, of course, is to use them regularly to develop strong vaginal muscles. They won't work if left to sit in their box. A dab of lube makes these a snap to insert. They are comfortable to wear.

Women may have one of two separate issues with them. Some women may not have enough muscle control to wear these. They may find that they slip right out while standing up. A good solution would be to use them while rocking for a few weeks, until sufficient muscle control is gained. Other women may have the opposite problem. They can hold them in just fine, but it may be difficult to remove them. Keep in mind, there is no way to lose them in the vagina. Just relax and then use the muscles to push them out. The second ball might be more difficult to remove since it is farther back in the vagina.

Care and Maintenance:

The balls can be cleaned with soap and water, a toy cleaner, or a 10% bleach solution. They could also be boiled or placed in the dishwasher. The only thing you should not use is abrasive cleaners that would mar and scratch the metal.

They can be stored in the included durable case. The case resembles a trunk with a snap latch. A foam inset lines the inside. The Ben Wa balls rest easily when not in use. The top of the trunk clearly labels the contents as Ben Wa balls so, although wonderful storage, it is not discreet.

Care and cleaning:

Soap and water

Experience:

I have used these every day for two weeks. I have found them to be comfortable and easy to use. After inserting, I have rocked in a chair for 15 to 20 minutes and then continued to wear them for up to 30 minutes while moving around. In the first week, I had to reinsert at least once every session. In the second week, I was able to hold them in better without too much slippage. I haven't yet noticed any difference in actual love making, but I am sure I will as I continue to use them.