Sportsheets Mini crop top system - Crop from Sportsheets

Mini crop top system videos
Product Details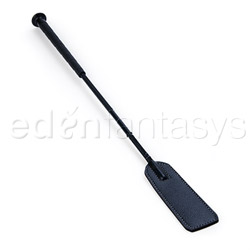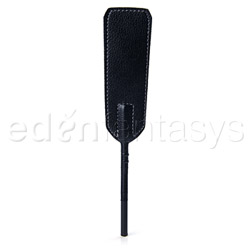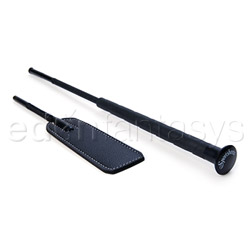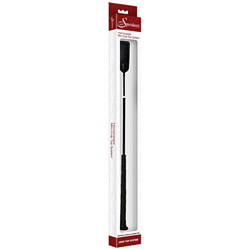 Summary:
This crop is a delightful surprise, normally I don't expect much of crops designed for humans (preferring to buy mine from horse tack shops) but this sturdy metal handled little guy really won me over, with its short length for easy control, and lusciously flexible leather slapper.
Pros:
Easy to use, good grip, variable sensation, good for all experience levels, sturdy
Best use:
This is a very versatile crop with a metal handle, it can be used for either light play or heavy, crops are good toys for beginners because they're fairly easy to control, and easy to use. Though it takes an advances user to use the shaft of the crop, so basically newbie or long standing lover of riding crops, this is a damn good toy for you. I love the fact that it has interchangeable slappers (it comes with one, the others are sold separately).
Design / Craftsmanship / Size / Material / Features:

This crop features a rubber handle, a leather slapper, and a metal shaft coated in woven nylon. It's not a very "whippy" crop, though the slapper it comes with it fairly long and wide, so the slapper is "whippy" although the handle is significantly less flexible than other crops I've used. This is a very well made toy, the stitching on the leather head is impecable, and the shaft is sturdily made and should hold up to plenty of use. The detachable head features a metal shaft which slots into the handle very securely and has not given me the slightest worry even during vigorous play. The slapper is held on with a long wrap of nylon thread, it is tightly wound and looks as if it will not be wearing out any time in the near future. The handle is textured rubber and very comfortable to hold. Definitely a well made, versatile crop.

Material:

Faux-leather

Color:

Black

Length:

22"

Width:

1 1/2"

Weight:

6.5 oz

Performance:

This performs beautifully. It can be used to produce the gentlest tickle, or a hard stinging "whap" that will leave lovely red marks. My lover and I played fairly hard with this toy, and I never had any worries about the replaceable head popping out. The leather also feels absolutely luscious when stroked lightly over skin. Absolutely a grade-A toy, that I really deeply enjoy playing with. SportSheets other crop is a light weight plastic handled toy that I really don't love, this on the other hand will delight new kinksters, and those of with nicknames like "leather butt" alike. Like most crops it's more stingy than thuddy, and if used hard enough the sting will last for hours, which I personally love, as I enjoy nothing more than not being able to sit down for awhile.

Care and Maintenance:

Unfortunately this crop has no hanging loop, meaning I store it in an umbrella stand with the rest of the crops I can't hang on my door rack. Other than that don't get it wet, and condition the leather should it get dry.

Packaging:

This comes in a long cardboard box, with a plastic front, and is secured by three irritating plasticy doo-hickeys which are irritating to remove and will dull whatever blade you use to cut them off. I do hate hard to open packaging, but this crop is worth it.

Other

Texture:

Smooth

Special Features:

Interchangeable top
Kinky
Travel kit

Safety features:

Phthalates free