Booty Parlor Naughty bubbles bubble bath - Sensual bath from Booty Parlor

Product Details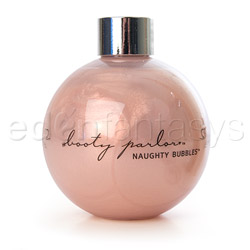 Summary:
Naughty Bubbles bubble bath is a luxury product that can be enjoyed by anyone. Whether you're seeking something to aide in your personal relaxation, or an accompaniment to fun with a partner, this product will more than satisfy your needs. The scent is very relaxing and provides a lovely ambiance to any occasion, and it lingers lightly on your skin after the bath.
Pros:
Lovely scent, pearl color, sparkles, leaves skin soft and scented.
Cons:
Some people may not like the sparkles
Best use:
The Naughty Bubbles bubble bath by Booty Parlor is a luxury bubble bath product that comes in a one or two use travel size bottle, or a larger, multiple use bottle. It's best used as intended- for a bubble bath, and can be used for either lone relaxation or bath time fun with a partner. It is lovely for setting the mood and leaves your skin soft and with a light tuberose, floral scent. If you have any sensitivities to standard bubble baths, you should check the ingredients listing on the product page to make sure that this product would be okay for you to use.
Texture / Consistency / Thickness / Viscosity:

By itself, the product feels similar to liquid hand soap, but a bit thicker. It is easy enough to pour, but if you are using the small bottle as a single use it is easier to just put it under the running water so the water will rinse out the bottle and get all the bubble bath liquid out of it.

Base:

Water

Ingredients:

Water (Aquq), Sodium Laureth Sulfate, Acrylates Copolymer, Sodium C14-16 Olefin Sulfonate, Cocamidopropyl Betaine, Sodium Chloride, Cocamidopropyl Hydroxysultaine, Propylene Glycol, Glycerin, Sodium Hydroxide, Synthetic Flourphlogopite,, Benzophenone-4, DMDM Hydantoin, Methylcloroisothiazolinone, Methylisothiazolinone, Fragrance (Parfum), Titanium Dioxide (CI 77891), Iron Oxides (CI 77489, CI 77491, CI 77499), Mica, Red 40 (CI 16035), Red 33 (CI 17200)

Color:

Pearly rose

Taste / Aroma:

The smell of this product is strong, but not overpowering at all. It is described as a light tuberose scent on the bottle, personally it comes off as a little floral and 'powdery' to me, and once it's diffused in the bath water it gives a light ambient scent to the bathroom. Some people who're sensitive to smells may find it too strong, but I personally did not, and I live with people who are very sensitive to smells- it did not cause any complaints.

This product is not meant for consumption, so I do not recommend tasting it- it would probably taste like soap.

Performance:

This product works well enough as a bubble bath, but is more of a relaxation sort of bubble bath than a childish, mountains-of-bubbles sort of bubble bath. If you follow the directions and pour the liquid in under the running water, small/medium bubbles quickly spread over the water, and the scent fills the air. The water takes on a light shimmer from the pearl color of the liquid, and if the light hits the water just right or if you hold a cup of it up to the light you can clearly see sparkles from the mica in the product. It is very fine, cosmetic grade glitter and does not stick to you much if at all.

The bubbles lasted until the bath was drained, as did the scent and the sparkle. The mica does not settle in the water, so if you clear a space of the bubbles then you can see some of the sparkles, as well.

You should be able to wash up just fine and rinse your hair even after the bubble bath is in the water- it doesn't hurt anything. Very little of the mica sparkles stay on your skin, so unless you want to be absolutely sure, you should not have to rewash.

One of this product's best aspects is that it leaves your skin noticeably softer after you soak in it for a bit. Personally, I was amazed at the difference and will be buying more just due to that - it's difficult to find a properly moisturizing bubble bath these days. The scent is also very nice, and once you're finished bathing it leaves your skin lightly perfumed, mixing with your own scent.

Packaging:

This product is packaged beautifully, in a light pink, embossed box that looks like a perfume box. On the back it has a description that reveals the contents' purpose, suggesting you use the bubble bath with a partner, by yourself, or with your favorite toy. The packaging is sturdy, but does not need to be kept - It could, however, be used for gifting. The bottle itself is hard plastic, round, and it allows you to see the product clearly. It does not leak as long as the cap is tightened all the way and is a very durable bottle, it travels just fine even when tossed and rolled around.

Personal comments:

This is an awesome product. I can see myself using this a lot on vacations, and definitely with the fiance. It really did wonders for my skin, and left me feeling great. The sparkles might bother some people, but personally I had no irritation from them and I gave myself a good scrub.

I really recommend giving this a shot - it is amazingly relaxing, and taking the time out for a good soak, especially with the aid of some light aromatherapy, which this provides, is a great way to relieve stress. Though I am not sure many masculine people would appreciate the sparkles, the light scent it leaves on your skin is very sexy, and the extra softness would certainly be appreciated by most lovers.

Other