Sportsheets Neck and wrist restraint - Restraints from Sportsheets

Neck and wrist restraint videos
Product Details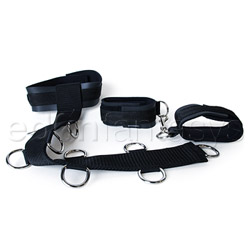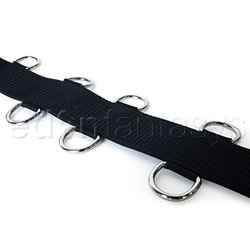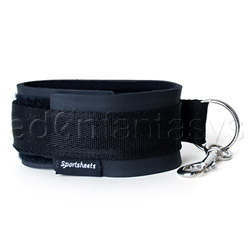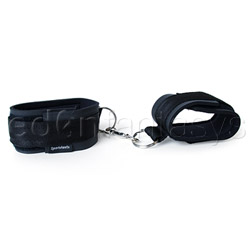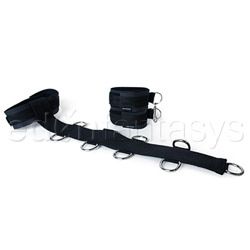 Summary:
The versatility of this system makes it an incredibly fun way to restrain someone. Use your imagination to have a different experience with it every time. Constructed of sturdy neoprene and nylon, it is unlikely to break. It does allow the wearer to escape. The collar and wrist restraints adjust to a wide variety of sizes.
Pros:
Well-constructed, extremely versatile, washable, fun.
Cons:
Only one G-clip included.
Best use:
This is an extremely versatile, sturdy restraint system. It may not be suitable for situations where you don't want to allow the restrained person the ability to escape, but it is comfortable and widely adjustable. This set lends itself to a range of creative uses.
Design / Craftsmanship / Material / Size / Fit:

This is quite a sturdy, well-made restraint system. It consists of a collar, a nylon band that extends down from the collar, and two wrist restraints.

The wrist restraints are an inch and a half wide. They are constructed of neoprene foam that is about an eighth of an inch thick. Half of the outer side has the female Velcro part sewn onto its surface. This spans almost the entire width of the restraint. The other half has an inch wide strip of nylon that extends five inches past the edge of the neoprene with the male Velcro closure on the underside. A ring like you would find on a keychain is attached to the center of each restraint.

The collar has a similar construction, but is two inches wide. The neoprene part of the collar is seventeen inches long with a four inch long overhang with the female Velcro strip. The outside of the collar has the male side of the velcro closure.

The collar slips through a loop at the end of a sturdy nineteen inch long strip constructed of two layers of nylon. At four inch intervals along the length of the strip are pairs of D-rings. An additional D-ring hangs from the bottom of the necktie for a total of nine points where a restraint can be fastened.

It appears to be durably constructed. These restrains are unlikely to break no matter how much the wearer struggles.

The wrist restraints work equally well as ankle restraints. They expand enough to accommodate thick ankles and even work when fit snugly around very small wrists, although there will be an inch of Velcro extending out from the restraint in this case.

Material:

Metal

/

Neoprene

/

Nylon

Material safety

Color:

Black

Length:

20 1/2"

Closure:

Swivel clip / Velcro

Hook style:

D-ring

Performance:

This restraint system is comfortable to wear and truly adjusts to fit a wide range of sizes.

It only comes with one G-clip for the wrist restraints. You can attach both restraints to the necktie by inserting the G-clip through two D-rings, but it is somewhat awkward to attach it this way. Another option is to purchase a second G-clip to simplify this and allow the wrist restraints to be attached at different levels.

The real beauty of this restraint is its incredible versatility.

--Wear the necktie in front and attach the wrist restraint at any level along the necktie.

--Wear the tie in the back to attach the wrists behind the wearer's back. This also makes removing them somewhat more difficult for the wearer.

--Add a belt or rope to tie the bottom of the necktie around the wearer's waist for more immobilization.

--Add ankle (or wrist) restraints and attach both wrist and ankles to the necktie.

--Use it without the collar and with ankle restraints to hog-tie someone.

--Hook the necktie over a banister, headboard or other fixed structure and attach the wrist restraints on the other side to attach someone to that object.

--Use a rope through all of the D-rings and around the wearer's body to tie their arms to their sides.

The wearer can escape from these restraints which may or may not be a disadvantage. The fact that they can be used in such a wide variety of ways adds to the fun of using them. This system is far more entertaining to use than one would expect.

Care and Maintenance:

This neck and wrist restraint system is easy to care for. If cleaning is needed, just wash with soap and water and air dry. The neoprene parts are waterproof and the other parts are washable. It will not be damaged by contact with lube or other fluids.

Packaging:

This neck and wrist restraint system comes in a simple clamshell package. The package insert has a few pictures showing possible ways to use it, a list of what is included with the set and suggestions for other products to use with it. They fit back in the package nicely and this serves as a convenient way to store them and keep them lint-free.

Other

Size:

One size fits most

Texture:

Smooth

Safety features:

Food-grade material / Latex free / Non-porous / Phthalates free