Sportsheets Noir wrist cuffs - Wrist cuffs from Sportsheets

Product Details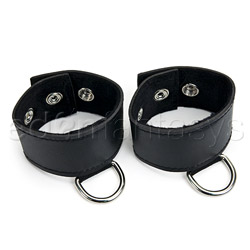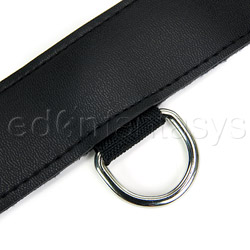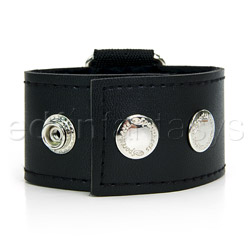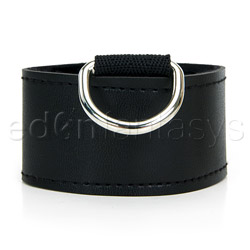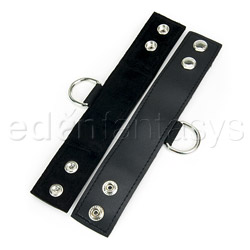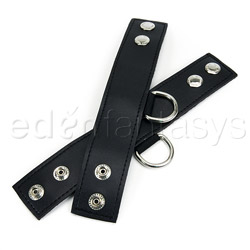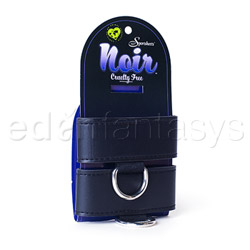 Summary:
These cuffs are a great idea for the casual or first-time user who wants a secure cuff that won't come lose under heavy play, but needs the security of knowing they can release themselves quickly and easily if something goes wrong. Additionally, these cuffs are cruelty-free.
Pros:
Cruelty-free, well constructed, snap closures.
Cons:
Only 2 sizes may limit who can use these cuffs. Stiff material dig into wrists during heavy use.
Best use:
These are basic wrist cuffs with a snap closure and D-ring that can be used for light to heavy bondage or any activity involving binding the wrists. They are specifically cruelty-free and vegan, ideal for folks for whom this is a priority.

These cuffs are good for those who require a minimally adjustable cuff with the ability to be released by the wearer, if necessary. Because they can be unsnapped by the wearer they would work for solo as well as partner bondage play.

I am not sure they are suitable for suspension play, but otherwise they appear to be well constructed and able to hold up to relatively heavy bondage use.
Design / Craftsmanship / Material / Size / Fit:

These cuffs are made from faux-leather and have a faux-fur lining, metal snaps and a metal D-ring. The design is simple with two snaps that allow for adjustment to two different sizes. They are 9.5 inches long and 1.5 inches wide. I was able to snap the smaller size closed around my wrists, but it was uncomfortably tight. My wrists are 7 inches in circumference so anyone with a smaller wrist would probably use the tighter adjustment and anyone with a larger wrist would need to use the larger adjustment. I can slip two fingers under the cuff comfortably when wearing it on the larger setting, but can't slip the cuff over my hand.

When bound, tugging and pulling on these cuffs did not result in them coming unsnapped or showing signs of fatigue. It appears they should hold up to heavy use over time.

Wearing these cuffs is comfortable however when pulled on the edges do dig into the wrist slightly. I suffered no bruising during the use of these cuffs, but it is feasible the stiffness and perhaps the backside of the snaps could abrade and bruise sensitive skin during heavy play.

Material:

Faux-leather

Color:

Black

Length:

9 1/2"

Width:

1 1/2"

Closure:

Snaps

Hook style:

D-ring

Weight:

0.2 lb

Performance:

The snap closure on these cuffs makes getting them on and off quickly a snap (ha, pun intended!). I think snaps are far better than Velcro closures which, over time, can collect junk and make them less secure. Some Velcro closures can be pulled open from day one, if you are strong enough.

I want cuffs that I can strain and pull against without having them pull open. As I mentioned before, I was unable to pop the snaps on these cuffs, no matter how hard I pulled. So the cuffs will remain secure when you intend them to be secure and still allow for quick detachment when needed.

Care and Maintenance:

You can wash these cuffs with warm water and mild soap using a microfiber soft cloth or an ordinary long-handled, soft bristle brush.

Packaging:

The packaging for this product was simple, recyclable and unoffensive. It provided little information on the product other than stating no animal products were used to make the item.

Personal comments:

I really liked these cuffs more than I expected to. They are not heavy duty but they suit my purposes more than well and knowing I can get out of them should my partner keel over dead or run screaming from the room (worst case scenario people, you gotta think ahead!)I won't expire waiting for someone to come untie me.

Other

Size:

One size fits most

Lining:

Faux fur

Texture:

Velvety

Safety features:

Phthalates free