Sportsheets Ouch impressions paddle - Paddle from Sportsheets

Ouch impressions paddle videos
Product Details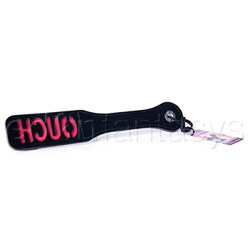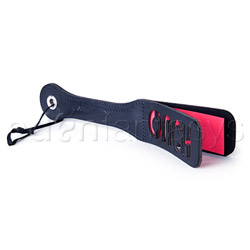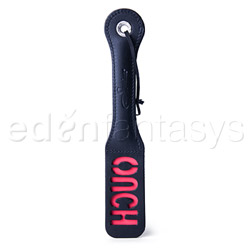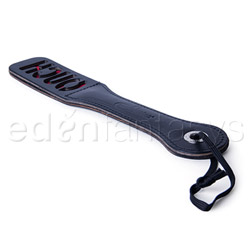 Summary:
For those who enjoy stingy and intense play the Ouch impressions paddle by Sportsheets is the ideal paddle. It is very well constructed and absolutely fun to wield as well as admire the playful impressions it leaves on the skin. "Ouch" is only one of the many available impressions that Sportsheets provides: shop around and find your match!
Pros:
Leather, playful, easy to hold, lightweight, stingy.
Cons:
stingy (may be a con for some).
Best use:
The Ouch Impressions paddle is quite the impact play toy.

Although it is called a paddle it is more of a slapper because of the way it is constructed. However, that doesn't change anything in how well it functions.

Paddles/slappers are used for impact play. They can be used on the rump or other fleshy parts of the body. They are quite powerful tools so they must be used with caution, especially if one is a beginner.

Beginners could use this but it requires a bit of practice to get the right amount of pressure in the slap to provide enough sting without harming the recipient. Of course there are different levels of intensity this toy can provide but it can become quite painful very easily if not used properly.

The Ouch paddle is for those who enjoy the stingy type of sensation during impact play.
Design / Craftsmanship / Size / Material / Features:

The paddle is made of genuine leather. It smells like leather if you put your nose to it, otherwise you will not get the leather smell.

The handle is rather rigid and narrow. It has a piece inserted allowing the handle to maintain its shape during use. It is very easy to hold onto and to yield during use. At the end of the handle there is a metal loop hole with a drawstring that can be put around your wrist or used to hang the paddle. It is very lightweight.

The paddle is made with two pieces of leather glued and sewn together apart from the section used to strike the recipient. The pieces of leather have been left separate so that you can touch the red piece of paper between the two pieces of leather. The paper is only there for the look and doesn't add to the experience apart from making a nice contrast with the black leather.

Some have mentioned that the paper can get wet and become damaged.

Overall the leather is smooth and the edges of the paddle are smooth also, except at one spot on the slapping end that is not completely smooth/straight. I am sure that can easily be fixed with a cutter. In any case it hasn't interfered in an way with the toy's ability to function.

Paddles are made to last and this one definitely will. It is easy to care for and fairly easy to hide as it is quite thin and small compared to other paddles.

Material:

Leather

Material safety

Color:

Black

Length:

12"

Width:

2 1/4"

Weight:

1.7 oz

Performance:

It takes a lot less practice to use this than a flogger would but it still requires a bit of practice.

To get the ouch impression on the skin you must whack pretty hard to get the word clearly etched out on the skin. It will leave a nice sting for at least 3-5 minutes after the whack but the impression will not last longer than a few hours or a night. Also, it is hard to get the full word, often only the UCH appears. That may be because of the available amount of surface available to whack on or simply because the "O" is too close to the handle.

It works really well when used for light slapping, but if your partner likes to wield hard slaps it is vital that you communicate very often to make sure things don't get out of hand in terms of the intensity of the impact.

It leaves the skin feeling a little raw and it feels quite deliciously sensitive, making every touch to the skin electrifyingly wonderful.

Again, this toy is VERY noisy, in fact noisier than the hearts impressions paddle I have tried. The reason why is because of the slapping noise the two pieces of unattatched leather create. It may only be a negative for those who need to be discreet.

Care and Maintenance:

Paddles are porous so they must not be shared unless you share it with someone with whom your are fluid bonded.

This toy requires minimal care, a simple wipe down with a wet cloth and pat it dry. Some leather products could be used although they are not necessary (unless you see the leather dry out or something of the sort).

It can be stored by hanging it or putting it in a drawer. It is quite thin and small so it is pretty easy to store. It is not small enough to hide in a purse but it will fit in luggage quite easily.

Personal comments:

I really enjoy this paddle as well as the hearts impression paddle. Both are very similar but I find that the impression comes out much better with this one compared to the hearts one.

Our new favorite way to use it is when I am in cowgirl leaning slightly forward. My guy will slap my rump or my thigh with it. It requires a lot of care because striking the wrong way could lead to hitting the wrong body parts. He does it only when he is able to concentrate enough to hit the rights spots. The thigh is easiest to strike since it is on his side.

I also enjoy having it used on me as I lay on my Wing by Liberator just before rear entry (doggystyle) intercourse. My guy gets to enjoy the little welts on my butt as he penetrates me and I love how sensitive my skin feels after a good thrashing.

Other

Special Features:

Safety features:

Phthalates free