Sportsheets Paint brush whip - Whip from Sportsheets

Product Details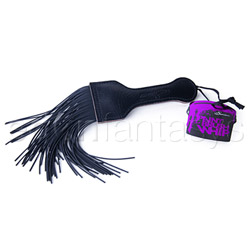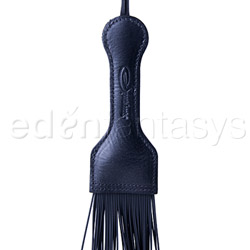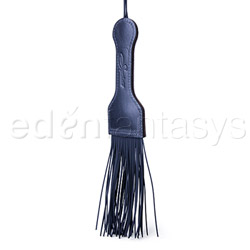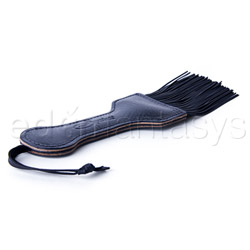 Summary:
For the beginning or intermediate kinkster, the Paint Brush Whip provides a highly adjustable level of stingy pain. Constructed with solid leather stitching and rubber strings, it can be used either to apply wet paint or to simply bring out the natural colors of a masochist's body.
Pros:
Good for light or moderate play, sturdily made.
Cons:
Not great for those who want more intense play.
Best use:
The paintbrush whip from Sportsheets is a rubber whip that will be sure to please kinksters of varying flavors. The dozens of rubber strands allow it to deliver both a casual brush and an intense sting, depending on the preference of the whippee. Although I didn't try it with paint, this whip can literally be used as a paintbrush, to paint your partner any color you might like. Or it can be used as a different sort of paintbrush--to bring out the natural red of an ass, leg, back, stomach, or chest of your favorite masochist.
Design / Craftsmanship / Size / Material / Features:

The paintbrush whip's strands are made of rubber, while its handle is made of lovely stitched leather. The handle feels solid but light in my hand, and actually made a great slapper on its own, allowing me to inflict a variety of pain sensations on my partner. The two sides of the handle are stitched together tightly and I suspect that they won't come apart, though I've only had the flogger for a week, so I don't know yet. Nonetheless, from all that I can see, this flogger is of the same high quality material and craftsmanship that I've come to expect from Sportsheets products.

My only complaint was that the tag for the toy came on two strings that protrude from the bottom of the handle. I haven't seen an easy way to disconnect these, and they're somewhat annoying to have just hanging there.

Material:

Leather

/

Rubber

Material safety

Color:

Black

Length:

13 1/2"

Width:

3"

Weight:

4 oz

Performance:

I was very impressed with the performance of the Paint Brush whip. I loved that I could use it either as a whip, with the rubber strands, or as a slapper, with the handle (holding one end of the handle in my hand and using the other end to hit, not holding the strands). I also appreciated that the Paint Brush whip could be used for either light play or moderate play. As someone who needs some time to warm up slowly to pain, I really liked the light strokes that my partner could lay on me before starting with stronger lashes. Particularly given that I'm more into thuddy pain, and this is very much a stingy toy, I liked the variety of intensities.

Other

Texture:

Smooth

Special Features:

Safety features:

Phthalates free