Sportsheets Passion cuffs - Wrist and ankle cuffs from Sportsheets

Product Details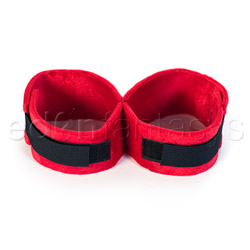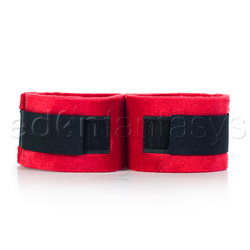 Summary:
I enjoy how soft and comfortable these cuffs are. They're also pretty easy to adjust to fit your wrists or ankles perfectly. Unfortunately, since the cuffs are sewn together they can be a bit difficult to use, since at times you may want a bit more length between your wrists or ankles. I also do not care for the packaging, which is a plain, uninformative plastic bag.
Pros:
Soft, easy to adjust, will fit a wide range of wrist sizes, comfortable on wrists and ankles.
Cons:
Being attached can make them hard to incorporate into play, packaging.
Best use:
The Passion Cuffs will work much as any other light restraints will. The Velcro holds very well against pulling, though I do suppose if someone really wants to get free, they can just rip the cuffs apart like the Hulk. However, despite the fact that they are attached and the Velcro is positioned pretty close together, these are escape-proof. The wearer will be unable to reach the Velcro strips once both wrists are fastened in.

These are soft, and it's easy to adjust the tightness. The Velcro allows for these to really fit a great range of wrist sizes. They are somewhat plush and do not look intimidating at all. Considering the price as well, these are great for beginners looking to experiment with cuffs.

Since the cuffs are pretty big at their largest, they can possibly be used as ankle cuffs as well as wrist cuffs. There is honestly no specific way you should use cuffs, their use can be incorporated into any kind of fantasy you may have, along with whips, crops, blindfolds, ropes, ticklers, and clamps.
Design / Craftsmanship / Material / Size / Fit:

The cuffs are made out of a somewhat plush red faux fur. Pressing one side of a cuff between my fingers, they feel like they have a thin layer of padding in between the fur. The edges of the cuffs are a bit raw, but they won't start unraveling or anything. Each cuff has a black strip of Velcro attached to it. If the sticky side of the Velcro gets stuck to the fur, it will pull a bit of fur out when you go to peel it back off. I didn't notice any issues with the material pilling at all. Since these are made of faux fur, they are Vegan friendly, too.

These are attached together by some thick black thread. The stitching here is very sturdy, so the person wearing them shouldn't be able to pull them apart by struggling. As far as the design goes, these are very simple. There aren't any D-rings or anything on these to make them compatible with ropes or chains.

Each cuff can be loosened to a maximum of about 11 1/2 inches. There will be about half an inch of Velcro left to fasten each cuff. This is the largest setting you will want to go, as any larger of a setting will cause the Velcro to lose hold very quickly. The smallest I can get these to go is about 5 inches around, which has a lot of cuff overlapping. Each cuff is 2 inches wide. Depending on your measurements, you can use these as both wrist and ankle restraints. My wrist is exactly 6 inches around, so I do have these on a tighter setting. My ankle measures 9 inches around.

On both my wrists and ankles, these fit very comfortably. The fur is soft and warm against my skin, without making it feel sweaty. Unlike leather cuffs, these are super flexible and don't bite into skin. They will conform to fit against your skin very comfortably.

I did not notice any odor to these, but since they are fabric, they can pick up odors around them easily. Some Febreze every now and then should keep them fresh.

Material:

Faux fur

/

Nylon

Color:

Black / Red

Length:

4 3/4" / 9 1/2"

Width:

2"

Closure:

Velcro

Weight:

0.2 lb

Performance:

So far, I have only tried leather cuffs, mainly for appearance. I find those to be uncomfortable at times, since they can bite into skin. I didn't really expect much out of these cuffs, considering their simple design and low price tag, but they are actually pretty good. Just because you or your partner is being restrained doesn't mean you have to be totally uncomfortable. These cuffs allow for wrists to be flexed or arms to be moved slightly to make your body a bit more comfortable.

These are also easy to put on and take off. Simply unstrap the Velcro, place each cuff around a wrist, and reattach the softer piece of Velcro. This shouldn't take longer than 30 seconds. They are easy to incorporate into foreplay or intercourse using props around you, too. Simply find something arms can be wrapped around and attach your partner to it. You can also just attach arms and let your partner have control of them.

Light tugging at these will not cause them to fall apart at all. The stitching holding them together is strong, as is the stitching holding on the Velcro.

Care and Maintenance:

Caring for these cuffs is not difficult at all. In most cases, simply wiping them with a damp cloth will clean them off. If you're a heavy sweater, the fur may start to look matted pretty quickly. I would suggest gently hand washing them in the sink with some detergent if that happens. To keep them clean, store them in a plastic bag or storage tub. I've noticed dust does not come off of plush or furry things very easily. I keep mine in the plastic bag they came in, stored with some other miscellaneous things.

Packaging:

The cuffs come in a plastic bag. It has no useful information on it at all. A white sticker on it simply states that these are a Sportsheets promotional item. It can be reused as a loose bag for storage. One end has some staples in it holding it shut.

Personal comments:

While I like how soft and furry these cuffs are, I feel Sportsheets could have done quite a bit more with them. The plain packaging is terrible. I would have liked a cardboard insert that at least tells me what the material is and where these are made. I like the products that include a few tips for use, and I would have liked to see that on these as well.

I also would have preferred for these to be just single cuffs with D-rings on them. Having two cuffs attached directly to each other is a bit difficult to work with, since you may sometimes want a bit of length between each cuff. Other than that, I like these, since they are easy to adjust and put on.

If these are indeed a promotional item from Sportsheets, they may be worth it if they come as a freebie with higher priced items. However, you may want to look elsewhere if you're setting out specifically to buy these cuffs.

I'm giving them 4 out of 5 stars. They lose a star because of the packaging, honestly.

Other

Size:

One size fits most

Lining:

Faux fur

Texture:

Smooth